PAYACCEPT harnesses Blockchain technology to remove barriers in crypto & FIAT payments/asset management


Image logo source
In the past, many traditional payment systems have failed due to issues like security drawbacks, acceptability challenges, poor user experience, regional barriers, high fees from middleman, just to mention a few lags. The emergence of blockchain technology aided in disrupting and revamping many sectors, including the finance sector. A group of well experienced and devoted intellectuals after doing research on the existing drawbacks in asset management and payments, decided to enact a more revamped platform known as PAYACCEPT.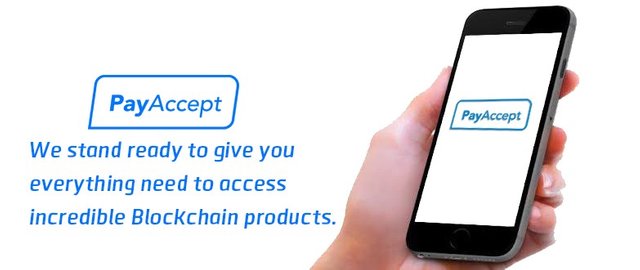 Image source
Essence of PAYACCEPT'S emergence and CORE FEATURES
PAYACCEPT remodels the finance sector by bringing highly revamped digital wallet management to everyone notwithstanding location or race. The project harnesses the blockchain technology to provide a decentralized means of fund management, whereby users are in total control of their wallets with the help of private keys. PAYACCEPT embeds topnotch fund security, not leaving out accelerated transactions with a seamless user interface. Even with the very awesome features of PAYACCEPT platform, it is very easy to use hence suits all and sundry.


Image source
As the name implies, PAYACCEPT eases payment acceptability, since the platform can be used to make any bill payment regardless of time of the day and location, using crypto or FIAT. Payment can be made in a given currency and received in another via this revamped and secure platform. It will impress you to know that up to three bank accounts can be linked to your PAYACCEPT wallet and it's easy to monitor transactions/expenditures. PAYACCEPT supports both crypto and FIAT and also enabling users to transfer funds even with mobile devices. Another added feature functionality is that gift cards can be converted to FIAT directly via PAYACCEPT.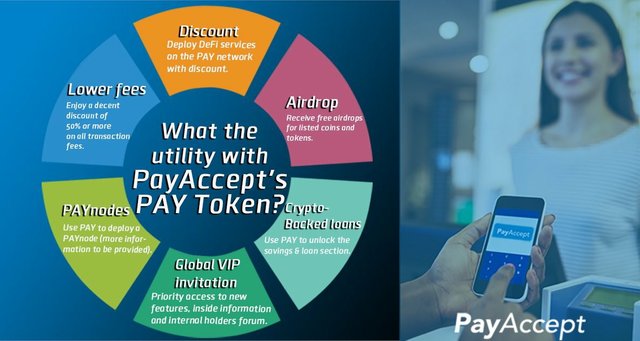 Image source
The PAYACCEPT platform will provide blockchain-powered accounts for crypto and FIAT, protected by European regulations. Users can convert/swap FIAT to crypto and vice versa in their blockchain-powered accounts without going to exchanges or banks. It is crystal clear that PAYACCEPT excludes the need of middleman to process transactions, by utilizing a trustless system which is made possible by blockchain technology.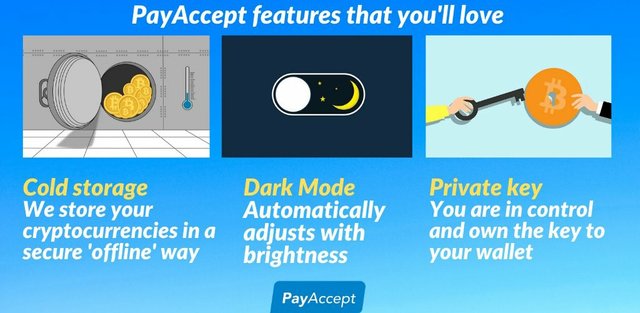 Image source
PAYACCEPT upholds maximum security
For maximum security, all users control their own personal wallets which are secured by SHA512 security tech. PIN codes, fingerprint and above all 2FA authentication are used to protect user accounts. Prompt email and SMS notifications are sent to validate transactions and logins.
PAYACCEPT is highly secure in the sense that, aside the tight security measures put in place to combat hack, unauthorized access and related security scandals, users crypto assets are stored in a secure offline manner (COINSAFE).
Ease of payment
PAYACCEPT makes it easy for users to optionally transfer funds using receiver's name or email address in place of complicated addresses when necessary. QRCODE from the receiver can also be used to send funds in place of long addresses.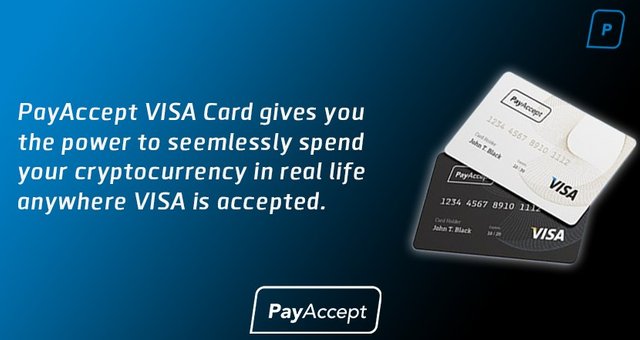 Image source
PAY CARD
PAYACCEPT makes provision of VISA payment card for USD, EUR and GBP which can be used globally with mind blowing features like revamped security, flexibility and instant reloads.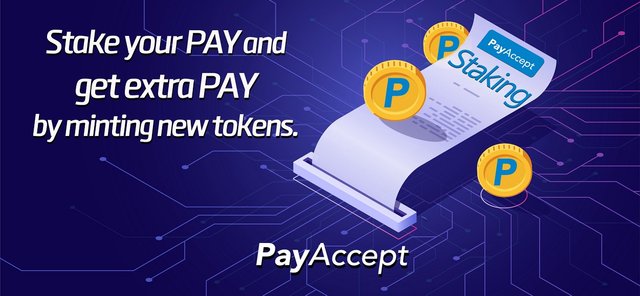 Image source
PAY Token
PAY is the official token of PAYACCEPT platform. Holding PAY has so many advantages like ; it reduces transaction fees up to 50% and gives VIP access to latest features to holders. Added to the aforementioned, PAY can be used for PAY NODE deployment. To qualify to deploy a PAY NODE, holders need at least 45,000 PAY and will receive 50% yearly for deploying PAY NODE.
Ever heard of crypto-backed loans? The good news is that users can make use of PAY to have access to savings and loan features. Users can stake PAY for a given duration to get more PAY when staking period elapses. PAY staking program begins on 01/08/2020 and this will help mint new tokens while rewarding holders who stake their PAY. Holding PAY also grants privilege to get airdrops for coins/tokens which are added to PAYACCEPT platform.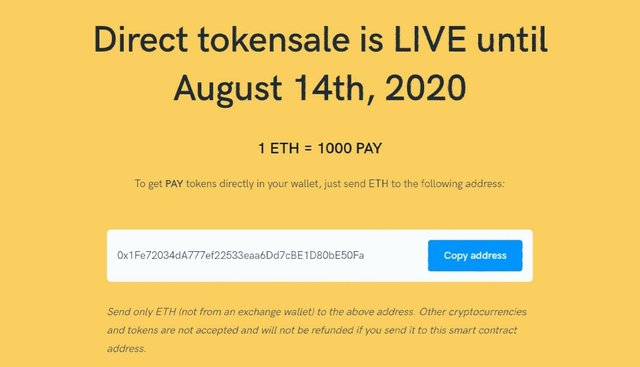 Exchanges where PAY is listed visit this URL for more information about the PAY token or
See image below: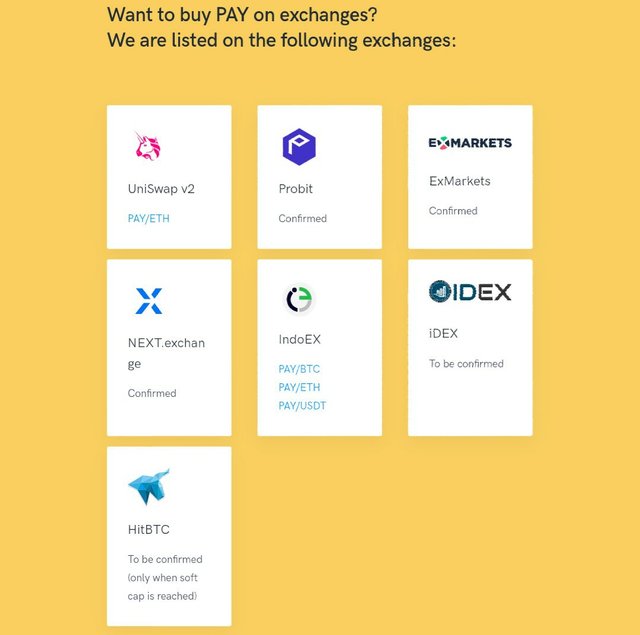 Image source
CONCLUSION
PAYACCEPT is no doubt a superb solution to foster payments, ameliorating existing drawbacks posed by traditional payment systems and also a top notch asset management platform. For more information on this very remarkable project, do visit the links below :
🌐 website
📖 Whitepaper
🐦 Twitter
☄️Telegram
🔖LinkedIn
📤Register here
BITCOINTALK THREAD
️ Youtube channel
Explainer/marketing video: