Kambria Revolutionizing The Robotic Space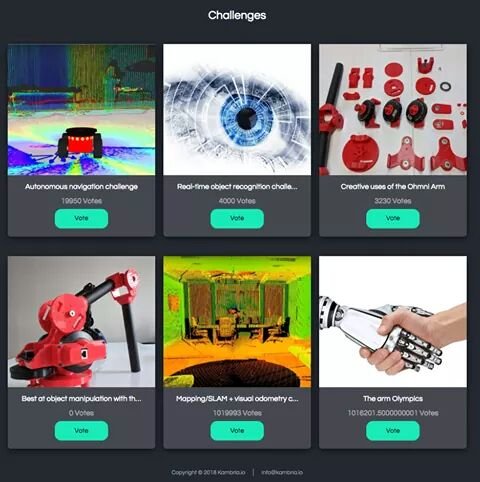 Human capital used to be the major driving force of our today's economy. From the manufacturing industry to other key areas of the economy, human input is greatly needed to actualize their aims. Less than a decade ago, there were new innovations geared towards facilitated input in our industries and other core areas of human endeavor. Robots have come a long way in easing our activities.
Haven being applied in areas such as manufacturing, robots proved their mettle in terms of efficiency. They are also touted to replace human input soon. Though the development was received with mixed feelings, there are indications that the assertion will see the light of the day.
There are however issues emanating in robots and a greater part of this comes up during its development. There are relatively few tools that'll aid in developing robots. As a new technology, this is expected but it should not linger for long. In the same regard, their use cases are few. Drones are there in the ecommerce sector and virtual assistants are applied in many businesses. What about the homes? There is none there.
You might not have sufficient to spend at home due to your work schedule. You need someone to take care of your home. Humans are not fully trusted so you ought to have at least one robot in your home to help you with chores. But given insufficient tools for its development, there's likelihood there won't be robots developed for home use.
Introducing Kambria: Decentralized Robotics Development Platform
Kambria is a platform that hopes to bring decentralization to the robotics industry. Featuring the distributed ledger technology (DLT), the platform uses the Ethereum blockchain for its operations. In the conventionally-centralized industry, robots are developed at high costs and implemented in limited scenarios.
Kambria aims at distorting this status quo. Of what essence will it be utilizing robots services outside when we can't have same at home? For this reason, Kambria came up with a new concept – commercialization. As its team argued, robots are needed in our society and commercializing it will improve its scope. This is an amazing project and we might just have robots doing chores in our homes in the future.
Implementation
Kambria isn't a pipe dream as many might think. Its implementation will be fast-tracked by two concepts – rewards and decentralization. The Ethereum blockchain which it uses will be used to attain the latter and its token will feature as a reward to developers.
The major bottleneck in the industry was limited tools for robotics development. Kambria will hedge this by outsourcing needed tools from different quarters.
Developers have often gotten discouraged when their efforts are not appreciated and with few tools to help them out, there is no available means of encouragement. That's where Kambria's token will be implemented. It believes that developers should be encouraged and hence, rewards any developer that comes up with a robot or jointly partners in developing one.
On the other hand, a developer that discards his duty on the platform is bound to get sanctioned through Kambria's Legal Enforcement architecture.
Kambria features a vibrant architecture and viable platform. Its platform consists of developers and companies who will need the developers' services. Backers are also available on the platform and their work is to support developers.
There are five architectures on the platform such as Manufacturing Alliance, Legal Enforcement, Value Capture, Code Base and Innovation Marketplace. In traditional setting, there are users who are there for its benefits and will change their focus when they don't get what they expected. Kambria bars such on its platform and through its Bootstrap Community, viable users are screened into the platform. Its Ethereum blockchain will breed faster robotics development and firmware, hardware and software architectures are also there with their good tidings.
Team
Kambria has amazing team members. From its core team down to the leadership and advisors, their experience and certifications are pointers to what they tend to achieve with Kambria. There's no doubt their experience will be brought to bear on the project.
Token Sale Overview and Distribution
TICKER: KATT
TOKEN TYPE: ERC20
TOKEN PRICE: 1 KATT = 0.02 USD
FUNDRAISING GOAL: 19,900,000 USD
TOTAL TOKENS: 5,000,000,000
AVAILABLE FOR TOKEN SALE: 50%
Wrapping Up
Kambria will disrupt existing scenarios in the robotics industry. By using the Ethereum blockchain, there'll be development of robots in real-time. Same way, tools won't be hindrance to robotics development as Kambria is partnering with companies that'll outsource needed tools for robotics development. With Kambria, developing robots just got better.
Questions regarding this innovative platform, Kambria are welcomed from our esteemed readers.
Additional information on Kambria can be gotten from their Website or from the Whitepaper
Useful links
Website: https://kambria.io/
Whitepaper:
https://kambria.io/Kambria_White_Paper_v2_20180615.pdf
Author's Bountyox username:Nduiheoma