Play Exciting games and earn while on it with Dabanking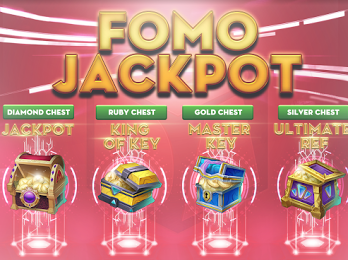 It is on record that the gaming industry generates revenue to the tune of $105 billion yearly and has over 2billion users using it's services .
The growth of the gaming sector could exceed the current indices if the challenges limiting it's continuous growth is handled.
These challenges include:
The sheer difficulty to proving existence and ownership of assets in the sector.
Lack of innovative games that could give users an exciting gaming experience.
Lack of avenues through which users can earn passive income while having fun (playing games)
Lack of trust which seems from the fact that users do not have full control of their information.
Difficulty in building decentralized apps. Etc
It is gemane that these challenges is handled for the continuous growth of the gaming industry.
Introducing DAbanking, a project that seeks to build an enabling environment which would facilitate the seamless building on decentralized apps .
Why DAbanking ?
DAbanking features positions the project over other gaming platforms.
Features such as :
FOMOjackpot Lottery .
FOMO Game.
FOMO Jackpot.
The FOMO jackpot lottery programme feature will enable users earn passive income while enjoying themselves (playing games). The dapp will give users an exciting gaming experience which would encourage participation thereby increasing mainstream adoption.
FOMO Game feature would ensure absolute fairness and transparency in the ecosystem, which would good a long way in building the trust and confidence of users.
FOMO Jackpot feature provides an enabling gaming environment for users in the ecosystem to win huge etheruem rewards with as little as 0.002 etheruem ticket unlike other gaming platforms where ticket is not affordable.
How To Purchase the ticket??
To be able to purchase FomoJackpot's Ticket you need to have a computer that installs Metamask or Trust Wallet on your phone. Besides, there must be ETH in your wallet to buy a ticket.
DAbanking would also introduce new games to the platform every quarter in order to meet entertainment demands of users and also increase income for its community.
Games can be played either with ETH or DAA tokens of which DAA tokens will have to be deposited to the virtual wallet on the DAbanking platform.
Token Details
DAA tokens has a total supply of 20,000,000 and can be gotten only through buying of tickets and playing games with ethereum.
It's a mineable token in which its mining has stages with difficulty level increasing after each round.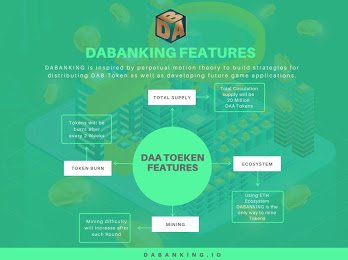 DABANKING ROAD MAP
THE FIRST PHASE:
Q4/2018- Q1/2019: the development team was built; plan and technology foundation was prepared.
Q2/2019: the game ecosystem is officially introduced on DApp and the beginning og development of DAB token mining community.
Q3/2019: DAA token and DAB token will be listed on free exchanges and new games will be integrated.
Q4/2019: the swap port will be open to swap from DAA token to DAB token for users and new games will be added.
FOR PHASE TWO
In the second phase of this project, when the community is up to 3 million, Dabanking will officially announce its own blockchain and conduct swapping DAB token to the new Dabanking blockchain.
CONCLUSION
DAbanking is set to Revolutionize the gaming sector by introducing innovative gaming features that can give users an exciting gaming experience while earning passive income. It would also provide an enabling environment for the building of decentralized apps for gaming entertainment .....which would Foster mainstream adoption of the blockchain.
For more information visit:
Website: http://dabanking.io
Twitter: https://twitter.com/Dabanking_io
Facebook: https://www.facebook.com/dabanking.io/
Telegram channel: https://t.me/DABANKINGNEWS
Telegram community: t.me/DABANKINGOFFICIAL
Youtube: http://bit.ly/2VYtVO
Dapps #DABANKING #FomoJackpot #Blockchain #ETH
Author's Bitcointalk Profile: https://bitcointalk.org/index.php?action=profile;u=2170547