APOLLOX: A FACELIFT TO THE E-COMMERCE INDUSTRY
The evolvement of the ecommerce industry in the past two centuries has led to the springing up of sturdy online shopping industries such as eBay, Amazon and the likes. Nevertheless, the centralized model of these industries has bought about issues of inconsiderate pricing, data abuse and many more. Therising issues which these so called e-commerce industries areexperiencing are as a result of their centralized model which is why ApolloX has emerged to solve the incessant problem through the blockchain-based protocol as itencourages decentralization in the e-commerce industry.
What is ApolloX?
ApolloX is a decentralized platform for e-commerce applicationsdesigned to deface the traditional channel (digital shopping market).This platform provides one with a trustless ecosystem of decentralized e-commerce through the blockchain technology, thereby eradicating the need for the third party platform. This saves both sellers and buyers from having to payadditional or hidden fees.
Besides, this platform protocol safeguard both sellers and buyers from disputes with smart contracts and community-based arbitration without attracting any additional cost. Every data collected from shopping is ensured to be encrypted and only permissible to service providers with the customer's consent, this way, privacy issues and unfair competitions are actively resolved.
ApolloX protocol is controlled and managed by every members and also kept open source. The wholeness of this platform, starting from the token economy to the user experience structure is designed to enhance positive societalcontributions from sellers, buyers, manufacturers as well as service providers.
How The Platform ApolloX works
There are various provenmethods by which each role can earn and spend ApolloX Token in the ecosystem.
Customers can earn ApolloX token by opening accounts and connecting to social networks. As for sellers, the need to pay for platform service fees like advertisement and search ranking with ApolloX token.
Additionally, members can as well earn APXT as rewards for affiliate orders by bringing in affiliate traffic while premium members who keep APXT tokens get discounts in buying and free service.
Features of ApolloX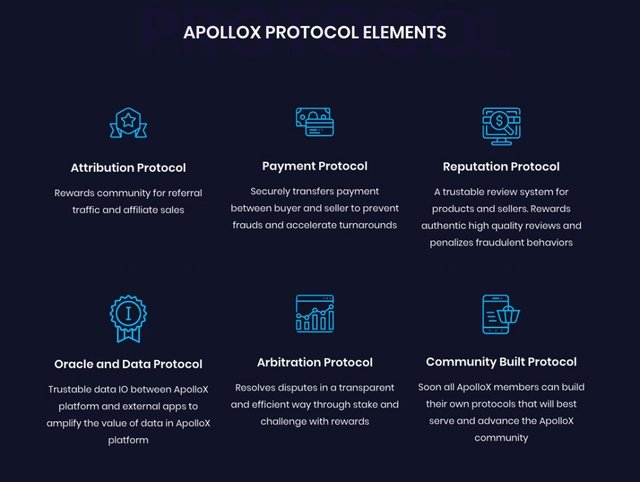 The following are the primary features of the platform:
Attribution Protocol: This helps in keeping every transaction and ecommerce activity in decentralized databases. The authenticity of the data can be checks by participants with permissions.
• Attribution protocol serves as the means through which affiliate sales and referral traffic are managed.
• Tracking of traffic source of each visit on ApolloX platform is possible with Attribution protocol.
Payment Protocol: It ensures a secured direct transactions based on smart contracts, thereby eradicating fraud.
• The payment protocol comprises the smart contract for shipping time guarantee. This protocol explains that the product will either get to the customer on time or will be reimbursed for any delay.
Arbitration Protocol: It resolves misunderstanding between the two parties (buyers and sellers) using the Deposit-Challenge-Vote system. A buyer or seller may decide to open a case when they are unable to resolve a dispute with other party on the platform. A selected group of mediator is then selected to cast their votes with ApolloX token to determine the result of the vote. Once the outcome is determined, the losing side will lose their tokens while the winning side and mediators from the winning side will get a share of the tokens from the losing side. Mind you, the mediator from the losing side gets their tokens back but with no addition reward.
Reputation Protocol: This protocol ensures a befitting review compensation and a proper penalty in case of fraudulent reviews. Fraudulent reviews attracts loss in tokens and also the ability to review other products.
Oracle and Data Protocol:It provides customers with external information relating to logistics, personal information and advertisements.
The Advantages of Platform ApolloX E-Commerce
• Built with high performance over several transactions in a second.
• Proof-of-Stake based consensus mechanisms that is energy efficient.
• Inter-blockchain communication support which gives room forapp collaboration to communicate across several chains.
• Independent governance mechanism allowing quicker and smoother resolutions on theft issues.
ICO TOKEN DETAILS
• Token: APXT
• Price: 1 APXT = 0.0055 USD
• Platform: Ethereum
• Accepting: ETH, Fiat
• Soft cap: 6,000,000 USD
• Hard cap: 14,000,000 USD
• Country: Singapore
• Whitelist/KYC: KYC & Whitelist
• Restricted areas: USA, China
Final Thoughts
The reducing standard of the present nature of the ecommerce industry brings about an opportunity for a decentralized system of operations. The ApolloX platform has set in to address this pressing issue and also provide a means by which both buyers and sellers can transact with the openness and reliability that blockchain brings.
MEET THE TEAM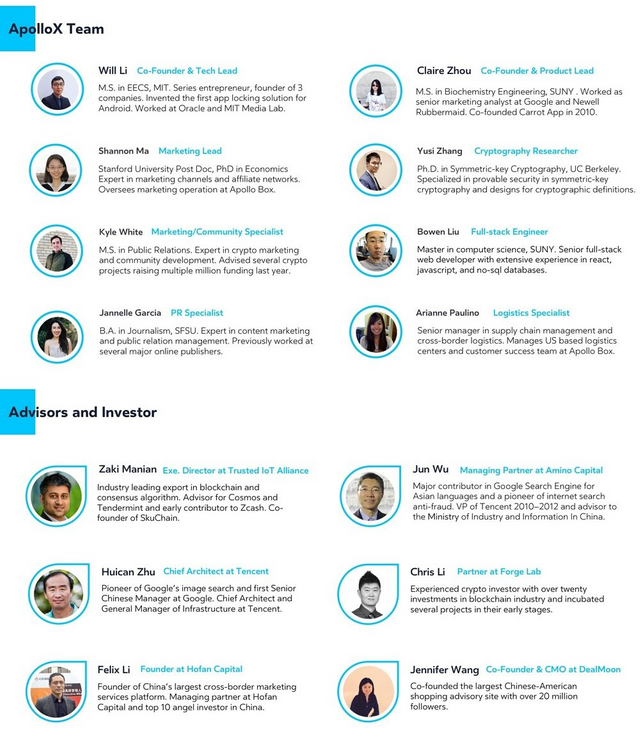 KNOW MORE ABOUT APOLLOX
Join the Telegram Group: https://t.me/apolloxgroup
Follow on Twitter: https://twitter.com/apolloX_network
Follow on Facebook: https://www.facebook.com/apolloxnetwork/
Website: https://www.apollox.network/
Whitepaper: http://www.apollox.network/downloads/ApolloX_whitepaper_v1.0.pdf
ANN Thread: https://bitcointalk.org/index.php?topic=4650252
Hello friend, don't miss out on this huge project!
Author Bitcointalk username- ijsera82
Bitcointalk profile link -
https://bitcointalk.org/index.php?action=profile;u=1569887;sa=account