BLACKBOX OPERATING SYSTEM-THE DECENTRALIZED PLATFORM FOR THE EFFECTIVE PERFORMANCE OF ORGANIZATIONS.


The world has undergone several milestones of developments which has led to the development of several institutions, organization and corporations. These entities are engaged in different types of production of goods and services which not only does serves the needs of people but also help to employ people in the community in which they are situated. Every organization or institution has its own system of operation and it is based on this that wages, bonuses and other beneficiaries are distributed among workers. Most current organizations are all based on the traditional system of operation which gives priority to hierarchy in almost everything.
This is more of like the higher you are the more benefits you gained as a worker and this system of operation has been shown along the years of how weak and unfair it turns out to be. I am not saying we should not appreciate the work of some top leaders in any organization but what I want to bring across is that the gap between executives and workers is very wide in terms of wages and other benefits that members of an organization are entitled to.
It is against this backdrop that the team members of Blackbox seeks to provide a system upon which organizations, institutions and organizations can run their activities on to promote their goods and services that they deliver to their customers.
CHALLENGES OF THE TRADITIONAL SYSTEM OF ORGANIZATION
In as much as the traditional system of organization has helped individual in several ways there are some setbacks that prevents it from giving it very best to the community and some of its employees. This has generated a whole lot of concerns in the business world and I guess it is high time we took a look at some of the reasons why all these negative remarks is being given about the traditional organization.
Loss of Will to Work
Many employees lose their zeal and will to work when the company or organization only seems to recognize their efforts and only praise the administrative section forgetting the manual workers who actually go out there to put into work the ideas and initiatives of the administrative board. Every sector of a business organization is important as well as the administration but it is rather unfortunate that most of the time the praises of the administrative section is sang from time to time over every sector of the organization. This practice sometimes make other sectors of any business organization feel not acknowledged and this sometimes neutralize their will towards work. You can imagine a construction team with very skillful managers but no workmen to carry out what is on the plan unto the ground.
Reduction of Work Output
Almost every organization has a specific amount of products that it produces in everyday and this speculative calculation has been budgeted against the factor that if workers are working at their best. Unfortunately, here is the case these workers don't have that zeal and enthusiasm to give off their very best due to how they are being treated or certain conditions being meted out to them. This brings about underproduction on the part of the organization which in turn causes a loss in annual revenue which the company generates.
Underperformance of Organization
The overall performance of every organization is based on the above two factors and these are the factors that contributes to the overall performance of an organization. With both factors in declination you can be rest assured that the overall performance of the organization would also be affected since workers will not be working as they should in order to produce the needed goods and services expected by the organization. Basic science will let you know that when the input of a job exceeds its output then there is a loss to some factors like gravitational and frictional force which needs to be overcome. Unless these factors are overcome organizations would always underperform causing loss of funds in the organization.
THE SOLUTION BLACKBOX OFFERS TO ORGANIZATIONS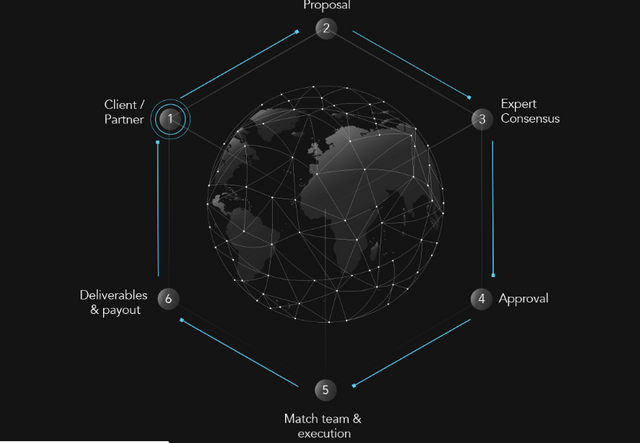 The Blockchain technology has been adopted by most industries because of some features that it possesses and they are its security purposes, its decentralized nature etc. The blockchain is noted for its tight security system which prevents unauthorized third-parties from breaking into its system. Again, its decentralized nature also bridges the gap between stakeholders by putting then on a simple platform to interact without any form of intermediaries to reduce the cost of transaction. Finally, the blockchain technology is admired because of its ledger system which organizes information into its database and makes it very simple to retrieve information for future use. It is with this technology that Blackbox seeks to offer solution to traditional organizations and corporations.
The very backbone of every business organization is the working force behind the innovative ideas of the managerial team and the reason why I say the backbone is that almost everybody has an idea but it takes skillful people to make an idea into a realization. Then it means that to increase any companies production the needs of workers have to be addressed to increase their passion towards work because if workers have the right attitude towards work it would generate enormous income for the company.
The Blackbox Operating System seeks to provide a system which will evaluate employees based on their inputs and effort into companies and not just the mere fact of your rank. The Blackbox Operating
System will use a consensus mechanism known as Proof of Value which is quite similar to the Proof of Work of Bitcoin blockchain network. Proof of Work on bitcoin blockchain network rewards its members upon solving difficult mathematical computations. It is with this same consensus mechanism that the Blackbox Operating System will reward employees handsomely based on their efforts into the organization and I believe this will serve as motivation to boost the working will of all workers in the organization and by so doing you can be rest assured that production of goods and services will increase to generate income for the company.
Furthermore, if the will of workers are being boosted then you can also envision an organization that will produce quality products with the little resources that they may have. If the products and services that customers are receiving are of a high quality it would increase the number of customers that uses the goods and services of the company and this would also increase the overall income generated by the company. Several modules would be developed together with what exist at the moment for the effective running of an organization. Please refer to the whitepaper for more information about this project.
TOKENS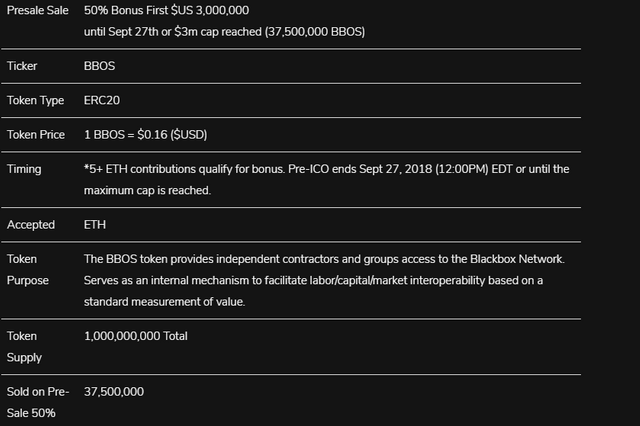 ROADMAP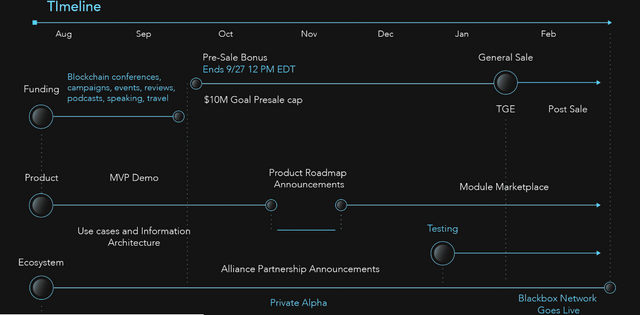 TEAM MEMBERS
This project is supported by a group of hardworking people who have the in-depth knowledge and skill in their various fields of discipline. They have shown their commitment in making this project a success by all the necessary research and developments that have been put into the development of the Blackbox Operating System. This is to ensure all investors that their funds in the Blackbox Operating System would be put to good use and also, they have put in place an effective mechanism to ensure that the BBOS token would increase in value as time goes on. Blow are few of the team members please refer to the website or whitepaper to get more information about the entire team behind this great project.


CONCLUSION
Blackbox brings about an operating system which would ensure that all members of an organization are valued and treated fairly based on their inputs. This in the long run would help increase the both the quantity and quality of the goods and products of the organization. Again, this would also go in a long run to increase the income that is generated by the organization since most people would patronize in the goods and services that the organization provides.
For more information about this project please follow up on the contact lines below:
Website: https://token.blackboxfoundation.org/
Whitepaper: https://docsend.com/view/zn2axya
Telegram: https://t.me/blackboxtoken
Facebook: https://www.facebook.com/blackboxfoundationofficial/
Twitter: https://twitter.com/blackbox_found
Medium: https://medium.com/blackboxtoken
Youtube: https://www.youtube.com/channel/UCEywMTvmxwZnyAKFXEGGg8Q
Bitcointalk thread: https://bitcointalk.org/index.php?topic=4517962.0
Authorship
Bitcointalk username: Kwansimaa
My Bitcointalk profile link is https://bitcointalk.org/index.php?action=profile;u=2274234
Ethereum Address: 0xE8a1Fd47FE7CD8CF4E443FFC69AE57Ab03F34e24