The benefits of using imusify as music curators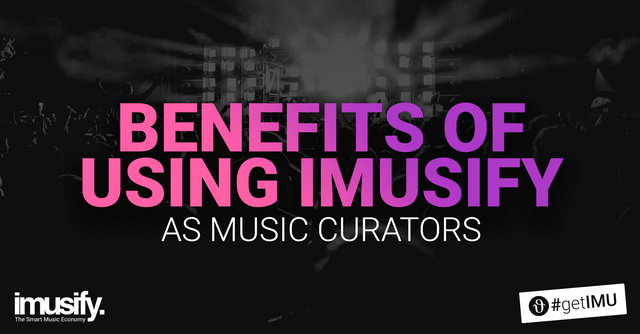 As TechRadar pointed out, music playlists are in-demand right now and contribute to the large success of streaming platforms. Playlists shall reflect the art of music curation: creating the right mood for the right moment with the right songs for the right listeners. Music curators need to compile the best songs in each genre to suit their audience's mood. Curators also enjoy finding great music and sharing with their followers, either for work as part of a curating team or for pleasure. Either way, music curators play a critical role in helping new music be heard or shared. With blockchain music platforms like imusify, music curators could be incentivized to finally do what they truly love: discovering and finding good tunes for their network — while supporting artists! Welcome to the blockchain age where everyone wins and music curation comes first.
Music curation: what it is important for the music industry
Currently, music curators work closely with record labels and artists to place the best tracks in their playlists. Yet these days, music curators work on social media channels like YouTube or streaming platforms like Deezer to create mood-based or genre-focused playlists. The pressure is hard from labels who are on the lookout to place their new artists or songs in the best music playlists, as alternative distribution channels. In the out-of-sync music world, the place of music curators is strong but isn't working at its full potential: music is scattered all around the place with multiple service providers charging fees to use such platforms, and fans, artists, and communities are also widespread.
However, music curation remains on the trend especially with the rise of streaming platforms. Deezer boasts over 43 million track and serves 6 million customers. Tech Radars also reports that listeners enjoy engaging with music that is made of 40-60 tracks. Yet such platforms are losing the momentum because it's not a matter of having 40 million hits lost in the sea. What matters is how to find and share great music and connect to the right people — and ultimately how to create a new music economy that serves record labels, artists (who currently get nothing out of streaming or playlists platforms), and listeners all at once? In the battlefield, music curators should also keep pushing the content discovery in tune with the artists and labels needs.
Unlocking the true potential of music curation with imusify
How to beat the algorithms behind the new music curation platforms that still work on volume and not on quality? imusify has leveraged the idea of the perfect music curation platform. As stated in the whitepaper, imusify's unique value proposition is the use of blockchain to track content and smart contracts to automate the fair distribution of royalties. But beyond this, imusify has created a platform for all users to interact and contribute to a new form of economy where fair payouts are a reality. Music curators, in this perspective, are also incentivized to participate in the ecosystem. We can imagine imusify serving as a networking space, a curating tool, a discussion forum, and much more: pretty much all we can find in the music industry which is currently offered by centralized parties or services failing at rewarding their users efficiently.
Based on an efficient reward-system powered by IMU — imusify native cryptocurrency — music curators are encouraged to discover new music and create music playlists. Once a playlist is created and shared with the community of the curator, he or she receives IMU Tokens proportionate to its active contribution. What's different with a former music curation role, let's say in the current streaming platforms? Well, on these platforms, curators are not compensated for their time to find great music, nor to share it. Unless they land a job at Amazon or Deezer, the everyday music curator (which can be me or you) simply "waste" time finding music and creating music playlists that will mainly benefit the service provider. On imusify, not only music curators are paid for their time, but the music they share helps artists receive fairer payouts, thanks to smart contracts which track the "use" of a song in the blockchain space.
Now, everyday music curation deserves the best. As Spotify got sued in 2015 for distributing music to Tidal without the consent of artists, we believe the music industry is in need of total transparency over songs management and royalties payment. In this purpose, imusify can help solve such pitfalls by offering a new music curation platform that keeps track of royalties payment and also rewards its users for their active participation. Let's enter the new music economy powered by innovative blockchain platforms like imusify.
By: Angel Lebailly @angelbali | imusify
IMU token will be listed on O3 and Switcheo