CyberMiles - Next E-Commerce Generation With Decentralization system

Project that we discussed this time is a project of Cybermilles. Cybermilles is a cryptocurrency project that has a very strong fundamentals. Cybermilles are at #150 position in Coinmarketcap. Cybermilles have also been listed in several exchanges such as Binance, OkeX, Huobi, etc. The current Status of Cybermilles projects is not an ICO. However, their project has been running since 2017 last year.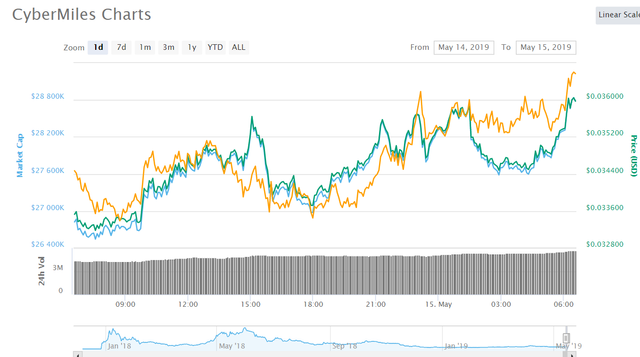 Are you interested in this cybermilles project? Do you want to invest in cybermilles but confused how? Check out the following explanation!
How can I buy assets from Cybermilles?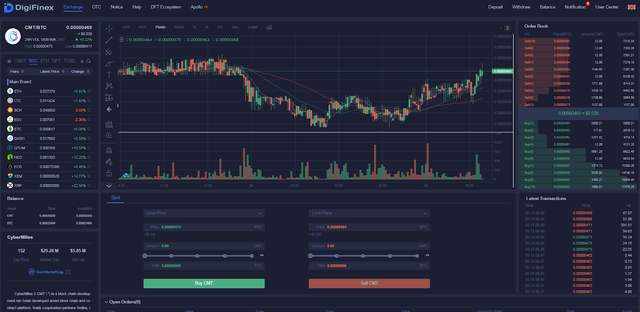 Sure, you can invest in a cybermilles project, the Cybermilles project is a trustworthy project, as the project starts to startup at the end of 2017, for now you can't buy through their ICO offerings, because their ICO is over have been long. However, you don't have to worry about that, I'll explain how to invest in buying cybermilles assets.
First, you must to register to the exchange, which there is a CMT ticker in the exchange, such as Binance, OKEx, Huobi, etc. You can check where the coin with the CMT ticker is in Coinmarketcap.
Next, you can search CMT ticker, in exchange with various fair, such as CMT/ETH, CMT/BTC, etc.
Then, you can buy it, by adjusting the Ask.
Enjoy! You have CMT now!
It's very easy, and you can invest by storing CMT assets in the exchange. In addition, I will also tell you how we will keep many assets in the personal wallet, of course this is coated with high security, to safeguard investors ' assets very securely. Let's see!
How do I want to keep my CMT in a personal wallet?
 For those of you who want to have a lot of your assets in your personal wallet, you can download the mobile app, you can go directly through the link below. 
https://cybermiles.io/en-us/blockchain-infrastructure/cmt-wallet/

Next, I will discuss about the introduction of Cybermilles. However, before that I asked you to also read the whitepaper that they have provided, for a more complete article. 
Read Here:  https://cybermiles.io/en-us/cmt/whitepaper/ 
Introduction Of Cybermilles
CyberMilles Foundation Limited, is a limited company with a guarantee to enter Hongkong, and arranged in a nonprofit manner. They will cooperate With 5miles LLC ( "5miles "), with the goal of developing CyberMiles: the Next generation Blockchain is optimized for e-commerce and designed for mainstream adoption. By focusing on e-commerce and online marketplaces, CyberMiles will integrate Blockchain Innovation for power  "Smart business contracts" on a highly effective chain, and Resolves latency issues associated with existing Blockchains and common uses. Token Utility, CyberMiles token, is planned to be  "Master token " to fund the & Empower new e-commerce Applications and projects, similar to how ETH is used for the current generation of ICOs. Throughout the network development, the CyberMiles Foundation will help Decentralized platform, with strong involvement by ecosystem members. Our Vision for the future is a public network providing safe and reliable business services to Its members, by its members. 5miles plans to gradually migrate sellers and buyers, as the first group of users, to Decentralized network. In other words, the 5miles's market platform will be one of the first Environment to utilize networking as a back-end service and jumpstart the ecosystem. After The network reaches critical mass, its own network effect, reinforced by incentives Provided by CyberMiles Token ( "CMT "), it is expected that it can be applied to other partners Platform and market, encouraging the development of CyberMiles as a market-leading blockchain Protocols for commercial applications and Marketplace.
Who is 5Milles?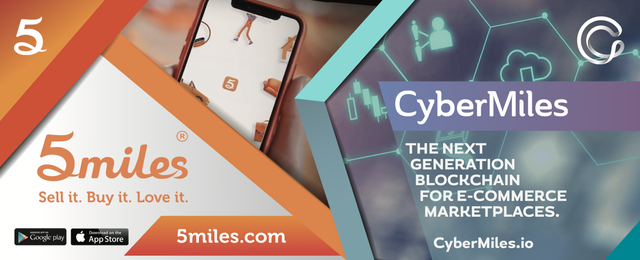 5miles is a leader in consumer-to-consumer e-commerce ( "C2C ") in the United States. That Has a flagship app, the app is called 5miles, in a 5milles app there are over 10 million registered American users, and is estimated to exceed $3 billion in total transaction value at 2017. The 5miles App is rated over 10 shopping apps in the United States. On average, 5miles users spend 24 minutes per Days in the app, making it easily one of the most exciting e-commerce apps in the US. 5miles has been active in the research and development of blockchain technology. Our believes that blockchain technology can provide natural solutions to common problems C2C e-commerce network. For example, blockchain network mechanisms to achieve Consensus among non-cooperative foreigners (i.e., achieving the equilibrium of Nash from Network) is a key feature that can allow C2C sellers and buyers to reach agreements, and  It greatly reduces the costs associated with customer support and dispute resolution. Tje Digital tokens Blockchain network can provide a solution in a highly efficient network Currencies, and greatly reduce transaction costs. It can also act as a stepping stone to members Communities to create their own initiatives, creating a strong network effect. Tje Blockchain network's decentralized computing infrastructure can ensure that The market will never go offline, and significantly reduce the IT cost of certain operators. In addition, blockchain technology can facilitate and even automate business transactions Through the use of smart contracts and unchanged ledger.
For further information of CyberMilles Project below

Website: https://www.cybermiles.io/en-us/
Whitepaper: https://cybermiles.io/en-us/cmt/whitepaper/
Ann Thread: https://bitcointalk.org/index.php?topic=2344875
Twitter: https://twitter.com/cybermiles
Facebook: https://www.facebook.com/cybermiles
Telegram: https://t.me/cybermilestoken


Bitcointalk:  https://bitcointalk.org/index.php?action=profile;u=1139194
Telegram: @ahmadali212