Mozart — Classy DeFi Project that is very popular among the #BSC community
---

This time we will talk about the DeFi Project which is very selling. Basically DeFi today is really in great demand by many people in the cryptocurrency industry. Because this concept is very profitable in the short to long term. This concept includes NFT, Yield farming, and AMM exchange. Coupled with the low cost of BSC makes DeFi sell hard lately. I'm sure we've all known a lot about this DeFi, haven't we? Yeps, if we follow it since mid-2020 where at that time DeFi was the first new concept introduced that year, and made the current cryptocurrency Trend more popular than 2017 where it was the first ath bitcoin in 2017.
In this very popular year with DeFi. Making interest from cryptocurrencies greatly increased rapidly from the previous ath. Not even a few of those with small capitals became a whale by playing in DeFi for several months. What do you think? Very interesting isn't it? Well, in this article we will study a DeFi project that is currently very sold among the cryptocurrency community. Currently they make their token price many times the sale price and presale has run out within 5 minutes. It's amazing isn't it? Of course. He's Mozart. We can also learn all about Mozart in the document about Mozart.
About MOZART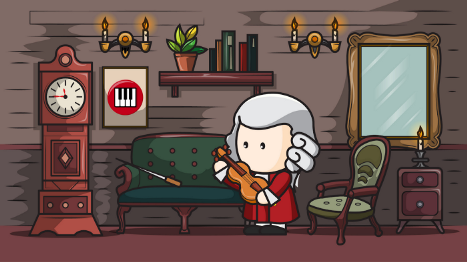 Mozart is an outstanding and classy project as DeFi in BSC. Mozart finance is a fork of Goose Finance and is an outstanding DeFi project that runs on top of the Binance smartchain chain with various features that allow us to earn a lot of tokens. Mozart tried to create a perpetual deflation token that served as a symphony. PIANO original token will provide a stable price pump with an adequate combustion mechanism. Mozart did not initiate exchanges but to add value to a system that created a sustainable environment for people who farmed with high APR.

The purpose of Mozart was to make everyone with Mozart a Winner. Each day can see a different group of farmers who only last a few days in farming and then they disappear. That makes Mozart have a desire to make long-term DeFi tokens sustainable. It was very difficult and Mozart's team always tried for it. Mozart therefore needs more communities to join
and support them. Follow their telegram Community: https://t.me/MozartFinance and also join their telegram channel : https://t.me/MozartFinanceAnn
Mozart guaranteed the safety of his users by:
Migrator code has been removed
Liquidity locked for 8 months
Audit completed before launch
A second audit will be completed for all smart contracts
new audits will be completed if needed
Features
every 1% of transactions will be burned
deposit fee will be used for piano token buyback
any unsold tokens in the presale will be burned
the team will randomly conduct buybacks to keep the price
team tokens will be locked in liquidity
Farming
Farming in different ponds
make PIONO with the highest APR farming
Information Tokenomic PIANO

Symbol: PIANO
Blockchain: Binance Smart Chain(BEP20)
Contract address: 0xd46936677B2C1Bb696F2b67c55239331E2b7Cd42
Market : https://exchange.pancakeswap.finance/#/swap?inputCurrency=0xd46936677b2c1bb696f2b67c55239331e2b7cd42
Minted Supply: 100,000 PIANO
Total Supply: 9,600,00 PIONO
Distribution for:
Music Pool 30%
Development 9%
Farming 61%

Deflationary mechanism:
Every 1% transactions will burn
50% of deposit fee will used for buyback token

More Information about Piano Tokenomics: https://mozartfinance.gitbook.io/mozart-finance/piano/tokenomics



For more information about MOZART Please follow link bellow:
Author: Innerpumper
Bitcointalk Profile Link:

https://bitcointalk.org/index.php?action=profile;u=1139194