Tombola lottery game based on the fairest blockchain technology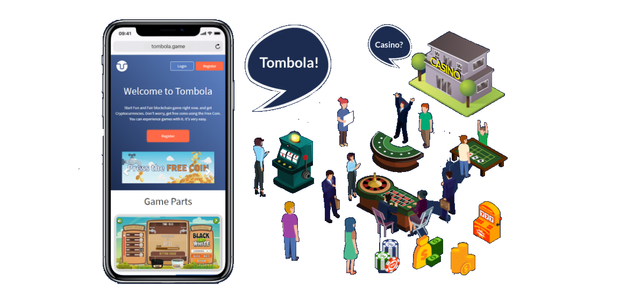 Tombola lottery game based on the fairest blockchain technology
The progress of blockchain technology is indeed said to be very advanced so that business development using this technology has already been developed in various projects and businesses. At present, the fairest and widely used Lottery Cryptocurrency and Gambling Platform has been built using Blockchain technology. The platform is called Tombola, which is the world standard Game and Lottery platform, by offering various opportunities to profit through this platform. In 2017 Tombola is a global gaming industry which is expected to grow 12.4 percent from 168.81 billion, will be 189.86 billion dollars in 2018, where estimated gambling will grow by 51.96 billion dollars. This is a business that has the potential to grow very rapidly.
Technology
The blockchain is a platform for transactions with the concept of peer-to-peer. Where each user has a transaction history, so when verifying the transaction details, you must be able to check and verify the ledger that is owned by all users. However, it is difficult to fake or changes data because many people store the same data. If you try to forge or change it, it's almost impossible because you have to fake or change all the data from innumerable people. In stored technology a smart contract Although it is basically an adaptation of traditional methods, it is considered good to provide smart solutions to many of the problems recently by removing intermediary costs, transactions tend to be faster, safer, and also cheaper. Moreover, by implementing high technology such as in Tombola, all transactions are done in a better way. Data is stored correctly but they are also transparent to avoid fraud by using smart contracts.
What is Tombola
With the presence of Tombola Lottery games and blockchain technology based gambling services are very impossible for someone to manipulate and provide clear information about all tickets purchased, lottery numbers and winners. Tombola games offer advantages in games and have a fair game some of the offers given in this platform are:
There is no manipulation
All of our game services move to the blockchain. So no one can manipulate the results of this game.

No fees
Tombola does not charge a game, so Tombola is very suitable for Lottery and games.

Dividend
We will distribute 50% of the profits for all sweepstakes and gambling games to Tombola token holders regularly.
Games that can be played on the Tombola Platform: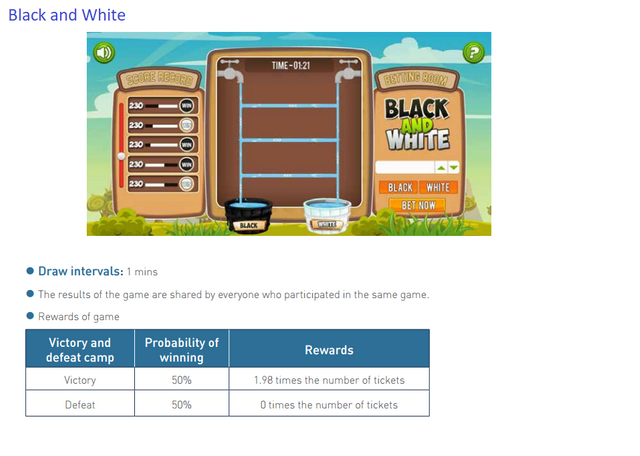 Black and white
Tombola Black and White, an instant lottery concept, where we guess where the water flows into the Black or White camp we only choose; set a win with a 50% chance for each turn, the user must choose the camp within the turnaround time. Players will receive a winning prize of 1.98 times. The Black and Puith game is a fair game where no one can manipulate because what happens is that all users participating in the lottery decide to win.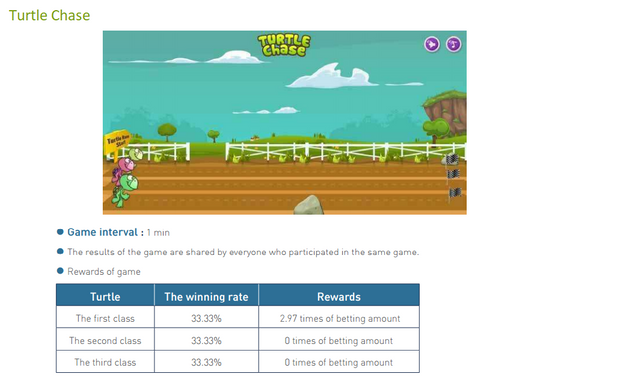 Turtle Chase
Turtle Chase is a game where there are three turtles and we choose one turtle to bet on the running race. Users make bets by choosing between red, green and blue turtles in preparation time. A game where the choice of a guided turtle wins a race is paid 2.97 times the number of bets. and if the tortoise loses the race, the user loses the bet amount. This is a fair game where no manipulation can occur because all players participating in the round of games decide to win or lose with the same results.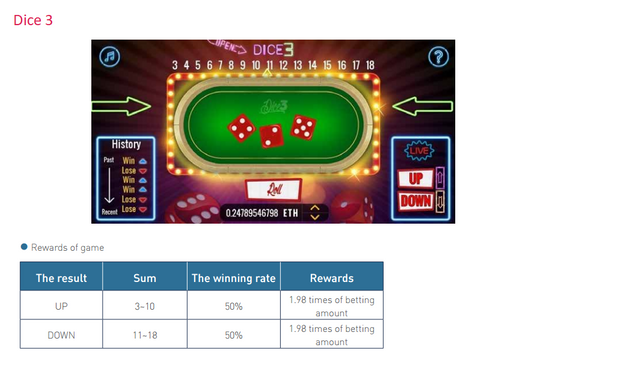 Dice 3
The Dice 3 game is a game of how users predict and match the sum of three dice in advance, allowing users to set the catch value and choose up and down. Users can change the dice three times in total, and when the sum of the three dice is 3 to 10, the result is Down. and when the sum of the three dice is 11 to 18, the result is Up. Where for example if the user chooses to bet on Down before making a move, and the first dice gets 3, the second dice gets 4, and the third dice gets 2, and the total is 9. therefore, the total is below 10. So, the Player gets 1.98 times the number of bets.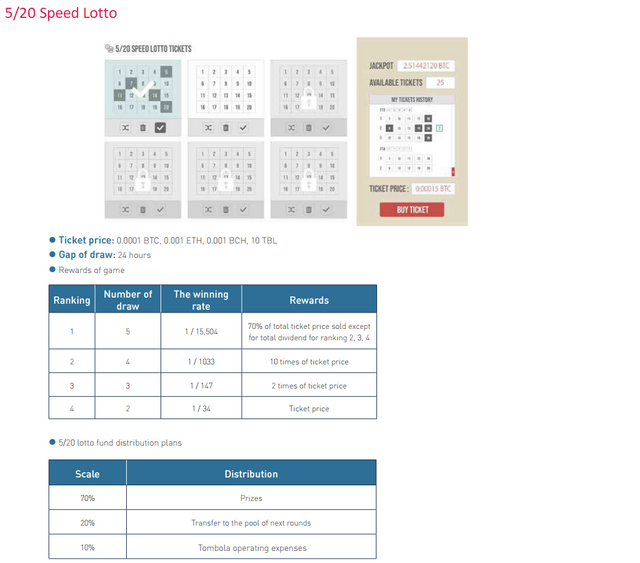 Lotto Speed 5/20
10% is the operational cost of a tombola. 20% of the amount will automatically be transferred to the next round of pools. 70% will be paid to them if you have a winner in this game. The rest of the amount will be transferred to the next round of pool in the game.
Token Information:
Name: Tombola
Symbol: TBL
Platform: ETH
Total issuance volume: 500,000,000 TBL
1 ETH: 10000 TBL
Token Sale Information:
Private Sales
Tombola's private sales are carried out throughout the ICO and minimum participation is possible from 50 ETH. The participation method is [email protected], to accept the participation method and specific information about Bonuses.

Pre-sale
Pre-sale from Tombola is divided into private rounds for upscale buyers and public rounds for general buyers the minimum purchase price for Private Sale is Ethereum 10 ETH, and Public Sale sets a minimum purchase amount of up to 0.1 ETH.

Main Sales
Main Sales from Tombola run through one round of public phases. In the case of Main Sale, this is available on Ethereum. The minimum number of Ethereum available is 0.1 ETH.

For those of you who want to contribute to this project, please visit the official website that has been provided for anyone who wants to participate in this project or want to contribute to this project
https://www.tombola.io/contribute.html
Watch this short video to get your knowledge about this platform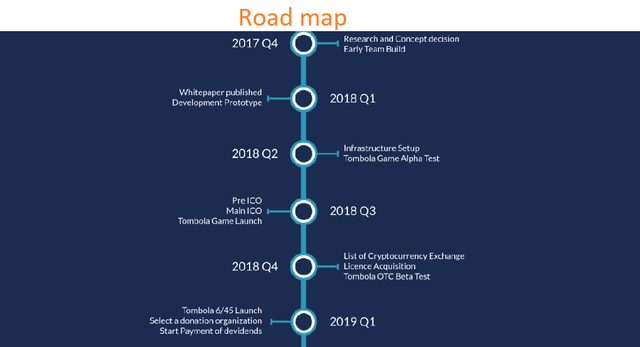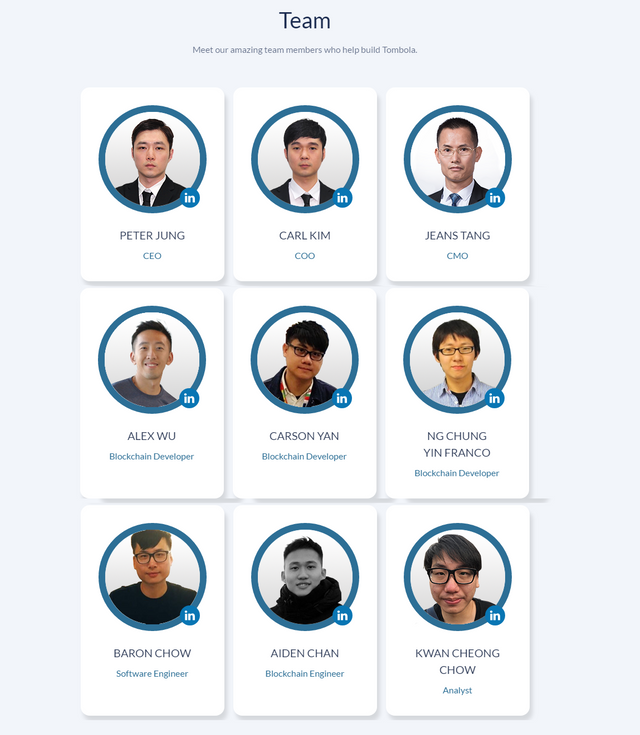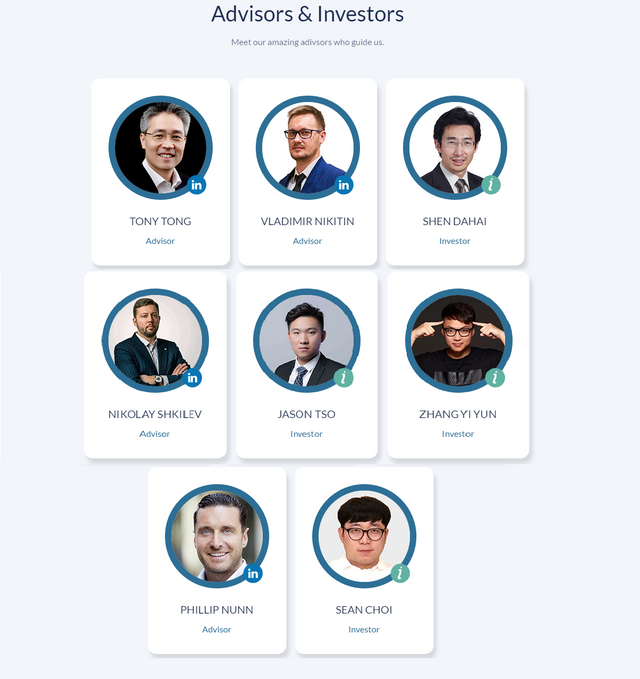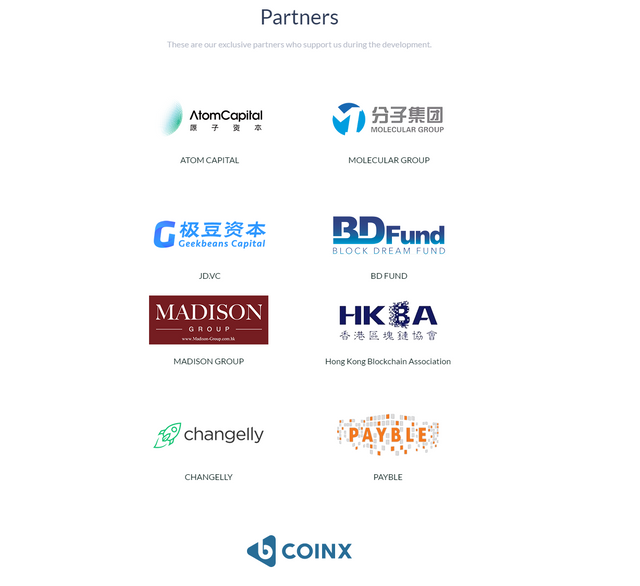 Quick Links:

Website

Whitepaper

ANN Thread

Facebook

Twitter

Telegram

Medium

Youtube

LinkedIn

Github
Article Examination


Author Data:

BiTcoinTalk

: 0x98EA6b4E05Af3181001E6eD3A87bcA27C8A7ddFe