VENA NETWORK-PROVIDING AN ALL IN ONE SOLUTION TO THE CRYPTO COMMUNITY.


INTRODUCTION
For the convenience of traders and business personnel developers have come up with several types of payment methods and common among them are the electric payment system. Together with the traditional payment system which is the use of fiat currency these payment methods have served the world until the increase in demand of fast payment methods became of a great necessity to the world. The use of fiat currency in the making of transactions come along with so many threats and dangers. Over the years the world has recorded several theft and robberies and this has caused many people to lose huge amount of money. It gets worse when the Central Banks whom the indigenous people trust with their funds also get robs even though physical security is provided at a very high rate.
These cases brought about the invention of a digital payment system which was pioneered by Satoshi Nakamoto about a decade ago. Bitcoin was the first cryptocurrency to be generated the goal of creating bitcoin was to serve as a digital medium of payment for transactions. Along the line several other cryptocurrencies have been created into the crypto community upon some few setbacks that the robust bitcoin network had. As more people got to appreciate the use of bitcoin in making payment, the network became a bit slow as on the bitcoin network only seven transactions can be completed within a second. This problem led to the generation of other blockchain networks such as Ethereum, Litecoin, Dash etc. The crypto community has expanded over the past decade with a whole lot of changes which have also compounded to the problems facing crypto enthusiasts when ever they are making transactions.
PROBLEMS THAT THE CRYPTO COMMUNITY FACES
The acceptance of digital currencies as a medium of payment transactions still has a long way to go as several countries have not legalized it. Therefore, crypto enthusiasts have to convert digital currencies to fiat currencies from time to time. This attitude brings about extra cost of transactional fees which users on any platform have to endure. The blockchain technology however was created to reduce cost of transaction by reducing the chain of transaction. However, this feature of the blockchain technology seems to have gone under the shadows as many people within the cryptospace are complaining of the increased in cost of transaction.
The above problem is further compounded when most Centralized OTC (Over the Counter Trade) are not registered as the countries within which they operate have not legalized the use of cryptocurrencies. This issue also creates insecurity and fear among crypto enthusiasts in their trading activities as you cannot hold anybody responsible in case the system goes down and never comes up again. This level of insecurity makes crypto noobs scared off crypto investments hence the stagnation of the crypto market for quite some time now.
Another problem which cannot be overlooked is that both cryptocurrencies and fiat currencies are media through which payment can be made for transactions. There comes a time where an individual could have in possession cryptocurrencies but in need of fiat currency to purchase an item or a gadget. Currently, there are no decentralized platform that lends crypto enthusiasts fiat currency in an exchange for cryptocurrencies. Possible platforms for obtaining fiat currencies are Ecurrency4u, Coinbase, Cofred etc. but these platforms are massively profit minded and hence their charges are quite high when purchasing cryptocurrencies from them and very low when selling cryptocurrencies to them. These platforms always manipulate the prices of their assets to their own gains without having buyers in mind and this makes buyers or sellers on such platform lose substantial amount of money.
HOW VENA NETWORK SOLVES THE ABOVE PROBLEMS
The very core mission and vision of Vena Network is to create a decentralized platform that would enable users to convert fiat currency to cryptocurrency without the assistance of any third-party which would only add to the cost of transaction. The Vena Network achieves this with the use of the several protocols implemented within the Vena Protocol. Example of these protocols are Handshake Protocol which comprises Trading Handshake and Credit Handshake. In a nut shell, users who are in to exchange cryptocurrencies for fiat currency or vice versa would use Trading Handshake. Whiles those who intend to borrow some amount of money being it fiat or digital currency would use the Credit Handshake to secure the loan. This system is fully inculcated unto the platform and hence there is no interference of any third-party to complete the transaction. With the Handshake Protocol in place crypto enthusiasts can conduct transactions at a very low fee. Please refer to the whitepaper for more information about how the Handshake Protocol works.
The Vena Handshake Protocol is such that both parties can make the call and if the requirements are met and affordable by the other party a transaction would be initiated automatically. Crypto enthusiasts can also make use of the Credit handshake and request for loans which would be granted after all due process are met. In the same way, creditors can also make orders to loan funds to needed users on the platform and upon reviewing a transaction can be established between the two parties if all requirements are met.
An essential part of Vena Network is the Vena Nodes that ensures that all these transactions are done in a very secured platform. These nodes serve as relayers and appraisers to help in linking both parties on a decentralized platform to conduct transactions. Users should have no fear with this system because all these nodes have been verified by the Vena Foundation through a Know Your Customer process and also by making an initial deposit of a substantial amount of Vena Tokens.
There is also a Jury Network that also help in the settlement of disputes that may occur within the network in the form of serving as arbitrators between both parties. In order to ensure that these Jury members also make good decisions regarding any situation that is presented to them, there is an initial deposit of some amount of Vena Token and any jury member who abuses his power would lose his deposit into the bounty pool which would serve as incentive to the other jury members within the networks.
TOKEN SALES
Private Sell has already ended but currently the Public Sale is ongoing and 1ETH= 10,000 Vena Tokens


ROADMAP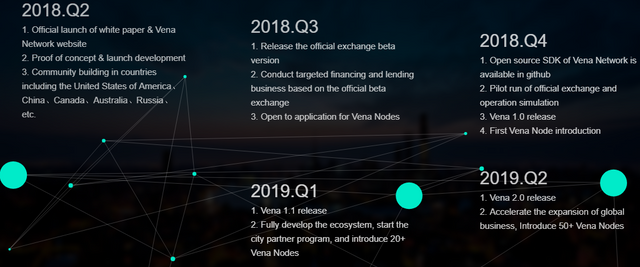 TEAM MEMBERS
The picture below shows some of the group members, visit the website for more information about the team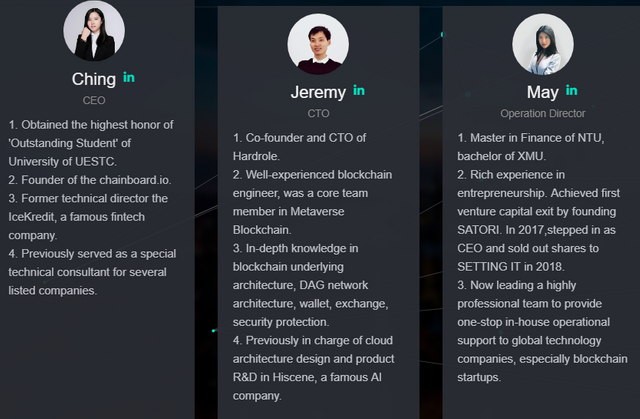 For more information please follow up with the team on the following platforms:
Website: https://www.vena.network/en.html
Whitepaper: http://whitepaper-en.vena.network/
Telegram: https://t.me/vena_network
Facebook: https://www.facebook.com/Vena-Network-207271413455484/
Twitter: https://twitter.com/VenaProtocol
Github: https://github.com/venanetwork
Bitcointalk thread: https://bitcointalk.org/index.php?topic=5031375.msg45846644#msg45846644
Bitcointalk username: jcmansah7
Profile link is https://bitcointalk.org/index.php?action=profile;u=1077887