THE BENEFITS OF INVESTING IN REAL ESTATE ON THE DOMINIUM PLATFORM.


INTRODUCTION
Financial freedom is one thing that almost everybody is trying to seek in this world of today and investment is one of the ways that generates passive income for people without toiling physically for it. The concept of investment has been embraced by several people around the globe because it changes the status quo of earning income. Ideally, people work in order to get money but on an investment platform, your money works for you whiles you relax and at the end of the day you still earn money.
Real Estate Investment has been identified as one of the profitable investment platform that you can seek financial freedom from. Real Estate investment involves the purchasing, owning and managing a physical asset for profits. The physical asset could be a house or property of any kind. The high generating platform of real estate has brought so many real estate investment institutions and prominent among them are Anworth Mortgage, Apple Hospitality REIT. Incorporations with an annual dividened of $0.56 and $1.20.
Though real estate investment seems to be a fertile ground for earning money in a very suitable way there are some problems that potential investors face anytime they come to the realization of investing into Real Estate.
DRAW BACKS THAT INVESTORS FACE WHEN INVESTING INTO REAL ESTATE.
Real Estate has long been seen as an investment den of the rich people because of the high start up capital needed to invest into Real Estate. This scare so many entrepreneurs from investing into Real Estate because in the current hardship situations that is circulating all over the world most people can raise such an amount of capital. Real Estate investment is a long-term investment plan and sometimes the lock up period alone puts people off from investing into Real Estate. A capital invested into Real Estate can go up for like over 3 years before the investor can start reaping of his investment. How many people in our communities can afford to invest a huge capital into a project and sit back for such a long period of time before earning from it.
Another problem that cannot be overlooked is the limited outreach of projects in reaching other consumers and potential investors. Most of the times, investors are not able to do proper and large advertising campaign for their projects to reach across the globe for potential investors to come on board for them to generate income upon their investments.
DOMINIUM USES BLOCKCHAIN TECHNOLOGY TO MAKE REAL ESTATE INVESTMENTS EASY FOR ITS INVESTORS.
The blockchain technology has seen great usage ever since its invention by Satoshi Nakamoto. The blockchain technology is a decentralized ledger system which seeks to make information accessible and transparent to all members on the network.
With the use of the Nxt blockchain network Dominium creates a decentralized platform where members can list their assets for purchase. These assets would have all the necessary details regarding the projects so that interested users can make purchases. Dominium uses the Ardor Child chain of Nxt blockchain network to run all the activities of the Dominium platform. The Ardor Child chain of Nxt network is very secured to prevent the access of unauthorized third-party.
Dominium also make investment into Real Estate Investment very affordable with the use of the DOM Tokens. The very core mandate of Dominium is to make Real Estate Investment very affordable to the average cryptopreneur and it does this with the use of the DOM Tokens.
Furthermore, the Dominium platform secures its members from fraudulent attacks by allowing all members to undergo several clearance levels of authentication which involves KYC and AML to prevent any attempts of fraudulent members. Members who seek to engage in any form of trading on the Dominium platform are supposed to pass all these levels of security authentication.
TOKENS AND TOKEN SALES
The DOM Tokens is the native token that would be used to pay for all transactional fees and listing of assets on the decentralized platform of the Ardor Child Chain. Participate in the Token sales which is being offered at a bonus.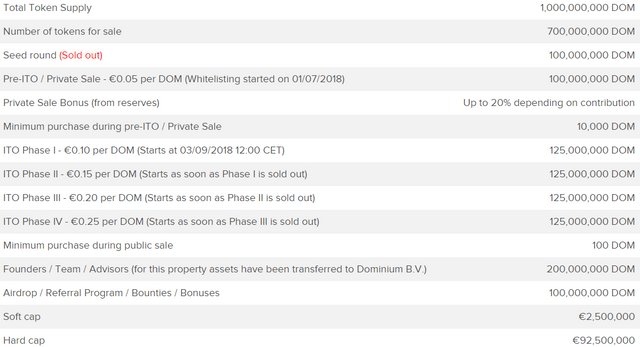 ROADMAP
The development of the Dominium Project would be carried out through the milestones as displayed in the image below: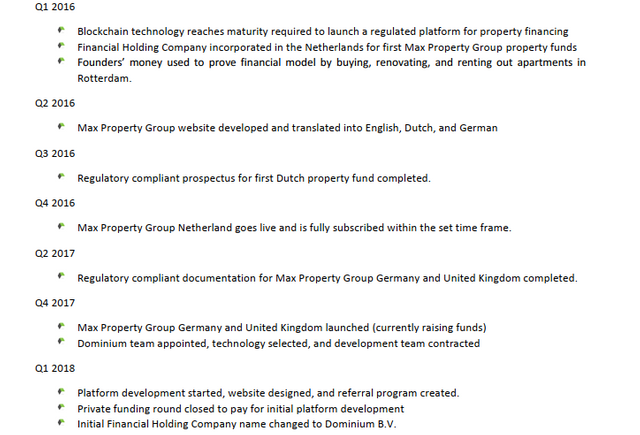 TEAM MEMBERS
This project has a very solid team which is very experienced in the Real Estate Industry. Below are some members of the team please visit their website and get to know more about the team behind this project.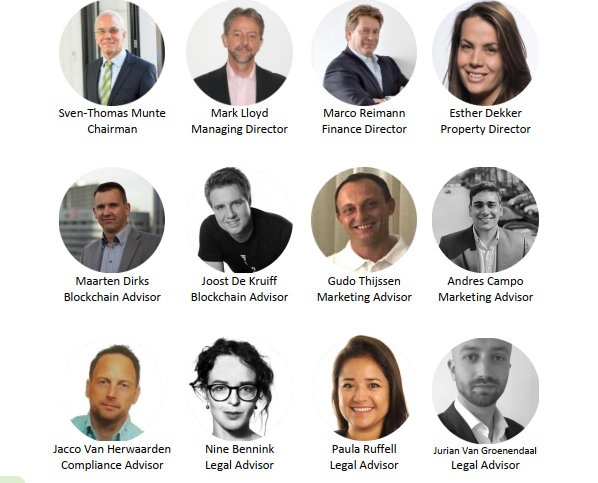 For more information about this project please follow up with the team on the contact lines below:
Website: https://dominium.me/
Whitepaper: https://dominium.me/sites/default/files/Dominium%20White%20Paper%2020180710_0.pdf
Telegram: https://t.me/DominiumPlatform
Facebook: https://www.facebook.com/Dominium.me/
Twitter: https://twitter.com/Dominium_me
Medium: https://medium.com/dominium
Linkedin: https://www.linkedin.com/company/dominium.me/
Bitcointalk thread: https://bitcointalk.org/index.php?topic=4686685.0
Authorship
Bitcointalk username: Teamfearless
My Bitcointalk profile link is https://bitcointalk.org/index.php?action=profile;u=1724481