VIDY - The Video Layer For Ads Powered by Ethereum
ICO market is nowadays pretty similar to the Wild West during the gold rush period. It is possible to earn money very quickly, sometimes even good money, but you have to find a perfect spot, or in this case, a good project to invest. Common thing to the Wild West? No guaranties and almost no law. It is pretty easy to find bad cowboys which are going to promise you golden mountains to steal your last piece of bread. So in all this mess, if you want to find your gold nugget, you can trust just your own brain composites.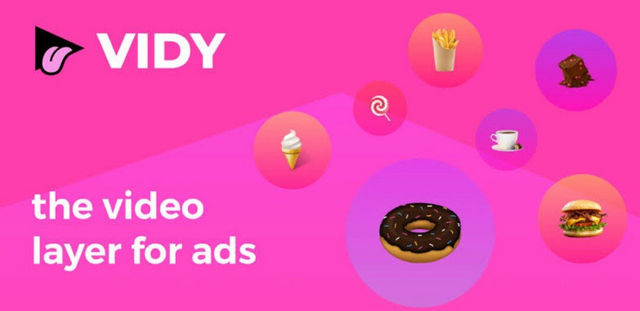 After my research, I found this project in which I really put my faith: VIDY. Very likely you haven't heard about them, project is made by great team members. Nevertheless, guys have an advantage, many other teams does not: already existing product made on a very perspective field. But these are not all pluses I found in this project. Below you can read the analysis and decide on your own, do you want to send some pennies to the pot.
Vidy is the world's first decentralized ad network, powered by the ethereum blockchain. Vidy's ad platform allows advertisers to embed video ads directly into hyper-relevant website text, improving user experience, ad conversions and publisher payments. With just a pause, users can now reveal tiny hyper-relevant videos embedded in the text of any page on the web, unlocking a whole new dimension of the internet. All ads are placed with an NLP consensus protocol driven by miners.
VIDY ECOSYSTEM
Publisher / Advertiser Dashboard
Publishers and advertisers get acccess to a dashboard where they can manage their campaigns and upload their video advertisements. They can adjust live campaigns, view statistics on each campaign and individual video ad's performance, and see analyrics on users and publishers to evaluate how they are performing and iterate copy and creative accordingly.
Video Ads
Circular hyper-relevant tiny videos that pop up while holding down on Vidylinks.
Application Layer
The application layer is the consumer-facing distributor of video ads across the web, encapsulated in an SDK that can be installed with just a tap by any publisher.
Indexed Websites
Vidy indexes hundreds of millions site pages and parses the natural language on screen for matching against the NLP Protocol. This becomes the total available inventory for ad placement on live ad campaigns.
NLP Protocol
Vidy's ad placement mechanism is a proprietary open-source NLP protocol that automatically places video ads on a massive scale into the hyper-relevant text of millions of publisher pages.
Consensus Layer
The consensus layer receives user data along with ad performance information from the data layer and processes it as inputs in the placement-scripts that it runs. This is done in conjunction with decrypting the smart contracts that are handed off for user-data target application.
Data Layer
The data layer is the foundation of the Vidy Ad distribution platform, concurrently communicating with the application consensus layers, and transparently maintaining all incoming data in the immutable Vidy ledger. The data layer maintains a record of all embed placements, hold times, VidyCoin payouts, VidyCoin staked balances, and all VidyCoin transactions via the application layer's one-tap purchase modal.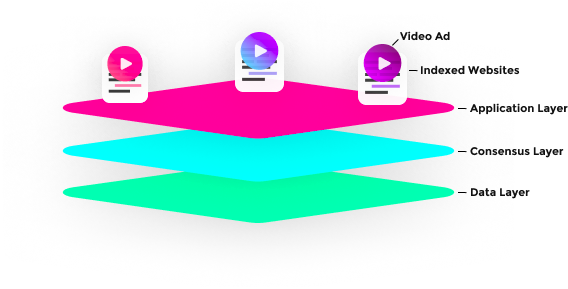 TOKEN AND ICO DETAILS
VidyCoin is a utility token, VidyCoin is also the main currency of exchange on the platform for making one-tap purchases through the OTP modal. When you're holding down and watching an ad,just swipe up to buy the product instantly. The OTP works for purchases, deliveries, reservations, and installs. Vidy's vision is for VidyCoin to become the main mode of payment for all ecommerce checkouts across the web when users swipe up on an embedded video.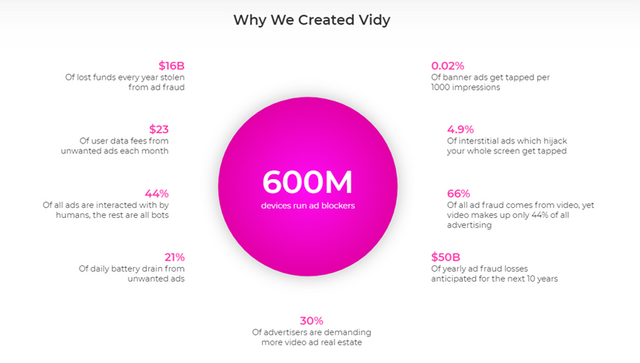 Token VIDY
Price 1 VIDT = 0.00002229 ETH
MVP/Prototype Available
Platform Ethereum
Accepting BTC, ETH, ETC, LTC, Fiat
Minimum investment 0.1 ETH
Soft cap 15000 ETH
Hard cap 60000 ETH
Pre-ICO
SEPTEMBER 1 2018
TOKENS PER ETH
67,333
TOKEN PRICE
0.00001485 ETH
ICO
OCTOBER 1 2018
TOKENS PER ETH
56,111
TOKEN PRICE
0.00001782 ETH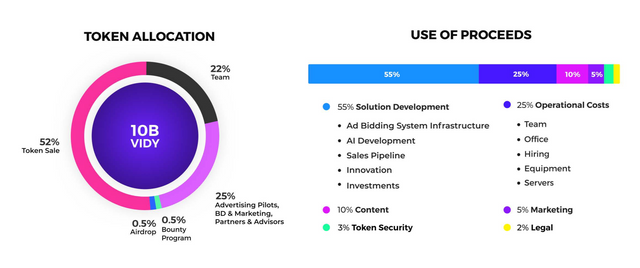 You can get Whitelisted here: https://vidy.com/whitelist
VidyCoin (VIDY) obtains its utility in 3 main ways. You earn VIDY every time you press an ad, use VIDY to make one-touch purchases in the ads, and VIDY must invest as fuel for all advertising campaigns on the platform.
ROADMAP AND DEVELOPMENT PERSPECTIVE

Above you can see the roadmap — how the team sees their nearest and long-term future.
TEAM MEMBERS AND ADVISORY MEMBERS TO THE PROJECT
Team seems to be the strongest part of this project. It consists of innovative and talented people. Of course I cannot complain if we talk about their professional level, guys indeed are experts on their field. With a team of veteran engineers, industry-leading advisors and world-class brand partners, Vidy is on it's way to reinventing online advertising, e-commerce, and entertainment.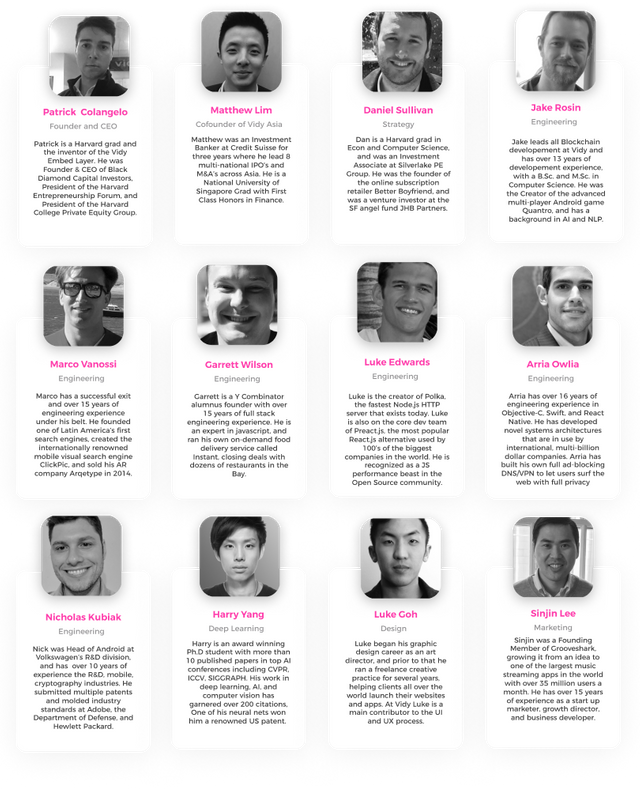 VIDY PARTNERS

With Vidy, we are unlocking a whole new dimension to the internet. Join this revolution and follow these links for more information;
Website: https://vidy.com
Whitepaper: https://vidy.com/static/whitepaper.pdf
Facebook: https://facebook.com/vidycoin
Twitter: https://twitter.com/vidycoin
Youtube: https://youtube.com/c/vidycoin
Instagram: https://instagram.com/vidycoin
Medium: https://medium.com/@vidycoin
Steemit: https://steemit.com/@vidy
Reddit: https://reddit.com/r/vidy
GitHub: https://github.com/vidy
LinkedIN: https://www.linkedin.com/company/vidyinc
Telegram: https://t.me/vidycoin
Bitcointalk ANN: https://bitcointalk.org/index.php?topic=4607821.0
Bitcointalk Bounty: https://bitcointalk.org/index.php?topic=4562571.0
Author
nugezmils
BITCOINTALK PROFILE
https://bitcointalk.org/index.php?action=profile;u=1729621