Shivom was featured in the title story of major German computer magazine Com!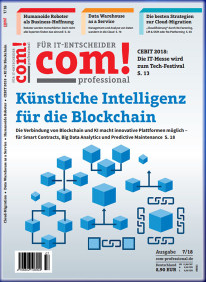 This month Shivom was featured on the cover of the well know German IT-Magazine Com! The story goes beyond the current hype around artificial intelligence and blockchain, introducing resourceful start-ups that are currently developing solutions that use both techniques. The main message: AI improves Blockchain, Blockchain improves AI.
AI and blockchain are the technologies Shivom aims to use to revolutionize healthcare, increasing the speed at which precision medicine is implemented at a lower cost. One central part of it will be artificial intelligence-based diagnostic and drug development. Why? The human genomic machinery with all its facets is exceptionally complex, and we can safely assume that no human being will ever be able to comprehend even a small part of such a complex system. Fortunately, technology advanced to a point where scientists can tackle this problem. The solution is machine learning, where in contrast to lab scientists or physicians, computers look at huge anonymized data sets and use algorithms to classify and recognize features. Already, these algorithms can capture discriminative patterns from genomic data, and using these patterns for prediction hold promise to extract actionable information via data integration. Accordingly, machine learning methods are likely to become ever more critical to genomics as more large data-sets via the Shivom platform become available.
The magazine introduces a series of AI blockchain use-cases and explains how they benefit from each other. Smart contracts become more flexible, maintenance predictions more accurate, transactions more verifiable, big data analytics more understandable. In addition, Blockchain experts explain why of the many application scenarios for Blockchain, even small and medium-sized companies can benefit.