AirTM's Pre-ICO Round : Equity + AIR Tokens
AirTM's Pre-ICO Round: Equity + AIR Tokens
How AirTM's New Tokens (AIR and AirUSD) Will Help AirTM Grow
Check out our Pre-ICO Round at https://bnktothefuture.com/pitches/airtm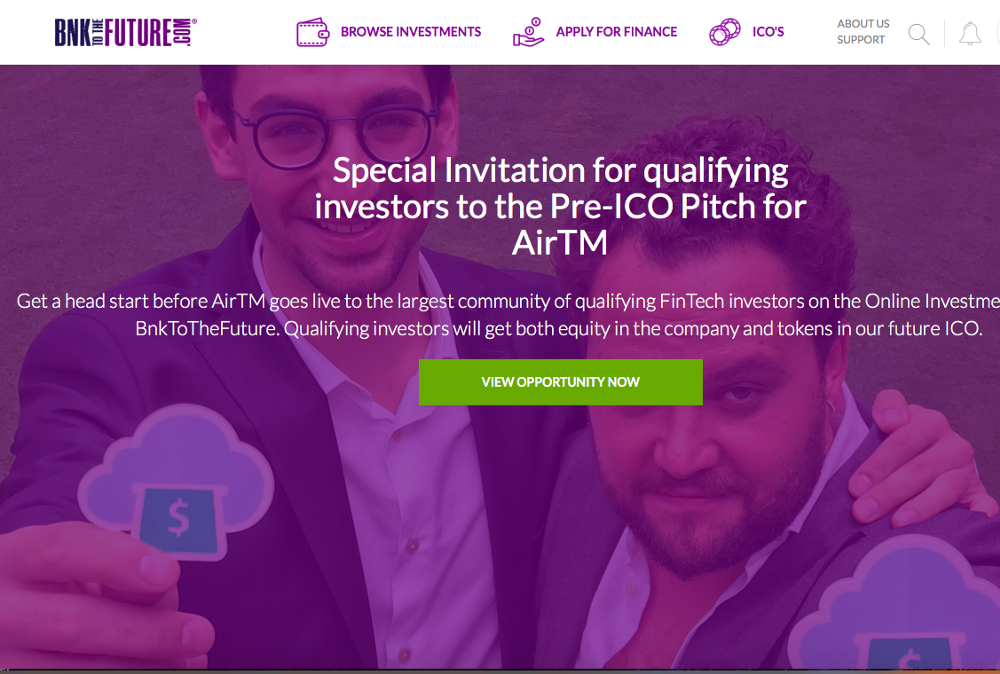 We started AirTM two years ago with a simple goal: to adapt technology to help people in the developing world Preserve Wealth from devaluing currencies and Free Trapped Money from disconnected money networks.
We'd seen the pain and suffering of currency devaluation first hand in Mexico in 1995 when the fall of the peso and hyperinflation wiped out Mexico's small but growing middle class.
Twenty years later we were both attracted to bitcoin and the potential of money that could travel on the internet, across borders, cheaper, faster, and easier than ever before, accessible by everyone, controlled by no one, without censorship.
We saw an opportunity to combine bitcoin, bank networks, e-money systems, and the Internet to bring safe and reliable dollar-denominated financial services to the developing world.
We wanted every person and business to have the same access to stable, safe haven dollars as the wealthy and big enterprises have always enjoyed.
Inspired by Localbitcoins, we also wanted to create a new category in the gig economy — a P2P network that could achieve what bitcoin and banks alone couldn't: provide non-technical people access to the benefits of programmable, Internet-compatible money.
Expanding AirTM's Reach with AirUSD and AIR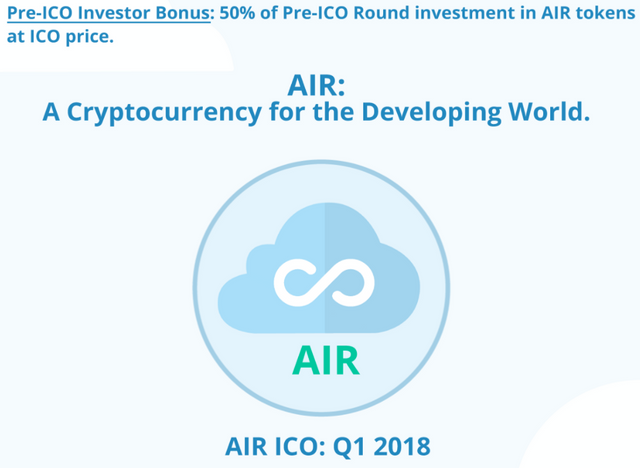 AIR: A Cryptocurrency for the Developing World
Our P2P network of AirTM cashiers has grown to 1,500 servicing over 50,000 clients in 80 countries who have completed $20MM in deposits and withdrawals using AirTM. We have a waiting list of over 10,000 cashier applications from all over the world and our goal is to reach 100,000 active cashiers by the end of 2018.
But AirTM cashiers aren't the only way AirTM will connect the world's money. Advances in blockchain technology since we started AirTM two years ago have provided AirTM with more tools that we can use to help people in the developing world Preserve Wealth and Free Trapped Money.
AirUSD is a dollar-pegged token built on top of the Ethereum blockchain. It will connect AirTM's platform to digital asset exchanges that are themselves connected to local bank networks.
AIR is our most ambitious project yet: a cryptocurrency for the developing world that will connect AirTM to blockchains and the tokens they support. Our goal is to inspire developers in the developing world to build on top of AIR — permissionless innovation that will solve problems that AirTM cannot solve with our P2P network and centralized ledger.
BnkToTheFuture & the AIR Initial Coin Offering (ICO)

We have raised our BnkToTheFuture pre-ICO listing goal of USD $1MM and are now in "over-funding" mode.
We are also taking advantage of blockchain technology to innovate on how we raise the funds we need to expand our P2P network, launch AirUSD, and build AIR.
We announced our Pre-ICO equity round on Bnk to the Future, an online investment platform that specializes in fintech investment opportunities. Our target was to raise $1MM and after just a few days we were close to achieving our goal thanks to over 90 investors who have already invested over $900,000.
BnkToTheFuture is a leader in raising investment for innovative blockchain companies like AirTM. Previous pitches on BnkToTheFuture include Bitstamp and Shapeshift. The platform is also a pioneer in empowering investors to buy shares with cryptocurrencies, including Bitcoin, Ether, Litecoin, and many more.
An Initial Coin Offering (ICO) is another blockchain innovation in fund-raising that AirTM will be employing. ICOs enable companies to raise money by selling tokens (AIR) instead of equity. The tokens are listed on cryptocurrency exchanges after the ICO and so can be bought or sold, giving investors both near-term liquidity and upside in new token-based ventures.
We are planning to hold an ICO of AIR in March of 2018 and will use the proceeds to expand our P2P network, connect to bank networks directly or through compliant partners, and build a community of blockchain developers in the developing world. We want AIR to become the blockchain protocol of choice for new and innovative fintech projects.
AirTM is the first Latin American start-up to announce an ICO. Investors in our Pre-ICO round will receive shares in the company, as well as 50% of their investment as AIR tokens based on the price per token at the time of AIR's Initial Coin Offering.
AirTM = The AirTeaM + You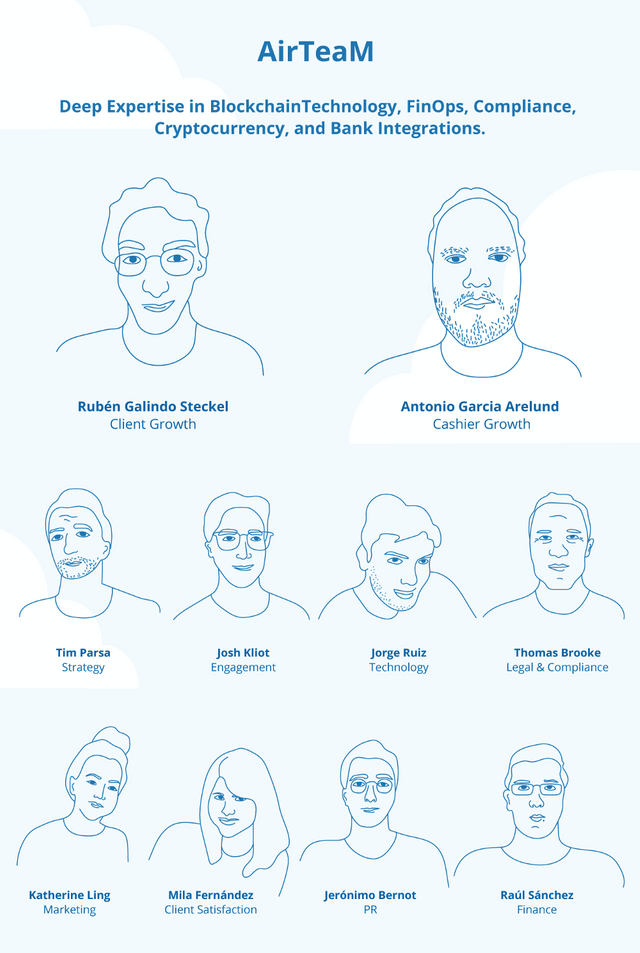 We are grateful for the opportunity to use new technology to solve painful problems suffered by billions of people in the developing world. And we are grateful to the AirTeaM who have helped grow AirTM into a successful and fast-growing fintech company.
We feel lucky to work with so many talented and passionate developers, legal and compliance experts, and blockchain engineers. This goes double for the dedicated AirTM cashiers from all over the world who are committed to helping AirTM clients live better, more prosperous, and more predictable lives.
AirTM's P2P network, our USD-pegged token (AirUSD), and our cryptocurrency for the developing world (AIR) are the three main tools that we will be deploying over the coming years to bring reliable, compliant, and convenient financial services to the developing world.
We are committed to innovating money for good and we are very grateful to all the AirTM clients who have joined us in this great experiment.
Have a question about Bank to the Future, AirUSD, AIR or our upcoming ICO? Drop us a line at [email protected]
Thanks for your interest and support.
Abrazos!
Ruben & Antonio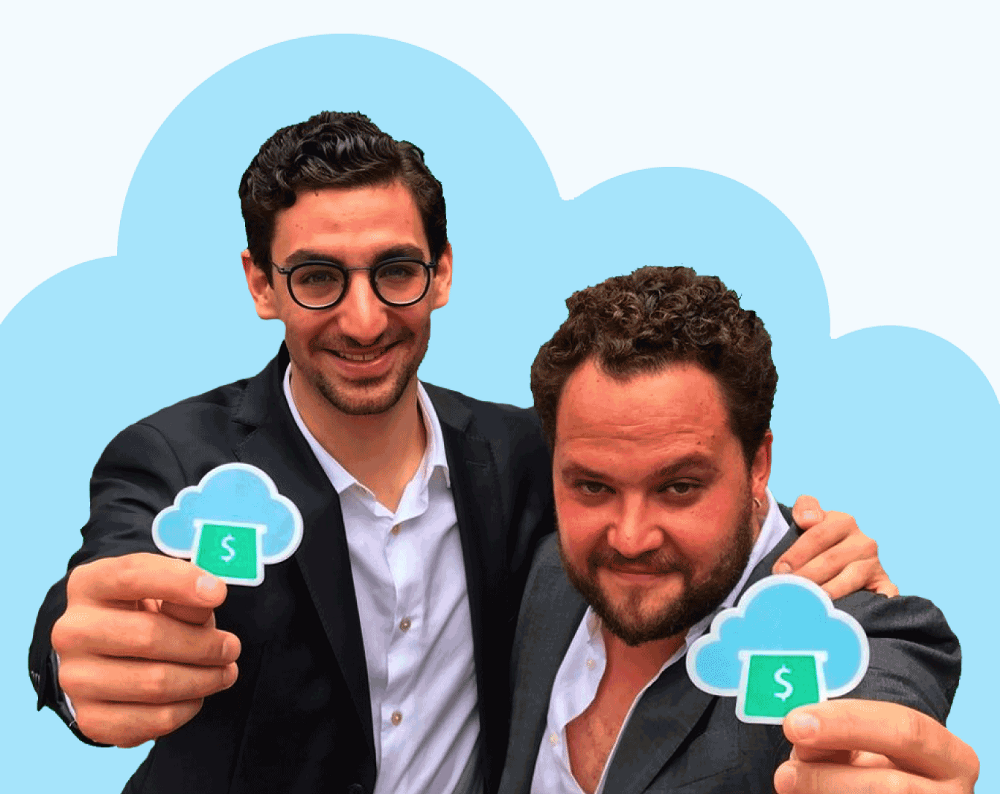 Ruben & Antonio AirTM Co-CEOs
P.S. AirTeaM illustrations credit goes to AirTM's very talented in-house designer Daniela Garza (@Dande_Garza).