ARIZN - Tokenised crowdfunding platform

The crowdfunding market began to show itself confidently since 2011. With its help, billions of dollars were attracted to the projects. Since then, there are more than 400 crowdfunding sites. Among them is Arizn, a crowdfunding site from South Africa. Over the seven years of their existence, they have been able to help attract initial funding for hundreds of projects and contribute to the creation of thousands of jobs. During this time Arizn found the problems of the sphere of crowdfunding, deciding which can significantly increase its effectiveness. This is what she is going to do with Blockchain technology, and attracts funds through ICO. About Arizn our review.


Problem
First, let's consider the problems of the project founders:
paid placement of projects. Like any business, a crowdfunding platform has a business model. In particular, someone uses the fees from the founders as a source of income. They comment on the need to create a barrier of entry to filter out weak projects;
limited coverage. Each site has its own audience, these are the people who are constantly watching the new projects of this site. But they are not so much, because there are many sites and the competition is great. This means that the founders of this audience should not be particularly hoped for when it comes to collecting more or less sufficient amount;
distrust of sponsors. Crowdfunding nowadays there are unregulated sphere. At the sites creates a lot skam projects. Investors who at least once burned, not so much want to help others;
it is difficult to get the borrowed funds. Today this process is labor-intensive. We have to wait a long time, and sometimes collect various information. There are no tools that would eliminate paperwork and automate reporting processes;
no reward for the dissemination of information. In simple words, there are no bounty systems on crowdfunding sites, when content distributors receive a reward for this.
And here is how the problems look through the eyes of investors:
the difference of sites. Each has its own rules and features. It takes a lot of time to understand each of them. And that sometimes you have to do. Because many projects use several platforms to raise funds;
everything is based on trust. As already mentioned, in the market of crowdfunding a lot skam projects. This is because the systems of these sites have where to roam scammers;
low liquidity. As a rule, projects at an early stage rarely become liquid. Most often, investors receive a minimum reward or not at all.

Decision
Arizn is a transparent crowdfunding platform on the Ethereum Blockchain. Now both sides are protected from secret schemes by automated reports. Arizn allows you to become a real investor in the project with AALT tokens.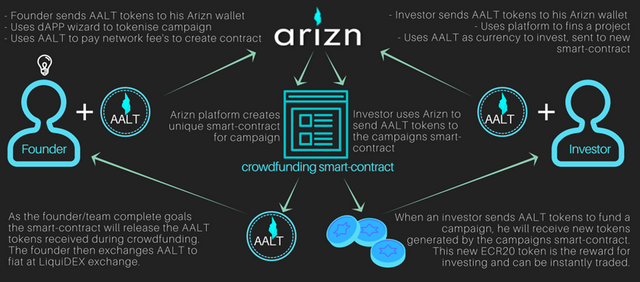 Arizn developed a convenient interface to the founders. Now, by filling in the project profile, it creates a smartcontract that will be in the Ethereum Blockchain. After that, funds in the project will involve using tokens AALT that the project generates for its investors. After raising funds, these tokens will also serve as a tool for profit distribution, according to the smartcontract.
Infrastructure provided Arizn exchanger LiquiDEX. It can be used to exchange any currency pairs of AALT project tokens. Also, tokens AALT project can listing and in other foreign stock exchanges. Their standard is ERC20.


Project team
Arizn is a close-knit team that has been providing crowdfunding services to South Africa since 2011. During this time, they have grown into one of the most prominent crowdfunding sites in Africa and now intend to conquer the world market of crowdfunding using Blockchain technology.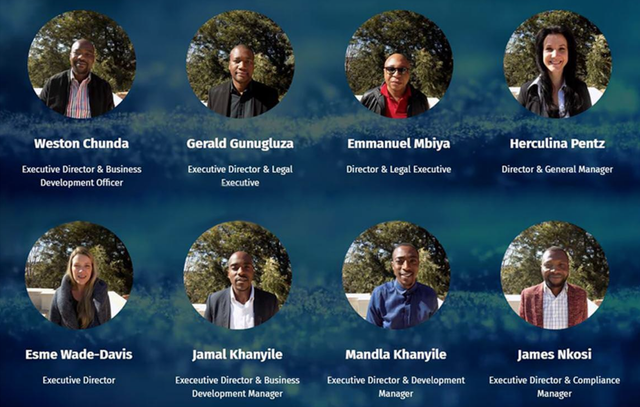 ICO
Ticker: AALT
Token type: Ethereum ERC20
Number of tokens: 1,200,000,000
Cost of 1 token AALT: 0.0001 ETH
Payment method: ETH, fiat
Softcap: $2,000,000 (Target reached)
Hardcap: $25,000,000
The distribution of tokens when reaching the Softcap:
Summary
The Arizn project solves the problem of the real sector-the market of crowdfunding services, and does it with the help of Blockchain technology. It is important to note the well-coordinated team of experts in this market. The project has already attracted Soft Cap. Now the project Arizn tokens can be purchased with 30% discount.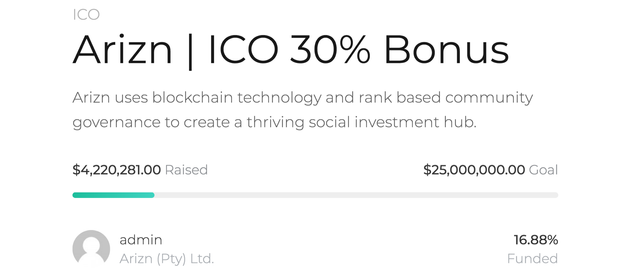 Official resources of the Airzn project:

WEBSITE: https://ico.arizn.network


TELEGRAM: https://t.me/ariznnetwork


WHITEPAPER: https://arizn.network/Whitepaper-version-1.2.pdf


ANN THREAD: https://bitcointalk.org/index.php?topic=4666472.0


BOUNTY THREAD: https://bitcointalk.org/index.php?topic=4637613


FACEBOOK: https://www.facebook.com/ariznnetwork


TWITTER: https://twitter.com/Arizn3


INSTAGRAM: https://www.instagram.com/ariznproject


YOUTUBE: https://www.youtube.com/channel/UClLriZETajkLeALZkCGqwiQ


LINKEDIN: https://linkedin.com/company/arizn


REDDIT: https://www.reddit.com/user/ariznnetwork


MEDIUM: https://medium.com/@ariznproject


GITHUB: https://github.com/Arizn

AUTHORSHIP:


MY BITCOINTALK USERNAME: klimenok1991


MY BITCOINTALK PROFILE LINK: https://bitcointalk.org/index.php?action=profile;u=1238493


UNIQUENESS 100%: https://text.ru/antiplagiat/5b65c4a00aeb9


MY ETH ADDRESS: 0x90051516FC3451D7bF1b5e7D0A4486757FC81C32