ICO DEALJOY - EARN CRYPTO BY SHOPPING ONLINE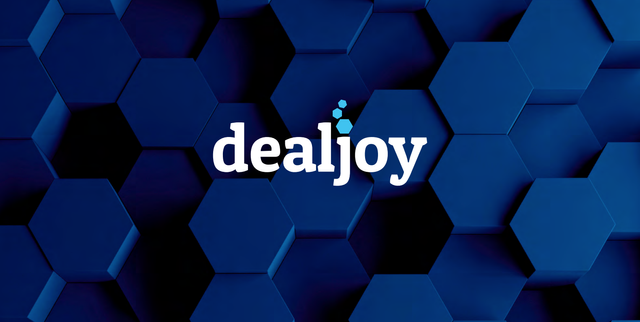 What is cashback? This is the money that comes to the customer's account after making purchases to compensate for its costs. From the point of view of the seller is a tool to increase conversion to re-purchase and attract customers from network partners. But all modern cashback services have a number of problems associated with confidential customer data, the time of direct refund and fees for transactions. The Dealjoy project creates a global cashback platform that allows you to increase the amount of refund due to the absence of commissions and guarantee the customer the speed of cashback and the security of his payment data. Today in our ICO review of this platform.


Problem
You should start with the fact that the proposals of modern cashback systems is based on partner networks, when several organizations are combined to provide discounts for their customers on a wide range. This works well to retain customers and attract new partners for companies.
But today, such a business model has accumulated problems that are becoming more obvious with the existence of Blockchain technology. What are these problems:
transfers between partner companies are made with the payment of Bank fees. This affects the amount of cashback for clients;
when making a cashback, users are asked for confidential data. But not all customers are willing to provide them. Thus, some customers are cut off;
organization of partner networks today is a resource-intensive process. It requires time, money and overcoming bureaucratic moments;
the number of members of the partner network is limited. It usually includes those with whom private partnerships have been established. The global infrastructure for these purposes is currently lacking;
organizations that use the cashback function in their Arsenal are often presented with claims and suspicions that they use their customers ' payment data for unethical enrichment;
sometimes it takes a long time between making a purchase and getting a cashback card. Sometimes up to three months. This is due to the technical complexity of the process. Customers complain about this and their loyalty to the organizations in which they made the purchase falls.
In General, the interest of consumers to cashback remains high. Usually before the first bitter experience. This situation can be changed for the better with the help of Blockchain technology.


Decision
Dealjoy is a platform that allows sellers to return their customers with DEAL tokens if they make purchases from them. This model allows you to not collect payment data from customers and produce cashback instantly.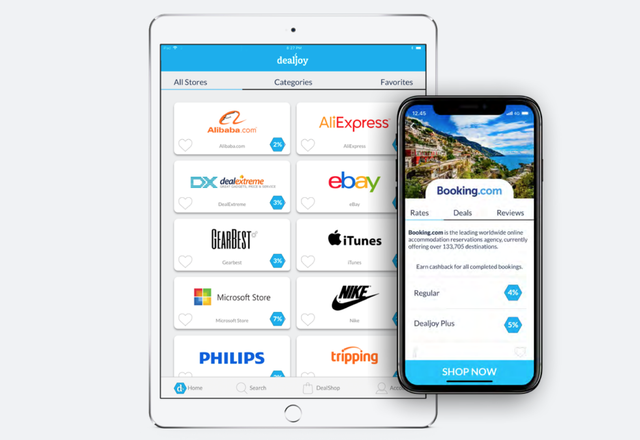 Customers can withdraw their tokens to their wallets at any time, where they can then be exchanged for other currencies, or withdraw to Fiat, or use as a surcharge when making other purchases, in particular in any of the thousands of stores of partners of the global Dealjoy platform.
Dealjoy take Commission from the sellers, which is the redemption tokens. Thus, the increased rate of the token, and with it further increases customer loyalty, and involvement in tokenomic all persons involved in the process.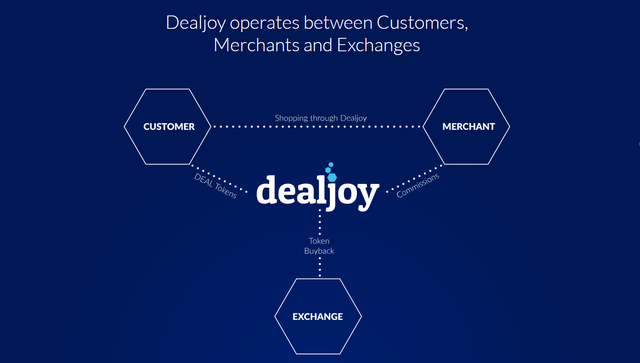 Technology allows Dealjoy not require customer identification in the system. The very fact that the client has tokens plays a key role.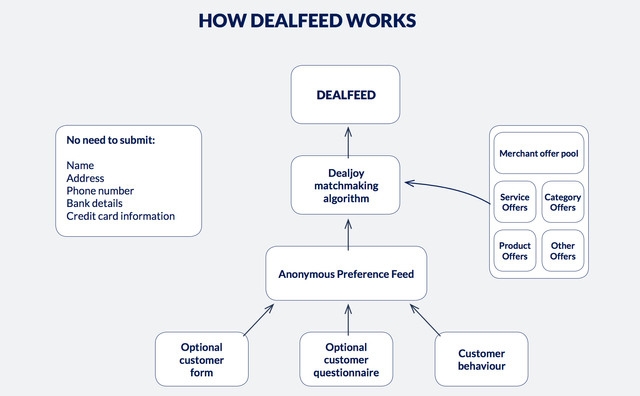 It looks like this if the client buys bread in the store for cash, and the seller charges tokens to the wallet address that the client will provide. No passports, phone numbers, card details, etc.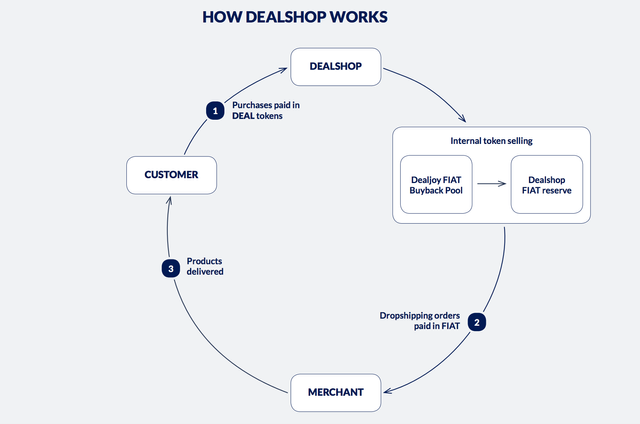 Dealjoy opens a new page of cashback idea development – private cashback. Now customers will not interfere with anything to get some of their money from purchases back. Now cashback will not be lost and forgotten. On the project website there is a calculator with which you can calculate the amount of cashback depending on the amount of purchases and the amount of potential passive income per year on the DEAL tokens.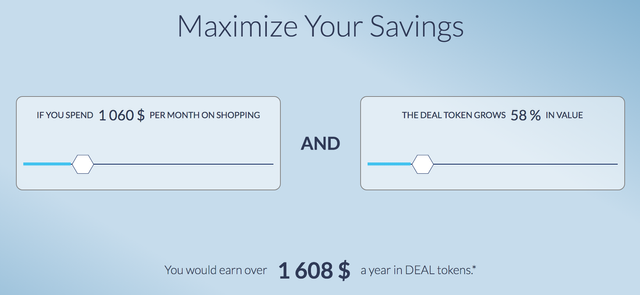 Project team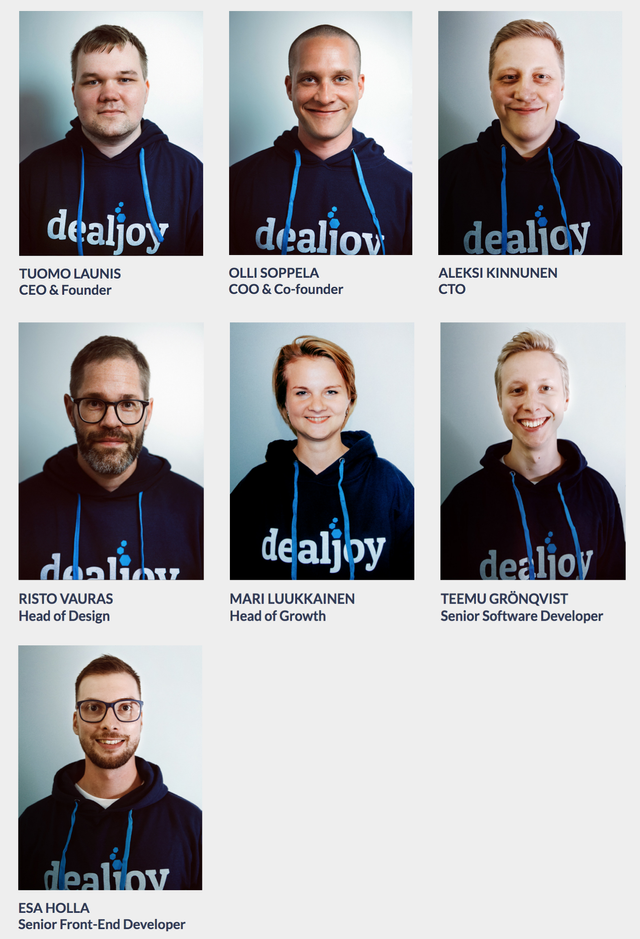 ICO
Token symbol: DEAL
Max total supply: 1.400.000.000 DEAL
Token type: ERC20
Initial rate: 1 ETH = 40.000 DEAL
Tokens for sale: 980.000.999 DEAL (70%)
Soft Cap: $1.700.000.00
Hard Cap: $8.400.000.00
The distribution of tokens and funds is as follows: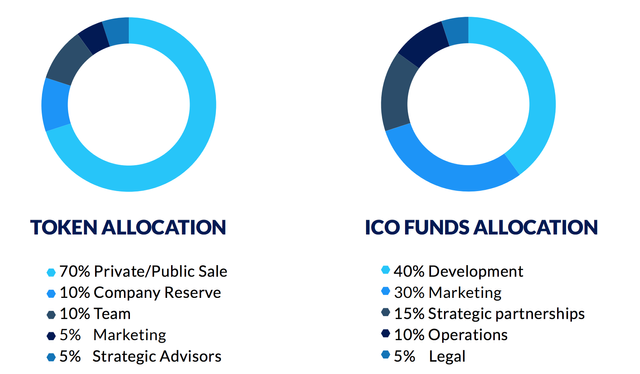 Summary
Dealjoy is a new round of development of such loyalty systems as cashback. This is a narrow, but pronounced part of the market. Now the project is a closed token sale. Public sale is scheduled for the fourth quarter of 2018.

Official sources of the Dealjoy project:

WEBSITE: https://dealjoy.io


TELEGRAM: https://t.me/dealjoy


WHITEPAPER: https://dealjoy.io/#whitepaper


ANN THREAD: https://bitcointalk.org/index.php?topic=4628510.0


FACEBOOK: https://www.facebook.com/Dealjoy


TWITTER: https://twitter.com/dealjoyofficial


MEDIUM: https://medium.com/@dealjoy


REDDIT: https://www.reddit.com/r/Dealjoy/


LINKEDIN: https://www.linkedin.com/company/dealjoy/


YOUTUBE: https://www.youtube.com/channel/UCL0X6_DO74dY--bUZdyN27w


GITHUB: https://github.com/Dealjoy

AUTHORSHIP:


MY BITCOINTALK USERNAME: klimenok1991


MY BITCOINTALK PROFILE LINK: https://bitcointalk.org/index.php?action=profile;u=1238493


UNIQUENESS 100%: https://text.ru/antiplagiat/5b61a62fa6582