MYCRYPTOBANK.IO - CRYPTOBANK FOR CRYPTOCOMMUNITY

Today, users of crypto-currencies are turning to banking services less and less, and sometimes even refuse them. In a short time, humanity can stop to address them. At the same time, banks retain the features of the system, which can be applied to the crypto economy. A certain upgrade of the banking system, but in fact its internal big coup intends to produce the company MyCryptoBank. Today we are talking about the ICO of this project.


Problem
The problems of banks are as follows:
commissions. Today, there are many intermediaries in the supply chain of banking services. They all require payment for their services. All this is expressed in commissions for translations;
speed. Transcontinental banking transactions sometimes take up to several working days;
national barriers. Some banks have a ban on international transfers with banks in certain countries;
the limitation of the cryptocurrency. Banks do not have the technological ability to process cryptocurrency transactions.

Decision
MyCryptoBank is a Bank on the Blockchain. It solves the problems of traditional banks.
commissions. Technology smart contracts allows you to replace intermediaries of the transaction and a minimum fee;
speed. MyCryptoBank has a transaction speed of 100 000 FPS. And the speed of one operation will not exceed 0.01 seconds;
national barriers. Cryptocurrencies can be transferred freely between countries;
the limitation of the cryptocurrency. MyCryptoBank will allow you to work with both Fiat and cryptocurrency.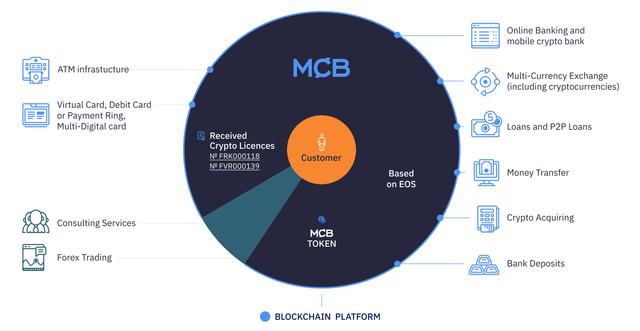 Ecosystem MyCryptoBank includes the following functions:
banking. Available 24 hours a day, 7 days a week. It can be used to withdraw and have money in the account. It can be used from a computer or mobile application;
translations. Allow you to make transfers around the world. Fees will be minimal, transactions fast and easy;
exchange. Allows you to exchange any cryptocurrency, in particular Fiat;
loans and credits P2P. Allows you to directly without intermediaries to borrow from other people or loans from organizations. The interest rate can be influenced;
ATMS. Allows you to withdraw and make money in Fiat. Mycryptobank ATMs will produce their own. As well as to conclude contracts for the use of existing ATMs of other banks. In the near future it is planned to put into operation 1000 ATMs;
online account. This feature allows you to make payments online using traditional Fiat accounts. Such as Visa, Mastercard and so on;
debit card. This is similar to regular debit cards. Only in these will be added the ability to pay in crypto currencies, along with Fiat. With it, you can withdraw money from the crypt in Fiat and withdraw them at an ATM in any country;
acquiring. This allows companies to accept payments in crypto currency. They will be automatically transferred to Fiat and accounted for according to tax requirements;
forex. This is access to trading cryptocurrencies in the Forex market, in addition to using the traditional functions of this exchange. This gives certain advantages over other players in the Forex market, by increasing the speed of the transfer and reduce fees for transfers, when you need to quickly transfer money between people;
deposits. It allows you to invest money at a percentage. In particular with the help of cryptocurrency. In this case, the interest will be charged in the same cryptocurrency;
consulting. It allows you to get advice on Finance and money management from leading industry experts.
MyCryptoBank also produces a convenient payment system in the form of a payment ring. This is the same as a normal debit card, which is enough to bring to the acquiring device for payment.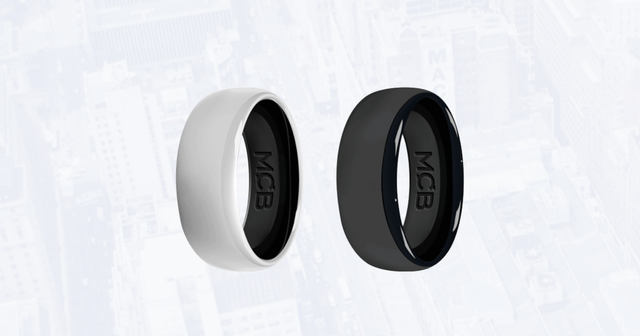 Also MyCryptoBank developed Multi-Digital Card. These are multi-digital maps. This is an improved analogue of traditional Bank cards. It combines all bonus, gift, club and other cards with EMV chip. Also, you can use it to use the ATM.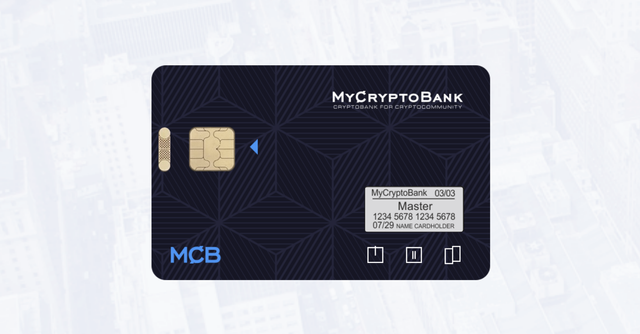 Project team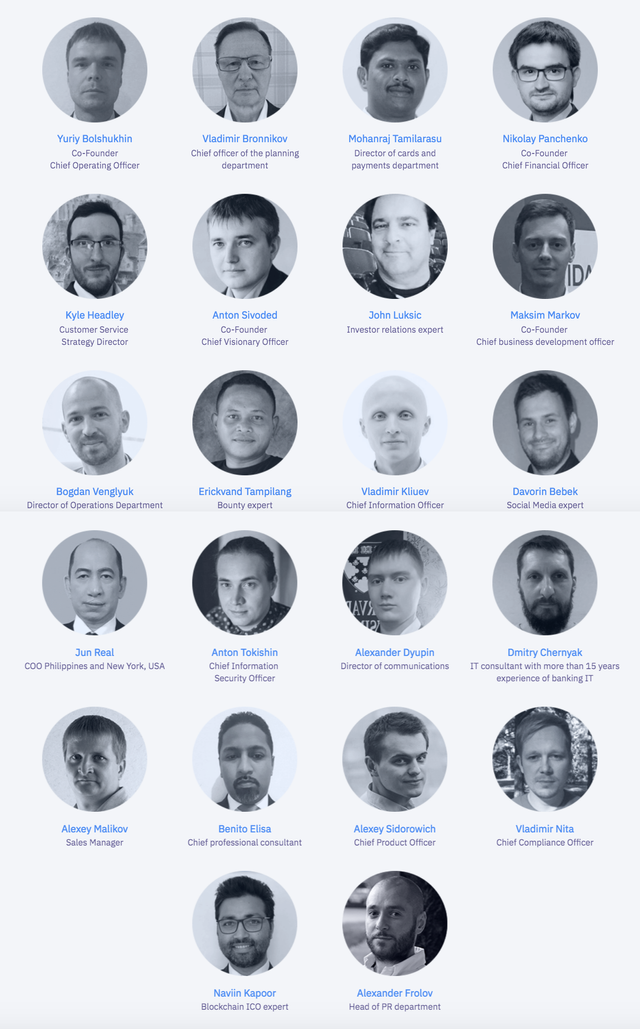 ICO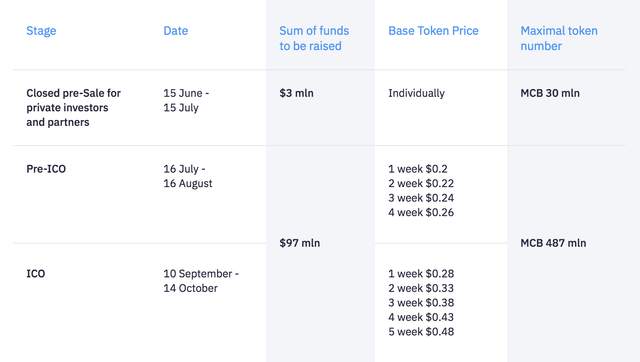 The distribution of tokens and funds will be as follows: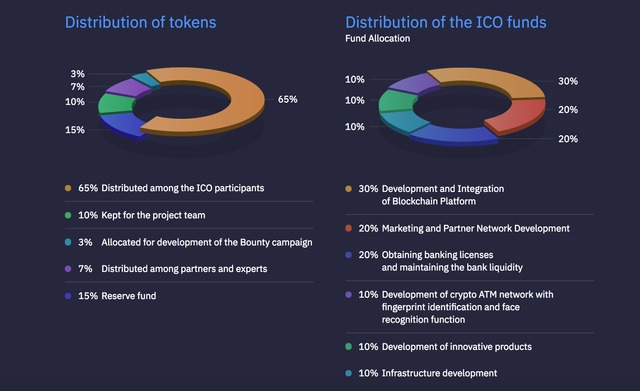 Summary
MyCryptoBank will make the transition to the new economy more mild, and it will not be a stress for those who are not yet devoted to the topic and do not want to understand the systems. For them, the transition to better conditions will happen relatively unnoticed. The project is of high expert evaluation. Looks like he's going to be successful.


Official resources of the project MyCryptoBank:

WEBSITE: https://mycryptobank.io


TELEGRAM: https://t.me/MyCryptoBank


WHITEPAPER: https://mycryptobank.io/docs/MyCryptoBank-white-paper.pdf


ANN THREAD: https://bitcointalk.org/index.php?topic=4484862


FACEBOOK: https://www.facebook.com/Mycryptobank


TWITTER: https://twitter.com/MyCryptoBank


REDDIT: https://www.reddit.com/user/MyCryptoBank


INSTAGRAM: https://www.instagram.com/mycryptobank/


LINKEDIN: https://www.linkedin.com/company/my-cryptobank


YOUTUBE: https://www.youtube.com/channel/UCEWn4UUSAX1xLQHKXkaBbuQ

AUTHORSHIP:


MY BITCOINTALK USERNAME: klimenok1991


MY BITCOINTALK PROFILE LINK: https://bitcointalk.org/index.php?action=profile;u=1238493


UNIQUENESS 100%: https://text.ru/antiplagiat/5b5f61bc7cbe4