VidyCoin - Decentralized Ad Network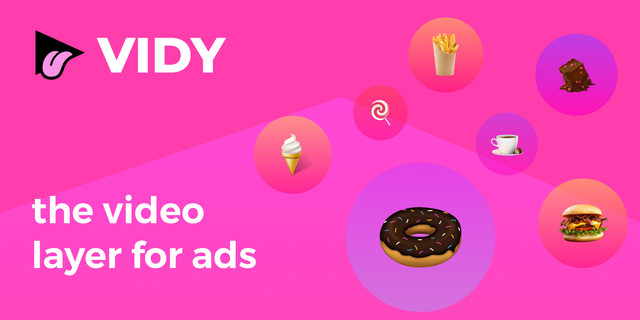 Another start-up from Silicon valley. It was there that the world's largest it corporations were born. Everyone knows Google, Oracle, eBay, Yahoo!, Adobe, Facebook, LinkedIn and others. This time a new type of advertising. It would seem that in this field everything has been invented. But VID was offered to sew video ads into text arrays on the Internet. It will be shown with a special icon that can be pressed or not pressed, at the request of the reader. Now will not be so sorry for the time to watch ads on the topic of interest. Because in any case, the advertiser will pay the viewer directly for it. Now, us start-up ICO VIDY.


Problem
Around 600 million people in the world use various ad blockers for smartphones and PCs to avoid Intrusive advertising. Advertising to such an extent has become a blind spot for users that they prefer not to watch it at all. At the same time, they deprive themselves of the opportunity to see new technologies and products in the subject that interests them. Advertisers are spending more and more budgets every day to reach out to the hearts of consumers.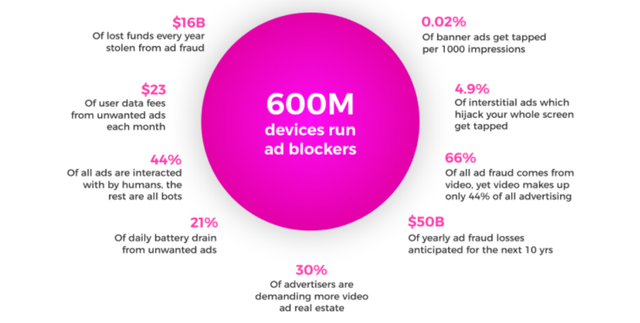 Decision
Vidy doesn't show ads right away. This plugin just highlights the text that is relevant to the ad. When you move your mouse over this area of text, a tiny window POPs up where you can intuitively see where this content is going. It can be a piece of video, picture or text call. Thus, the consumer is not distracted by extraneous elements, but consumes information in the flow. And if the advertising content interests him and solves his problems, he goes to it already prepared.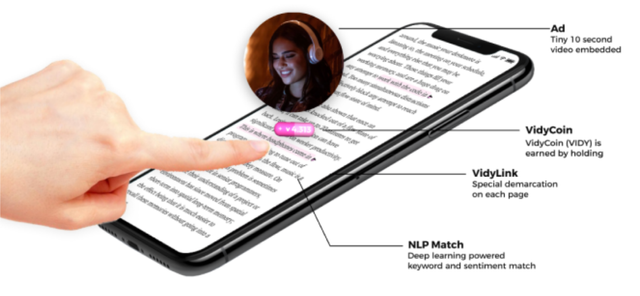 Vidy is watching, how long the user has held the attention of the advertising, and pay tokens for it VidyCoins for it. Thus, for the time spent watching advertising, the employer pays.
Such mechanics can save the user's time. Because it has the ability to consume much more information about new products and services. That is, if he reads a text, he is already interested. As he reads, he learns from the text about the companies that are currently engaged in solving the problems of consumers of this content. If it catches the attention of some proposal, then it goes to him. Thus, the consumer is at the forefront of a wave of innovation on the subject of interest, gently and unobtrusively. Still and earning under this.
For an advertiser, Vidy is an opportunity to show your ads on millions of pages on the Internet. This opens up opportunities to look for consumers at extremely low-frequency requests, getting right on target, and saving the advertising budget.
Resources, which is text and which is viewing ads also get reward tokens.


This technology can not do without Blockchain. First, to make micro transactions between users, advertisers and owners of resources with text. Secondly, all ads, views and advertising must be clearly considered, so as not to make a mistake with the payments. Third, to simply not allow auto cheat views.



Project team
Like Many silicon valley startups, the history of Vidy began in the Harvard Dorm room, where Patrick Colangelo got the idea.
A few years later, Vidy is a team of world-class engineers and entrepreneurs. Each of them has more than one success in the technology business and earned more than one million dollars.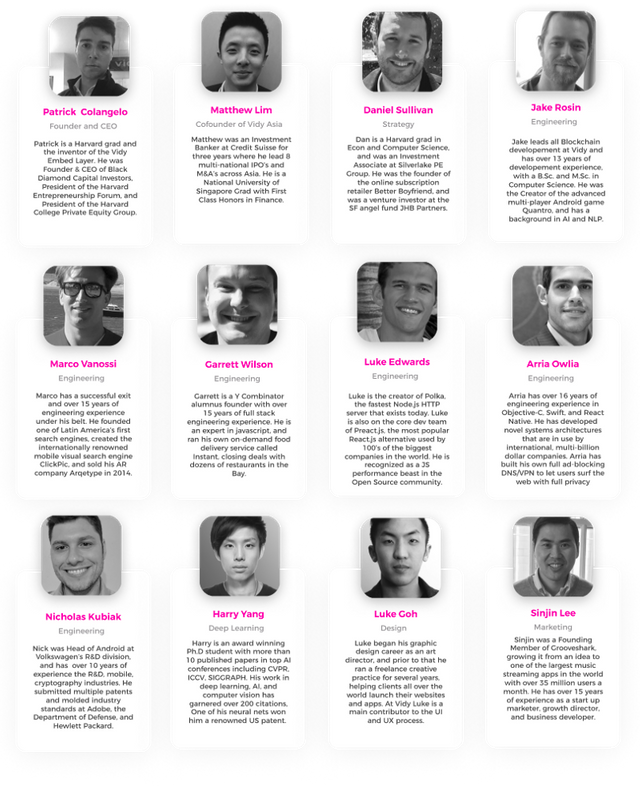 ICO
Token name: VIDY
Token Type: ERC20
Payment method: ETH
Soft Cap: 15,000 ETH
Hard Cap: 60,000 ETH
The distribution of tokens and funds is as follows:


Summary
Finally, the ICO industry is getting to the Silicon valley. In the last few decades, this place is considered to be the center of world innovation, because it has the largest number of inventions per capita. On the one hand, the VID project is an ordinary startup, but it is good that it can show the potential of what will happen if you connect Silicon valley and ICO. The project has completed a closed presale. Pre-ICO will start in 30 days.


Official sources project VIDY:

WEBSITE: https://vidy.com


TELEGRAM: https://t.me/vidycoin


WHITEPAPER: https://vidy.com/static/whitepaper.pdf


ANN THREAD: https://bitcointalk.org/index.php?topic=4607821.0


BOUNTY THREAD: https://bitcointalk.org/index.php?topic=4562571.0


FACEBOOK: https://facebook.com/vidycoin


TWITTER: https://twitter.com/vidycoin


MEDIUM: https://medium.com/@vidycoin


INSTAGRAM: https://www.instagram.com/vidycoin/


LINKEDIN: https://www.linkedin.com/company/vidyinc/


REDDIT: https://reddit.com/r/vidy


STEEMIT: https://steemit.com/@vidy


GITHUB: https://github.com/vidy

AUTHORSHIP:


MY BITCOINTALK USERNAME: klimenok1991


MY BITCOINTALK PROFILE LINK: https://bitcointalk.org/index.php?action=profile;u=1238493


UNIQUENESS 100%: https://text.ru/antiplagiat/5b6349cfeff8b