Prosperist XLVIII: Five Generations Of Computers & Blockchain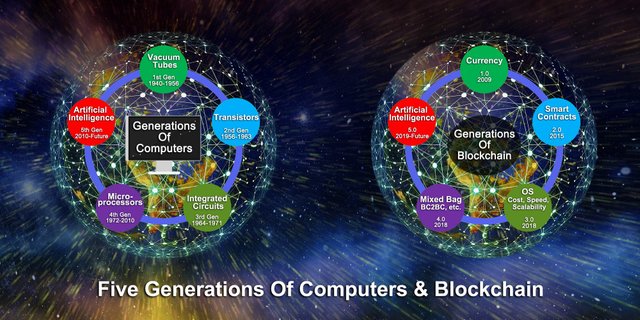 Source
In technology parlance, each generation is defined by a significant technological advancement that changes fundamentally how the technology operates. In moving from one generation to the next, the technology advancements have to be at least disruptive if not radical. The five generations of computers explain the history of computers based on evolving technologies from massive first generation equipments of 1940s to more compact, less expensive, but more powerful, efficient and robust machines of today that are now increasingly integrated with Artificial Intelligence.
· 1940–1956: First Generation — Vacuum Tubes
· 1956–1963: Second Generation — Transistors
· 1964–1971: Third Generation — Integrated Circuits
· 1972–2010: Fourth Generation — Microprocessors
· 2010- Future: Fifth Gen: Artificial Intelligence (Present & Beyond)
Another perfect example is the history of cellular networks, beginning in early 1980s with analog standards to the blazing Gbps speeds of about to be launched fifth generation networks.
In a similar manner, albeit at much faster pace, blockchains are rapidly evolving since the technology first premiered in 2009 as bitcoin, a decentralized cryptocurrency. While it took computers over half a century and cellular networks required almost 4 decades to reach their respective fifth generation, blockchain is poised to hit it in just about a decade. As AI is increasingly becoming integrated with today's fifth generation computers, blockchain technology is also primed to a future generation that will soon see it fully integrated with AI.
· 2009: First Generation — Cryptocurrency
· 2015: Second Generation — Smart Contracts
· 2018: Third Generation — OS Tx cost, speed, scalability
· 2018: Fourth Generation — Mixed Bag: BC2BC, etc.
· 2019: Fifth Generation — Artificial Intelligence (Future)
As much as 1st through 3rd generations of blockchain are pretty much clearly distinguished technologically, the confines of 4th generation blockchains, as claimed by some of the recent developers, are fairly blurred. However, what is clear is that none of the launched or announced blockchains claiming to be 4th generation blockchains disclose a full AI integration. As much as blockchains are getting faster, scalable and interoperable in their fourth generation iterations, just like the fifth generation of computers, the fifth generation blockchain will be married to AI.
The future of blockchain networks will not just be limited to decentralized financial transactions, but will entail interfacing, connecting and enabling an Internet of Everything (IOX) that will soon include trillions of AI powered devices interacting in real time with 5G network speeds.
This imposes new challenges on blockchain's current centralization-prone consensus protocols, big data inadequacies, and of course latencies that are no match to the upcoming real time 5G networks. We believe AI will play a key role in resolving each of those challenges.
While we keep our fingers crossed, would appreciate some claps if you liked this post, which was originally posted on Medium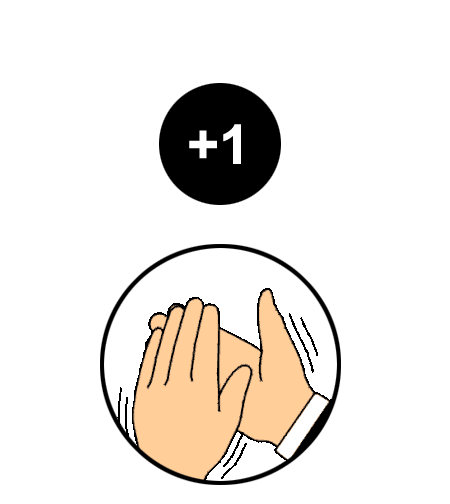 Prosperist Pledge:
If you wish to pledge support to the Prosperism movement, the terms remain the same as previous posts, with the following pledge:
"I pledge to share my SBD+Steem reward from this post with @prosperist to earn Xteem tokens @ 1 Xteem token / $0.01".
Thank you for your continued support.
Cheers :)