TRONscratch GAMING PLATFORM, A BLOCKCHAIN POWERED PVP ECOSYSTEM.

The blockchain revolution has taken the global financial system by storm cutting across several sectors and industry with wide scale acceptance and adoptions. The enormous benefits have ensured continuous patronage by FinTech companies, communication companies as well as the health industry. The gaming industry has taken its piece with several projects keying into this revolution to introduce several designs and solutions in a bid to offer solutions to the several evident industry challenges. One of such projects which has stood out is the TRONscratch blockchain gaming platform which intends to offer unrivalled and unprecedented gaming solutions powered by a decentralized blockchain mechanism.
What is TRONscratch?
TRONscratch is a decentralized gaming machine whose long term mission is to become the biggest crypto based Player vs Player gambling platform. It has been designed to offer a Dapp browser based decentralized game that will offer several games for user interactions and satisfaction. TRONscratch is developed to be optimised with any device ranging from mobile devices to computer interfaces. The TRONscratch team intends to keep adding simple and thrilling games ranging from checkers to darts to Goofspiel amongst several other games as development continues on the platform.
With the help of decentralized contracts, TRONscratch will identify possible win, lose or draw situations or cases to determine operability by users on the system according to how they play.
How to Play on TRONscratch Platform.
Depending on the chosen option (computer or mobile), a user needs to possess a TRON wallet since the TRONscratch technology is built on the TRC20 Network which is the custom blockchain for TRON. If a user opts for the PC version, it is recommended to use chrome browser in order to get the optimum experience. A user needs to add the Tronlink wallet extension on their chrome browser to ensure smoothness and quality interactions on the gaming interface. For mobile users, they will be able to play games on the platform by interacting with the Dapps feature on the tronlink mobile app which serves the same function as the extension version on PC. Mobile users have the opportunity of getting a powerful and equally refreshing gaming experience since the Dapps offers every function available on the TRONscratch gaming interface.
Once the above processes are settled, a user needs to pick between the games available which could be either of TIC-TAC-TOE or ROCK PAPER SCISSORS games since these are the available options on the platform at the moment.
Since stakes are placed using the TRON custom token TRX, users have the opportunity of earning up to 90% winnings of TRX on every won bet which takes about 20 secs per game.
Features of TRONscratch
Dividends:
As is now the case with most platforms, TRONscratch offers 10% of total TRX generated as revenues from the platform to TAC holders. TAC is the custom token of the TRONscratch platform. Holders will enjoy these benefits so long as they have TACs in their portfolios. This action ensures and encourages continuity of the system.
Embedded Autoplay: for ease of usage and simplicity.
PvP Dapps System: Ensures complete multiple platforms usage as is seen on the mobile browser option using tronlink.
Referral System: Gives an option of additional earnings should users bring in more players to the platform. They stand to enjoy 0.5% of their referrals TRX stakes whether they win, lose or draw while playing the available platform games.
Top 10 TAC Mining Contest: This feature enables the top 10 players to be entered into a mining contest where participants stand the chance to win additional TAC Tokens.
The TAC Token
As earlier mentioned, TAC is the custom token of the TRONscratch platform. It ensures the continuous availability and working order of the platform. TAC is built on the TRON blockchain. TRONscratch platform users will be able to mine TAC on the platform as they play the several games available. TAC can also be mined by staking TRX. Early birds or users will have the opportunity to mine TAC by staking just 80 TRX to mine 1 TAC. This value will keep increasing every 28 days by additional 20 trx.
TAC has a total supply of 10 billion with about 13 million premined tokens already available. To ensure a continuous increment in value of the TAC Token, the TRONscratch team has put in place plans to periodically buy back the tokens are burn them from the open market.
TAC is a utility token will be exclusively used on the Dapps platform.
TAC Token Details:
Name: TAC Token
Symbol: TAC
Token Type: TRC20
Blockchain: TRON
Mining Rate: Initial mining rate: 80 TRX to 1 TAC for 7 days.
Mining Rate Increase: increased on the 7th day to 100 trx to 1 TAC and increase by 20 trx every 28 days.
Total Supply: 10 Billion.
Premined: 13 million.
Token Distribution

Conculsion:
TRONscratch has built a completely thrilling and fascinating system and in the process, offered one of the best gambling systems in the industry. The fact that this platform has been designed on TRON, gives it the perfect opportunity to reach a wide range of multiple players. With its tremendous platform features, TRONscratch stands out when compared to its competitors. An added advantage of users being able to mine TAC tokens irrespective of their gaming outcomes, makes the technology uniquely attractive. There is no doubt that the solutions and opportunities presented by TRONscratch will usher in revolutionary growths and accomplishments to the Blockchain gaming industry.
Project Roadmap: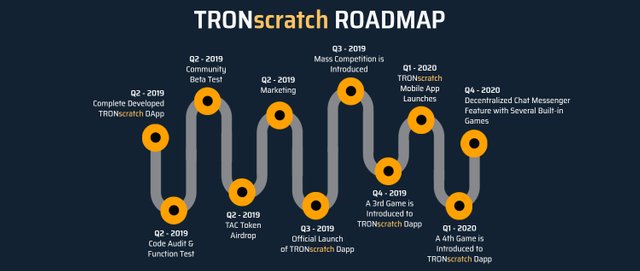 For more information about the TRONscratch project, kindly access the official channels below:
Website: https://tronscratch.com/
Whitepaper: https://drive.google.com/file/d/10rni0oPHKVDqIKCuQHjBnL8XiLNW8mbl/view
Twitter: https://twitter.com/TRONscratch/
Telegram: https://telegram.me/TRONscratch
Bitcointalk Ann: https://bitcointalk.org/index.php?topic=5169457.0
Article Written By: EmmaBen
Bitcointalk Profile Link: https://bitcointalk.org/index.php?action=profile;u=2096551;sa=summary