Benefits and Features of the RIPA exchange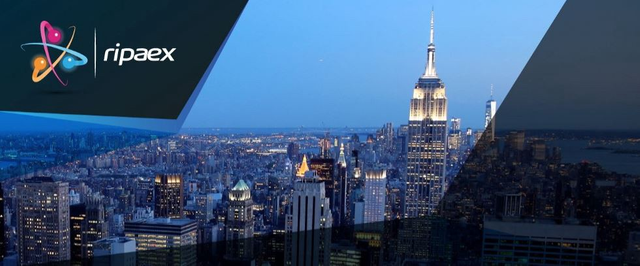 he Crypto landscape is changing. The urge for reliable, decentralized exchanges is growing. Enabling user a safe and reliable crypto journey. Hence 3 crypto enthusiasts came together to satisfy the need of many crypto traders and started the RIPA project.
Ripa Exchange is a reliable hybrid-decentralized exchange crypto marketplace, which the opportunity to its users to understand the market dynamics and how to manage trade and associated risks. It is based on the source code of Peatio, which supports a wide range of languages all over the world. The following are the top features of Ripa Exchange.
1. Secure Transactions
The platform offers its users a secure and reliable platform where they can perform their online transactions. They can buy and sell crypto currencies, send encrypted messages to their clients all over the world and many more.
2. A Safe Wallet
The wallet of this crypto marketplace is a very special one with some great features for its users. It comes with a fully decentralized marketplace, where its users can be certain that their money are flawlessly sent or received in a reliable manner. In addition, they can send or receive messages from clients in a secured inbox service, where they can have the chance to communicate with their clients.
3. Simple & Free Exchange Tool for Managers
It's a secure online tool, that gives the chance to exchange managers to pay just for network security operations and server, in order to be able to run an exchange and give platinum support to their clients. Moreover, Ripa uses a very friendly interface, in order its users to be able to use the platform quickly in a secure and safe way.
4. Reliable & Easy to Use Trading Platform
Ripa uses a simple and fully operational trading platform, in order to help its users perform their tasks by saving time and money. In fact it offers its users a modern, well-designed, powerful and beautiful platform.
5. Powerful Tokens
Ripa is an international exchange market that offers its services to its users all over the world. As a result, exchange managers can perform a number of online crypto exchanges any time they wish, because Ripa has the capacity to actually bring the market to its users.
6. Secure Encryption System
The site uses a well designed and secure encryption system, by focusing on security. Traders can feel safe when they perform their trades with their clients in all over the world. More specifically, it uses Peatio, which is an authentic crypto currency exchange solution that enables traders from all over the world to perform their online crypto trades.
Features overview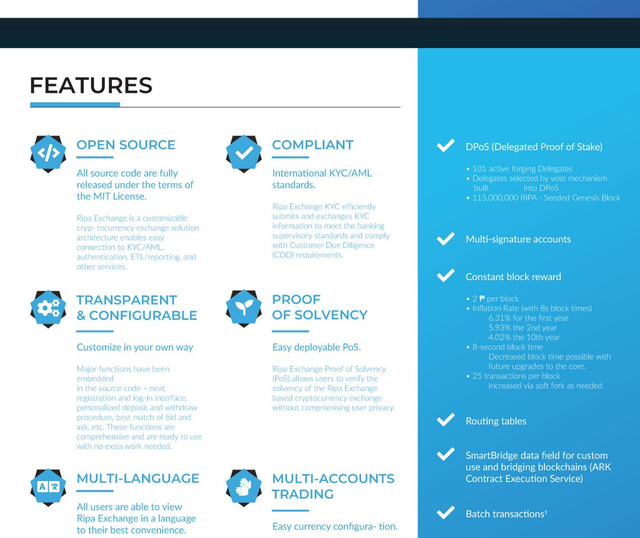 It's very flexible and transparent source, which supports a wide variety of languages and gives the option to international traders to trade in a comfortable way by their computer or by their phone.
Thanks to Ripa Liquidity Service Provider, each exchange in this international crypto network give exchange managers a liquidity to offer to their clients from the first day.
Continues Innovation:
Ripa is just the start of a new era. Observing the roadmap gives you a lot of information as to what we have planned for the future. We aim to build a top notch exchange with usability and features will feel the user welcome to trade.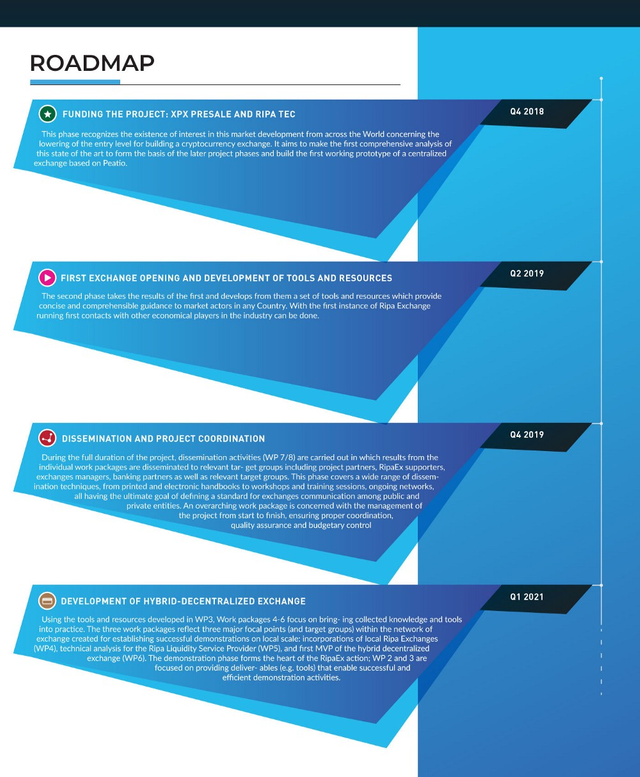 Resources:
https://bitcointalk.org/index.php?topic=3759172
https://www.facebook.com/ripaex
https://t.me/ripaex
https://twitter.com/ripaex