VIDY - Empowers people to find the best things in a video quickly

Introduction
Advertising is a basic need for a business. Without advertising, products that are created will not be known and will not even be sold. Making advertisements also have many types and types. Not only advertisements in the form of writing printed on white paper, such as brochures, magazines, newspapers and other print media.
But the development of the times makes this type of advertising very diverse. Starting from poster ads, billboards, newspaper classified ads, internet, social media and also video ads that we often see every day on TV, Videotron, Youtube, or often social media such as Facebook, Instagram, Twitter, many video ads there.
Video advertising is certainly not easy and cheap. There are many skills needed, there are many people involved, ranging from models, screenwriters, animators, designers and as for if videos are marketed via Youtube, and social media such as Facebook, Instagram, Twitter also requires people who are experts to market videos via online .
You certainly want your brand to be better known by consumers and society. One of the most effective ways is through an attractive video display. Visuals are easier for consumers to remember than just through a series of words that describe your brand.
For this reason, sellers put advertisements everywhere, ranging from television advertisements, print media, social media, to videos. However, many marketers believe that of all these methods the most effective way to market a product is through video media. Why is that?
All know that video is a visual display that is more attractive than images. From the video, customers become aware of exactly what the product is. In addition, videos can also be more tempting to the eyes of buyers with captivating impressions, as reported, On this basis that makes my reason for introducing to you all, about Vidy. Why is that ? and is it a consideration ?, the following is the explanation ;
Vidy Is a decentralized video advertising platform that can ensure channels get strong, stable, fair profits for publishers and advertisers, while strengthening the spread of intermediary, exchange, network and distributor work. simple handshake between advertisers and publishers. The Vidy Model distribution of content waiting for patents will forever change the way people do work.

Vidy found the first application's invisible embedded layer for video, running on the Ethereum blockchain. Vidy built a system to measure the accounting books of time users see advertisements by maintaining tracking technology in the embedded class. Then, Vidy gave awards to publishers and users for continuing to advertise with VidyCoin, which was taken as part of VidyCoin payments made from advertisers to publishers for video ad impressions there.

Vidy has a mission that is by empowering people to find the best things in video quickly, without having to be involved in the online world, influenced by profits to handle our internet life as a data warehouse can be traded. Everyone knows that the internet is run on advertising revenue and premium income comes from ads related to users.
Vidy Has an ecosystem that is very good, along with its explanation;
Publishers or Advertisers: Publishers and advertisers get a control panel so they can manage their campaigns and upload their video ads. They can adjust campaigns directly, view statistics on each campaign and video ad performance individually and see the analysis of users and publishers to evaluate ad performance and repeat copy and creative stars accordingly.

Video ads: Ultra small videos associated with circular pop ups while holding on to Vidylinks.

Has an application layer: the application layer is a distributor of video ads aimed at consumers on the web, packed in SDK can be installed with just one click by any publisher's website. Cac will be established mucVidy only indexes hundreds of millions of web pages and parses natural languages ​​on the screen so in accordance with the NLP protocol. This is the total inventory available for ad placement in direct ad campaigns.

Having an NLP Protocol: Ad placement protocol The exclusive open source NLP Vidy Protocol automatically places large-scale video ads in highly relevant text from millions of publishers' pages.

Having a class consensus: consensus that receives layer user data with ad performance information from the data layer and treats it as input in scripts that run positions. This is done by decoding the smart contract given to the target application data user.

And has a Data Layer: The data layer is the foundation of Vidy's ad delivery platform, and communicates with a layer of consensus applications and transparency to keep all data included in the Invariant Variant ledger. The data layer stores records of all embedded locations, time storage, VidyCoin billing, fake VidyCoin balances, and all transactions via the VidyCoin method to buy class application touches.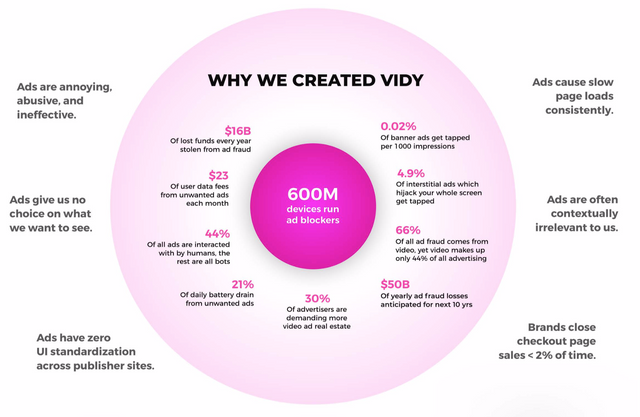 TOKEN VIDY
Token utility platform with which you can go to the platform to have a personal wallet to pay for platform services, buy goods using NLP Vidy protocol to advertise and receive appropriate remuneration for its view.
Token: VIDY
Platform: Ethereum
Standard: ERC20
Total Tokens: 10,000,000,000 VIDY
Available for Token Sale: 5,200,000,000 VIDY (52.0%)
Payment: ETH
Minimum investment: 0,1 ETH
Price PreICO: 1 VIDY = 0,00001673 ETH
Price ICO: 1 VIDY = 0,00002229 ETH
SoftCap: 15,000 ETH
HardCap: 60,000 ETH
The preliminary stage of the sales PreICO: 15.07.2018 on 07.30.2018
The main stage ICO sales: 31.08.2018 at 31.12.2018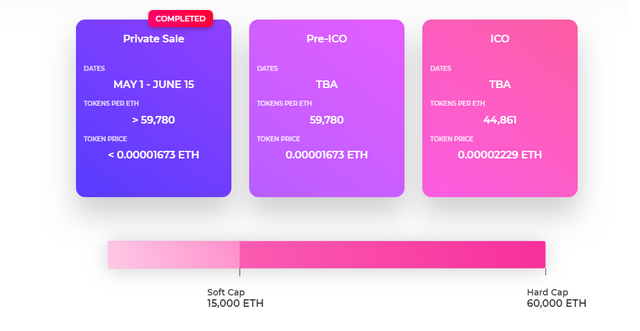 ROADMAP

THE TEAM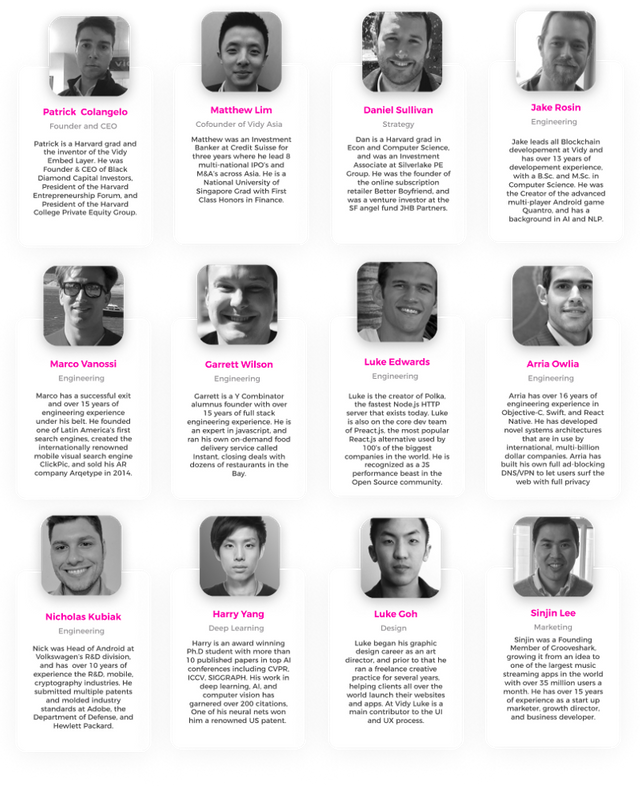 Conclusion
There is a very interesting thing from the Vidy Project, which is a solution to overcome the problem of video advertising, without which it is currently unthinkable, there is no display of content of any level and any orientation. Therefore, the delivery method is interesting and worthy of being translated into real life, moreover this is possible and produces more. Luck and dignified development of this project, we hope you can give lots of questions about this project, and our professional team will answer happily.
For more information you can see it at the link below:
Website: https://vidy.com/
Whitepaper: https://vidy.com/whitepaper
Facebook: https://fb.me/VidyCoin
Twitter: https://www.twitter.com/vidycoin
Telegram: https://www.t.me/vidycoin
Bitcointalk: https://bitcointalk.org/index.php?action=profile;u=2094911
ANN thread: https://bitcointalk.org/index.php?topic=4513155.msg40635736#msg40635736
Author by : yanifitri20
My Profile link : https://bitcointalk.org/index.php?action=profile;u=1543053
My ETH Address : 0x28DE63Ec2b939D29c74F2fCF1FEDC3B742e96573