##The wonders of Markdown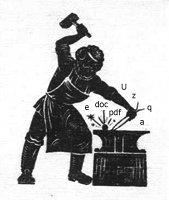 What is markdown? And why on earth does it matter?
Markdown is effectively a text formatting syntax (like notepad but better). The reason that markdown is useful is that it provides a standardised format for creating documents. It uses a simple syntax to create headings and lists and everything you would normally have in a text doc, but every document looks the same. The importance of this comes in to play when for instance, you're working on a repository like Github with millions of users using different applications to read and write applications and so on. When there is a standardised format it makes integration into other applications much easier to achieve, like converting your markdown into an HTML format to view in your browser.
Coming from an engineering and systems background I am fully aware of the multitude of advantages of standardised processes so I'm very excited to have learnt about Markdown. I've written quite a few explanatory documents since I started on this new path and have thoroughly enjoyed using this format in my text editor.
This is truly a journey of discovery and I'm looking forward to finding the next diamond as I burrow my way through the mountain named tech.