REFLEXIÓN| INVERTIENDO POCO PARA ENTERDER COMO FUNCIONA EL SISTEMA / INVESTING LITTLE TO UNDERSTAND HOW THE SYSTEM WORKS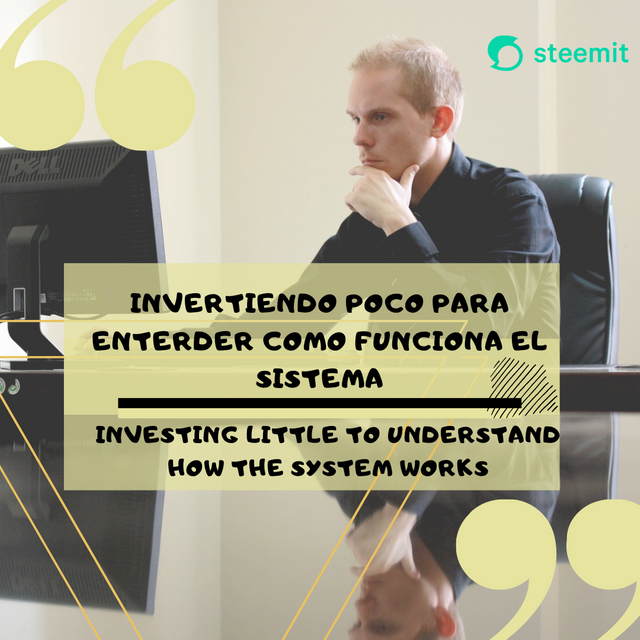 REFLEXIÓN DE MI PARTE PARA USTEDES
REFLECTION OF ME FOR YOU
Invirtiendo ando ...
Investing I'm ...
Desde el 2017 cree una cuenta bittrex porque me dio seguridad para realizar diferentes tracciones, en realidad lo único para que utilice esa cuenta fue para pasar BTC o SBD, hoy en día la cuenta la utilizo para practicar trading.
Since 2017 I created a bittrex account because it gave me security to carry out different tractions, in reality the only thing for me to use that account was to spend BTC or SBD, today I use the account to practice trading.
Resulta que las mayorías de las criptos en la plataforma bittrex se encuentran, es una plataforma que es estable. Actualmente he invertido unos pocos dólares para entender como funciona he estado leyendo algunas estrategias.
It turns out that most of the cryptos on the bittrex platform meet, it is a platform that is stable. Currently I have invested a few dollars to understand how it works I have been reading some strategies.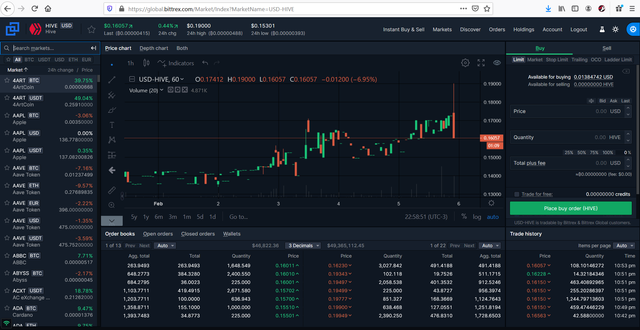 Tendencia HIVE / HIVE trend
He invertido en Polkadot (DOT), Ethereum (ETH) y actualmente he invertido en (AAVE) justamente aproveche una baja de 490$ dólares para comprar, en la plataforma Aave ha llegado su máximo ha sido 540$.
I have invested in Polkadot (DOT), Ethereum (ETH) and currently I have invested in (AAVE) just take advantage of a low of $ 490 dollars to buy, on the Aave platform it has reached its maximum has been $ 540.
Con Polkadot fue muy gracioso porque cuando estuvo en 15$ no aproveche la compra y miren por donde va 21$ en la plataforma (bittrex).
With Polkadot it was very funny because when it was at $ 15 I did not take advantage of the purchase and look where $ 21 goes on the platform (bittrex).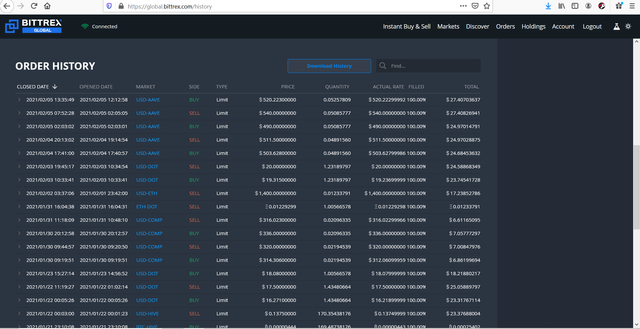 Historial de ordenes de compra y venta / Purchase and sale order history
En ethereum fue mas triste ... cuando estaba en 600$ no compre y fíjense por donde van 1700$, la recomendación es que no tengan miedo en invertir por que la revolución de las criptos es este año.
In ethereum it was sadder ... when it was at $ 600, don't buy and look at where $ 1,700 goes, the recommendation is that you don't be afraid to invest because the crypto revolution is this year.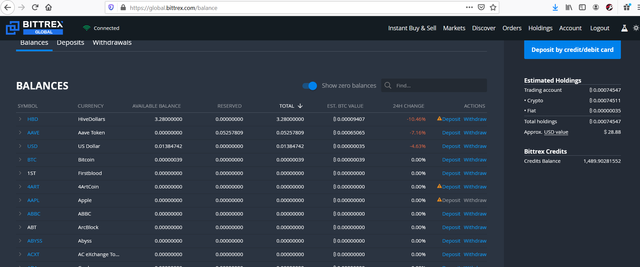 Balance de lo que tengo / Balance of what I have
Muchas criptos que estaban estancadas ahora andan en alza HASTA EL MISMO DOGECOIN.
Many cryptos that were stagnant are now on the rise UP TO DOGECOIN ITSELF.
Como reflexión les recomiendo que inviertan, pero en monedas solidas no en cosas locas que a personajes se les ocurre. Yo sigo entiendo y invirtiendo; espero que estas humildes palabras lleguen a donde tengan que llegar.
As a reflection I recommend that you invest, but in solid coins not in crazy things that characters come up with. I continue to understand and invest; I hope these humble words go where they need to go.
▂▂▂▂▂▂▂▂▂▂▂▂▂▂▂▂▂▂▂▂▂▂▂▂▂▂
Imágenes propias / Own images ©2021, @critic-on.
▂▂▂▂▂▂▂▂▂▂▂▂▂▂▂▂▂▂▂▂▂▂▂▂▂▂