Can you Belize it?? An incredible story
Well my journey to Belize started in Cancun on the 9th of July my first stopover was Mexico City. I stayed there for for the whole day then I went to Cincinnati USA and a quick flight to Miami on the 11th. My next stop was The Bahamas on the 12th where I stayed till 18th maybe I could have stayed longer, but I'm going to Belize well I think any way so I left on the18th my next stop was Panama City and why the hell not San José Costa Rica sounds nice.WOW don't Forget I'm going to Belize and I paid DHL $1006 pesos that's 40 pounds sterling. Yes, if you didn't figure it out already I AM A PARCEL, and my contents cost only 800 pesos.
From Costa Rica I went to Guatemala stayed there a couple days and then finally arrived in Belize City. After a day of clearance they put me on a plane to Florida! NOOOOOOO!!! Phew, they realized im not going there and put me back on the shelf. Good because I paid to go to Placencia, which is about a three and a half hours drive from Belize City however they won't release me from customs! Can you Belize it?! They want an additional DHL paperwork fee and "Broker fee" of $155 about 1500 pesos which does NOT include the customs fee! Remember i'm only a tiny package worth $80.
I'm still trying to get to Placencia Belize. Why they can't just send me to the office there and have the recipient pick me up and pay the customs fee I don't really understand other than the fact that I am in an extremely corrupt country that uses "brokers" for everything! So DHL have told me someone needs to come and pick me up from Belize City! Wait! Didn't I pay to be delivered to Placencia? I'm amazed that there is no way to pay this customs fee online and skip the need for a "broker" and send me on my way to my final destination. I also have no idea how much the customs fee will be! Apparently that is what the "broker" is to negotiate! What a joke! Oh and the "broker" is the manager of the lady I spoke to on the phone at the DHL sorting center in Belize City airport!!
What to do? Well I'm only valued at less than half of the cost of the fees not including whatever the customs charge is so i'm thinking i'm just going to spend the rest of my life in Belize customs on a dusty shelf as they won't return me to sender without charging me again and my new owner doesn't want to pay over three times my value and drive three and a half hours to come and get me out of customs lockdown. Can't blame him really!
UnBelizable!!!!!
Heres my journey so far: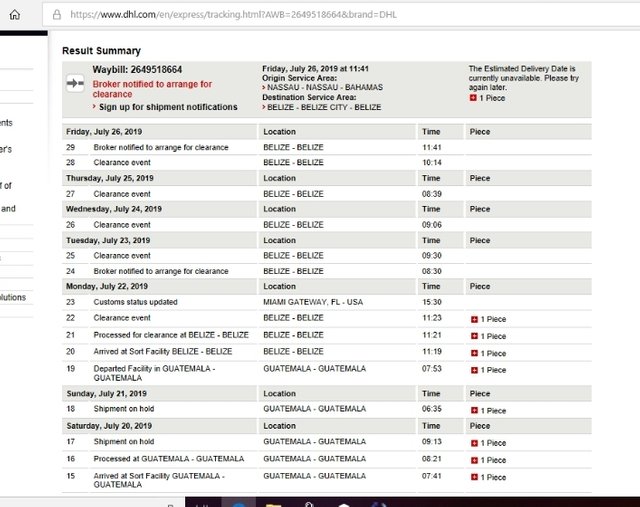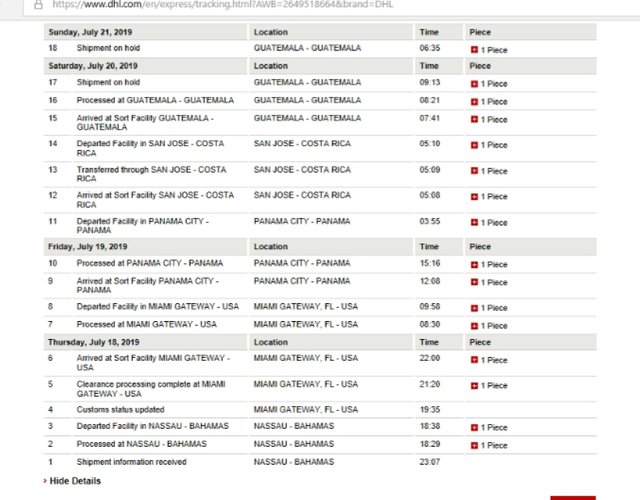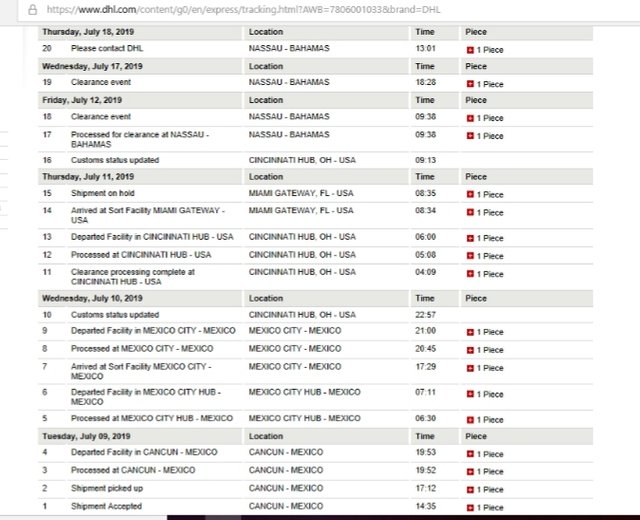 Moral of the story. If you are sending a package to Belize firstly DO NOT use DHL and secondly just take to their yourself otherwise its NEVER going to get to the destination! lol