Dessert Tasting Session At Diesel Cafe, Mangalore
I'm a frequent visitor to Diesel Cafe and it's the best cafe in my-Mangalore. They were starting a 'Dessert Pop Up' for 3 weeks and invited me for a trial to get my feedback for their upcoming event.
Diesel Cafe has collaborated with Chef Shriya Shetty. She has been trained by some of the top chefs in the world such as Gaggan Anand-who's restaurant in Bangkok has been ranked Asia's Number 1. Suffice to say I had the chance of tasting all the of 5 desserts and they were fantastic.
This was a 5 star experience in our little coastal city. Each of these desserts were made with the finest ingredients and incredible passion. It's hard to get this quality of desserts generally as most bakers make run-off-the-mill stuff to stay in business. But for the next 3 weeks, Mangaloreans have the chance to experience this.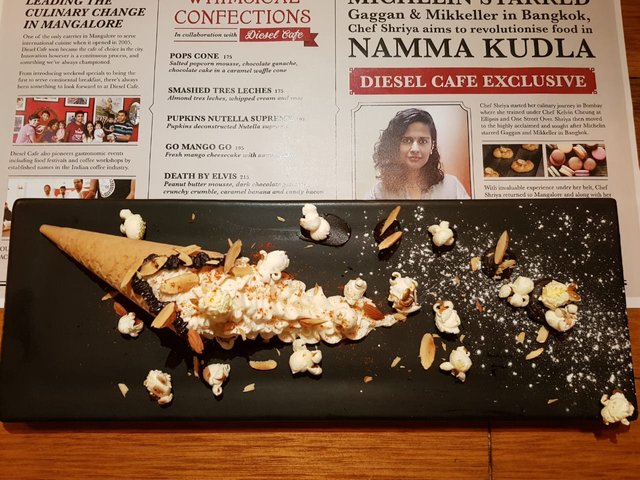 Pops Cone
Pops Cone was the first dessert that I tasted. It was made of Salted popcorn mousse, chocolate ganache, chocolate cake in a caramel waffle cone and some red chilli power sprinkled on it. This is one of my personal favourites from the tasting session. It was mildly sweet, and light. It would make a great end to a fantastic dinner. I went back last night to have this again!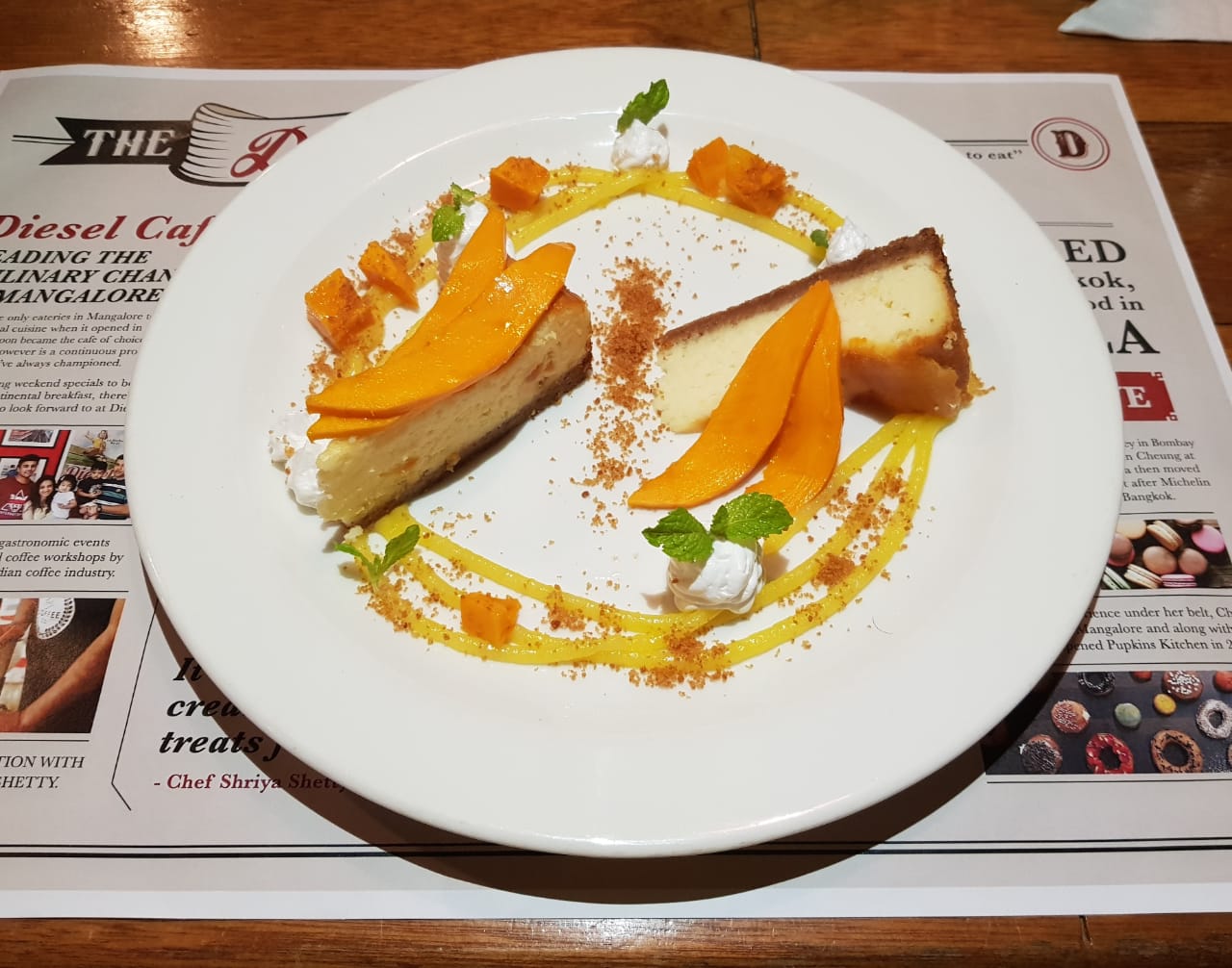 Go Mango Go
Go Mango Go is a delicious New York Style Cheesecake with Mango and Aamras Dip. They use fresh Mangoes since its the Mango season here. Alphonso Mango and authentic NY style cheesecake made a great combo. A portion of this is perfect for two.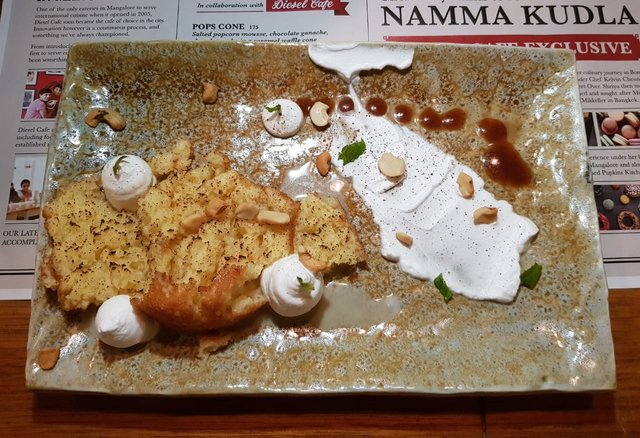 Smashed Tres Leches
Smashed Tres Leches is made of Almond Tres Leches, Whipped Cream and Rose. This is a Mexican inspired dish where the cake is made of three different kinds of milk including condensed milk. It was a bit heavy and I had to take a short break before proceeding with the remaining two. It was delicious but a bit on the sweeter side for my taste buds. I'm tempted to try this again with some coffee dust sprinkled on top!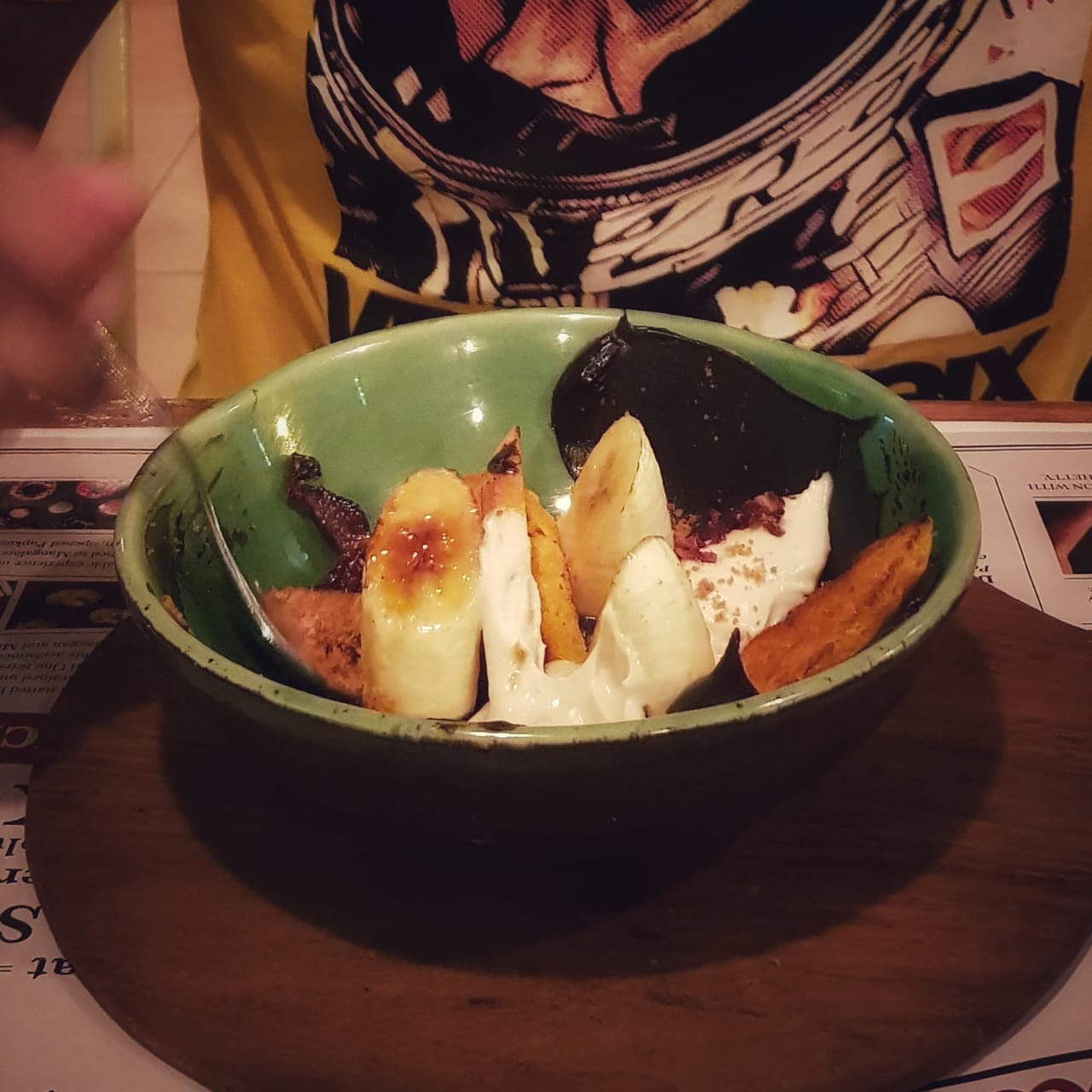 Death By Elvis
Death By Elvis is inspired by Presley's favourite snack - Peanut butter, banana and bacon sandwich. Therefore this was made using Peanut Butter mousse, dark chocolate ganache, crunchy crumble, caramel banana and candy bacon. This was my favourite of the lot! I liked it so much that I just started eating without taking a picture only to realise moments after I began eating and had someone take a picture. Candy bacon really hit the spot here!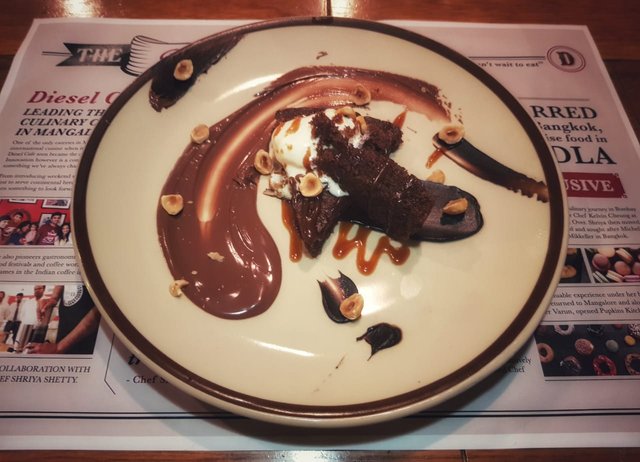 Pupkins Nutella Supreme
Pupkins Deconstructed Nutella Supreme is a chocolate and hazelnut lover's dream come true! I thoroughly enjoyed this as well. The quality of the chocolate she baked for this dessert was unlike any made in the city. Top notch!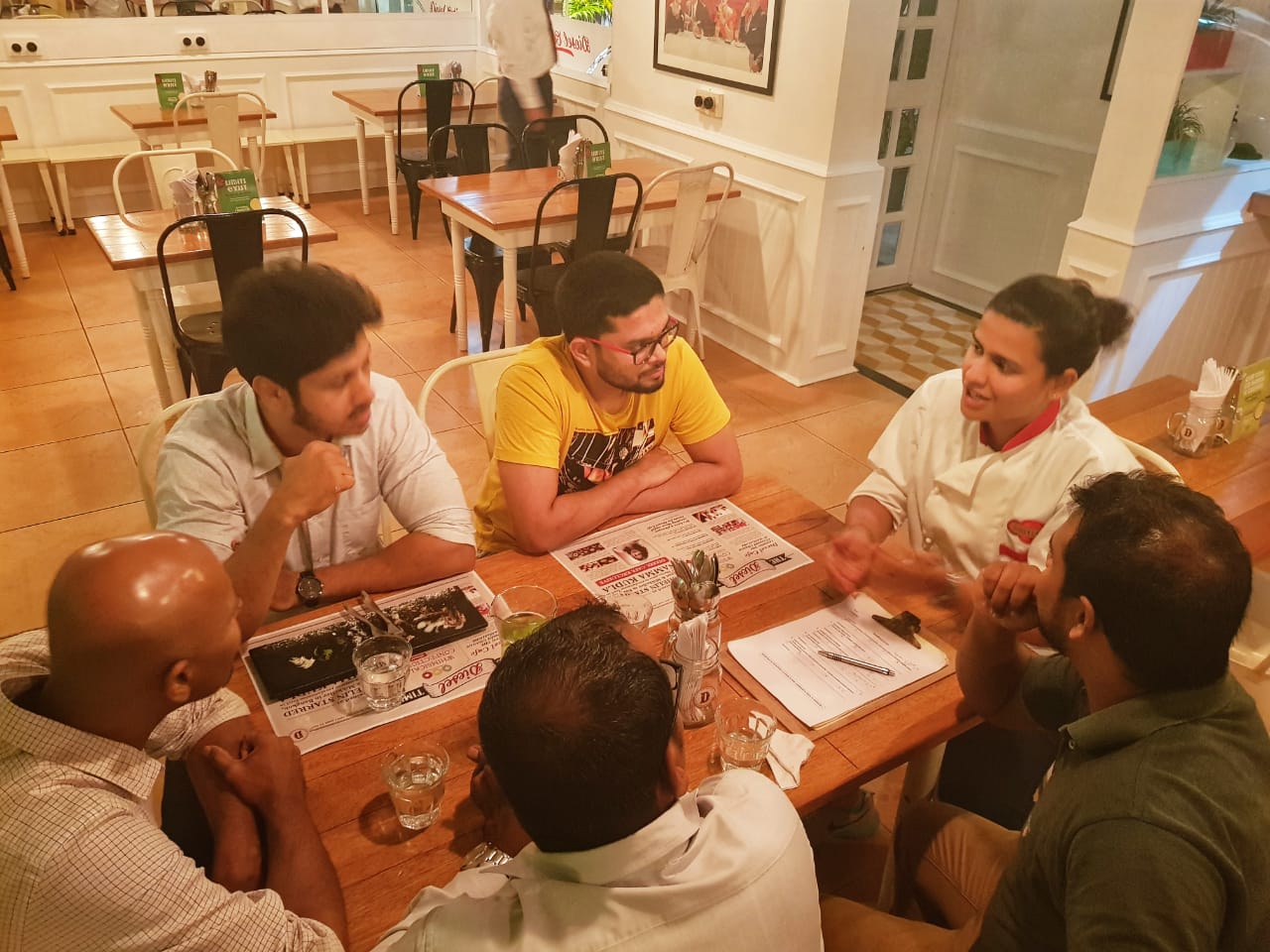 After the tasting session was over, chef sat down at my table and we (cafe mgt & I) had a feedback session with her. Overall I'm so glad I was invited for this trial and it was a wonderful experience. It's very rare to find such passionate people who know to bake using the finest ingredients. Her artful desserts very creative, with a wonderful blend of textures and delicate spicing (pops cone).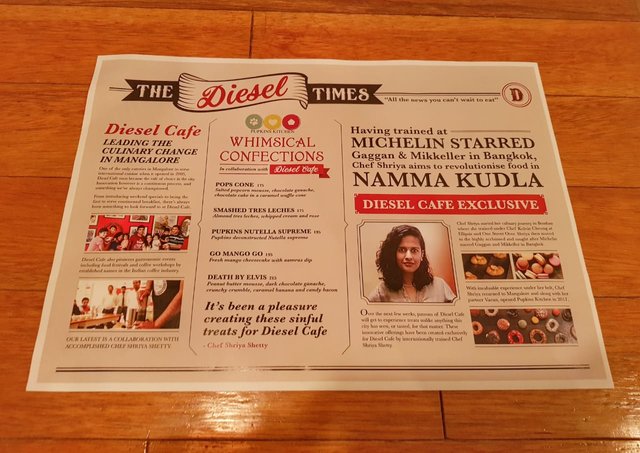 Pupkins Kitchen is run by Shriya and her partner Varun. It's an Artisan bakery that makes some incredible stuff unseen before in my city. They are a hidden gem in Mangalore. As a foodie I'm always trying out new cuisines and desserts. As my small city continues to improve with cafes such as Diesel Cafe innovating regularly, I may not have to travel as much as I do currently for amazing culinary experiences.
You can find more of her culinary art on their Instagram page.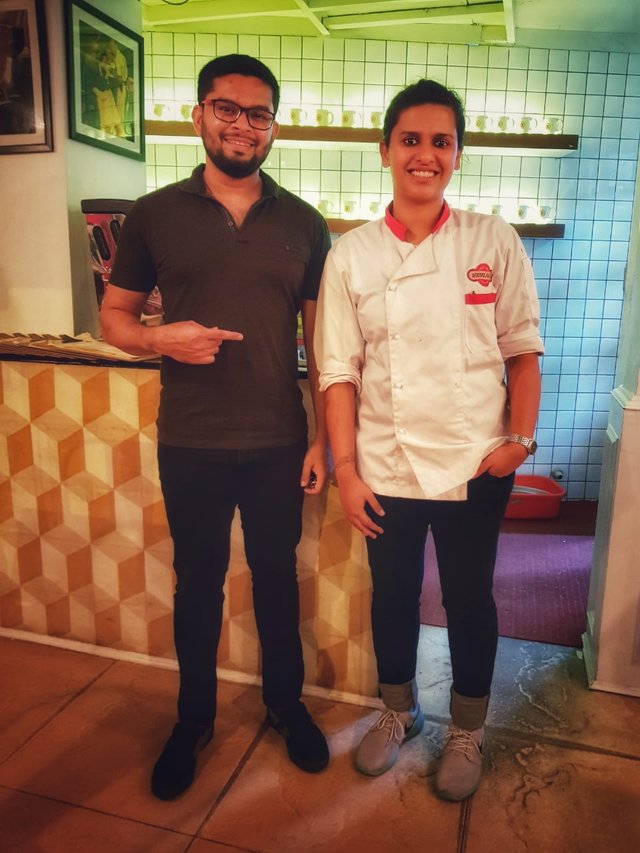 With Chef Shriya Shetty
---
If you like my work kindly resteem it to your friends. You may also continue reading my recent posts which might interest you:
---