How to get good grades in Exam?
Taking exams are stressful, but not as much as you apprehend them to be. The days might go with anxiety and even depression when the syllabus is huge and time is minimum. Yeah, it happens with many (I mean with almost all of us). But do you know that some easy planning and tricks can minimize your stress to null and Increase your grades? Don't you want to go through those tricks (well, who doesn't?). So let's explore them now: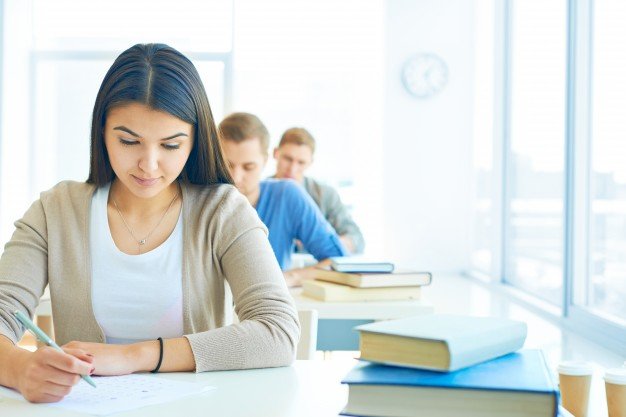 Plan ahead:
Mark the exam dates in calendar and syllabus in your head. Calculate the days or hours of study you need for each subject. Collect the materials you would need for the preparation before head. And the most important plan is to stick in your plans.
Take notes in class:
If your concentration is not fixed in class, then take notes. Writing keeps your mind in class and the tune of teachers can actually go inside your tiny head. Not only it increases your concentration in class, but your notes would also be a reference to study in exams.
Use mnemonics and other tricks:
Memory tricks are really useful for remembering things like numbers, categories, and list until you don't mix them up! One such trick is the use of Mnemonics which means phrases that can help you remember the order of certain things. For example, "Katy Perry Came over for Great Songs" is an easy method to remember the biological classifications. To remember the number, break it up like phone number as phone number 253-761-0925 or dates.
Take Test:
Even you haven't prepared lot, take the test. Taking test not only gives the idea of questions pattern and time management during exams, they also give an idea about an important aspect of the syllabus. In the exam, during the short time limit, you can focus on those aspects of the syllabus.
Speak loud while studying:
Although this sounds little crazy, give it a go! Not while you are studying for understanding the chapters for during exam while there to lot to remember, speaking loud while reading is really helpful. At least, give it a try! You will be surprised how much more you can remember when you've said it out loud.
Teach what you have learned:
The best way to test your understanding is trying to teach it to someone else. If you can't get anyone to listen, your pet and even your teddy bears might listen to you. You will even remember it well when you teach it once.