So it looks like Subscribestar is down right out of the gate. What will be the consequences to segregating our society?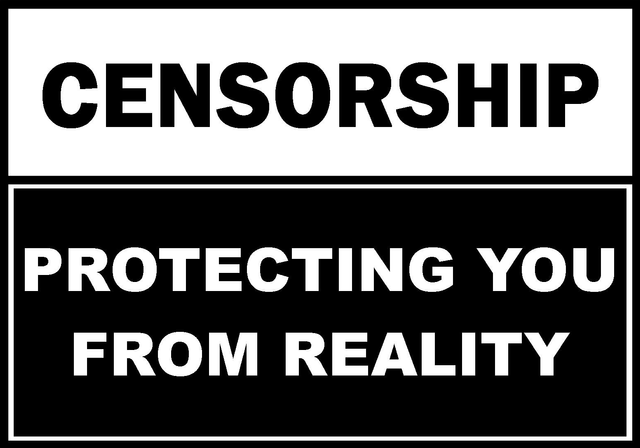 That didn't long... It seems the PC mafia was able to tighten it's grip on independent media in record time when it comes to the case of Subscribestar. I'm not even sure what it will look like for people who click that link at this point.
The crusaders who seek to demoralize, de-platform, dehumanize, and destroy all those who disagree with the current PC philosophy has taken down another entire business that was giving refuge for those who support free speech and individual opinions.
If you are on the side free competition over the oppressive group think that comes with monopolizing the media and all the authoritarians in society are pushing now to control things then this should upset you.
I can only imagine how many content creators have quit over this considering it was the last chance for some of us to get the support for the work we do.
Having your own ideas is becoming more and more dangerous if you want to earn money for your efforts and the culling effect is noticeable. People respond to incentives and we Steemians know that better than most, our upvotes and the blessing of a crypto donation can be very important and the only funds coming into the coffers of journalists in this era of censorship. How many of us can ride out this slump in coin prices is the question though and those who want to have power over what you can, read, say and therefor think are winning the battle big time.
How can the small stand against such a huge force colluding companies and their armies of lawyers and bought and paid for politicians and legislators? Where are the people who can enforce the anti-trust laws we have in place to prevent this from happening?
One thing that we should all be able to agree on is this level of interaction we have is driving us apart and into separate camps within our own cultures. There will be a hardening of ideology on both sides if we have segregated websites, pay services, news sources and an absence of anyone who will challenge our beliefs.
This won't be a good thing, history shows a society split in two will inevitably gain more differences as time goes on and resentment will grow within a country if we can't get together in some way or form. It has happened here in America in the 1860s, that's not that long ago if we consider the grand scheme of things I would say.
A big problem we have now is that things are not as clear cut in either the sense what divides us and the geographical locations in our present ideological battle.
Compare the map of the U.S.A. during the last split to where we are now.
1860s era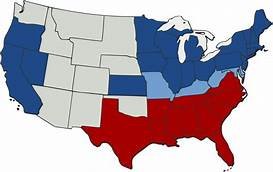 source


Modern era


source
I know that there are many nuances with this and things can change over time so I'm not crying doom and gloom here. I am saying that if things continue down this path, life could be really tough for the future generations who may hold no loyalty to their fellow countrymen due to life of segregation and resentment.
There are many things to think about if we take the long view on this issue. How many things will change if we look 60 or even 90 years into the future of our country?
We have a new and modern problem in the case of our changing military for instance. We have to admit that recruiting men from all over the country and forcing them into situations that form a higher bond than can be earned elsewhere can have a serious solidifying effect for nation. The friendships and other relationships people gain during those incredibly difficult times go beyond most any other bond and can survive the petty arguments that come from talking about politics in most cases. Some people I have spoken to have said that the opposite effect is the case lately due to an overrepresentation of people enlisting from rural areas and red states. Population density here in the States should create an environment where the amount of soldiers we have coming from the blue sections, however it seems we have the opposite happening here.
Here is graph depicting the numbers from a 2008 census.
The military divide and the media segregation are just some of the many examples of things that are breaking things apart in this country. I ask you to put more examples in the comments and perhaps who is designing this self destruction if you can contribute to this conversation. If we don't act we may not many more chances to do so in the future all things considered.
I would like to add that this is an American problem but it is something we all need to worry about around the world for a few reasons. I can point to many countries that already in the middle of a civil war or are about to start full scale war within their borders due to this kind of separations being left to become the most important issue they face. I hope that the people who are living through the times I am warning about come forward and speak for themselves though, please share if you can.
Instead, I will warn those around the globe that recent events with our culture will have effects every where. It has been recently shown that we will prohibit companies from doing business with people in western countries if they do not support the PC dogma. Limiting access to payment methods and hosting platforms will make people everywhere think twice about how they write their terms of service and most will fall in line just to stand a chance I'm sure. An entrepreneur's ability to hire developers and other experts in their chosen field will be culled if their potential employees feel that working for them runs the risk of them being ostracized out of their society after all.
In this case The U.S.A. is acting as a bully, we control the petrol dollar and act as gatekeepers to many global markets with the help of these big tech companies. The people who have bullied small companies like Subscribestar into shutting down are the same who have bought and paid for the politicians around here to keep their hold on power. They have plenty of money left over to consort with the politicians of any other country and perhaps pass even more oppressive rules/regulations that will crush competition and keep the power centralized in Silicon Valley, this issue effects us all in that respect.
If you are starting a company anywhere in the world and want access to the European, North American and even China's markets at this point, along with all of the currencies connected to each nation, you should share this around get a plan going in my opinion.
Don't let the elites win this fight! Please support original content creators in any way you can.