A Day In the Life of...
Some of you may know that on top of the move to our new home, I changed jobs recently as well. On June 4th, I walked into a strange hospital with a radiology department I'd briefly visited once. Joining a new team felt a lot like closing my eyes and jumping into the deep end of the pool.
D and I had also agreed that I'd be riding my bike to work every day. Not only do we save gas money, but in Belgium, riding your bike to work earns you some extra money too.
Fietsvergoeding, we call it. Translation, you say? Bicycle compensation.
We all do what we can to reduce our ecological footprints, right? Earning an extra buck is a nice bonus. The real cherry on top though, is the scenery.
I've always loved to find beauty everywhere, and that first day I rode my bike to work, the views took my breath away.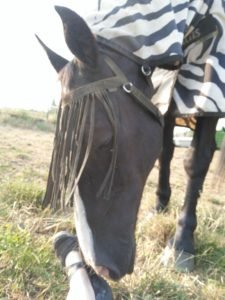 So yesterday, after feeding my boys and spending some quality time with my boys, while enjoying my breakfast al fresco and braiding my hair (multitasking is a thing), I got back to the house, fed the dogs, packed my lunch, and slurped coffee. Lots and lots of coffee, courtesy of my trusty French press.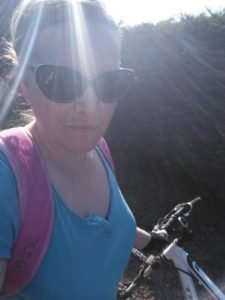 And then...
I grabbed my steed of steel. OK, OK, aluminium. But I grabbed it and I sighed inwardly at the first view that greets me.
The lane at the back of our place. Isn't it pretty?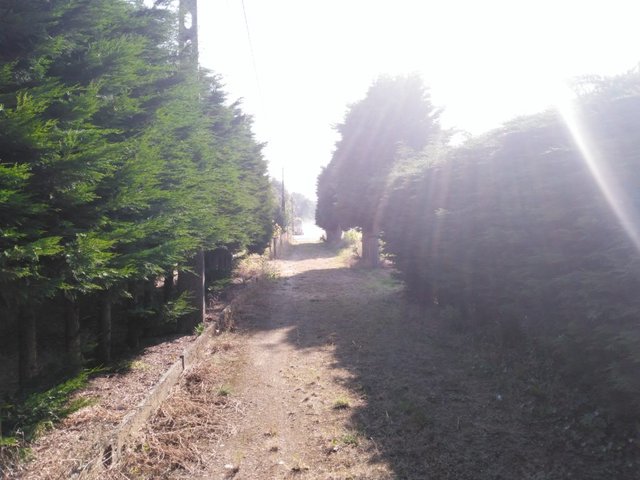 It opens onto the main road but there's a dirt track on the other side that I prefer. It's flat, rather than uphill, for starters. The roadsides are much nicer and there are no car fumes.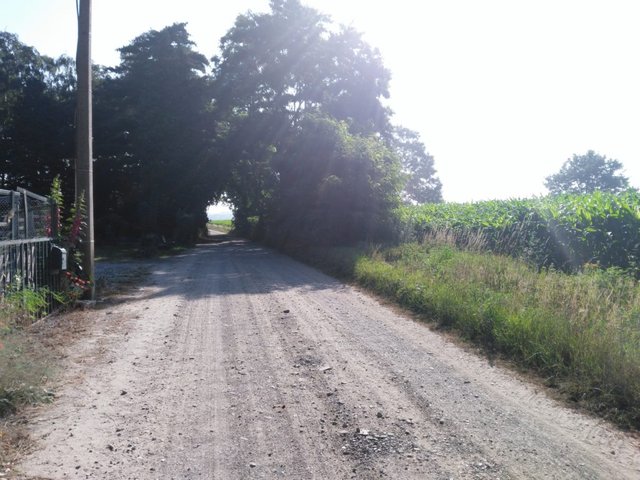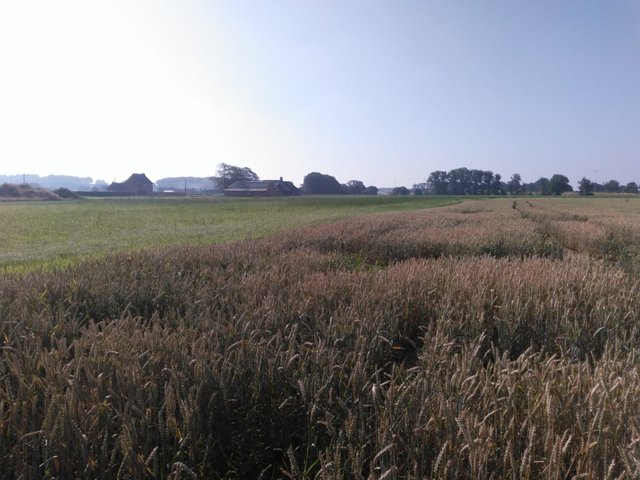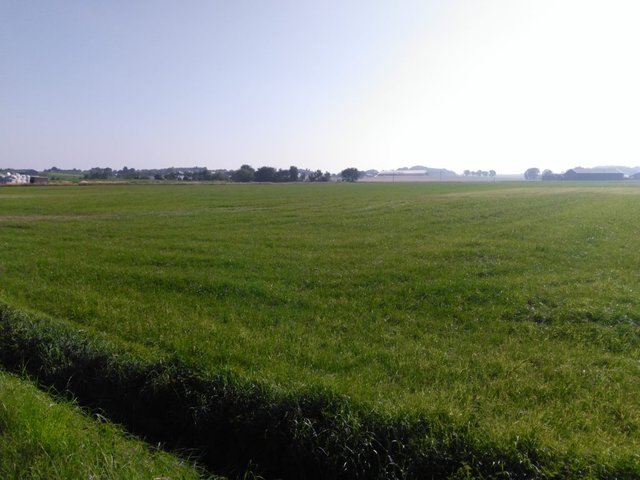 After the dirt track, there's a nice bit of country roads. I do get the occasional tractor and some people walking their dogs, but I mostly have these views all to myself. Also: not too many people can see me sweating buckets as I labour to keep my bike moving. This part of my trajectory contains some uphill sections, you see. Still getting used to those. I hope it happens soon.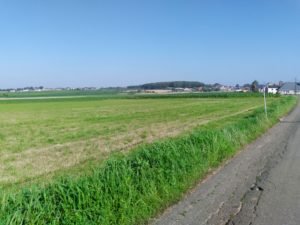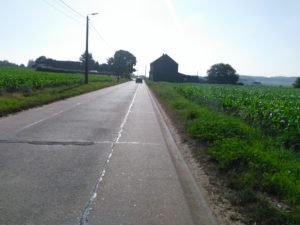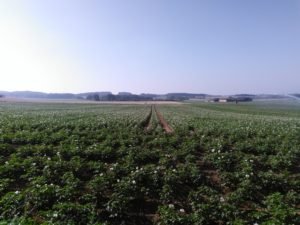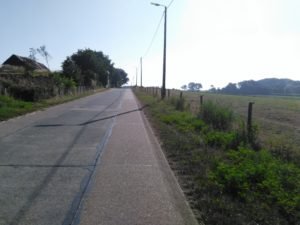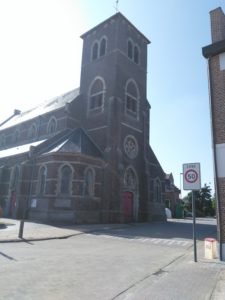 Just past the halfway mark lies Kaggevinne, a tiny little hamlet in between the Bekkevoort, the village where we live, and Diest, the town where I work.
It's two roads, a bar, a baker's shop and two bread vending machines. Of course there have to be bread vending machines. Belgians cannot live without bread, and they need to know that fresh bread is available at the drop of a coin at any hour of night or day.
I forgot to photograph them for you, sorry.
But isn't the little church the cutest? I'm not a christian, but I always find myself being drawn to churches.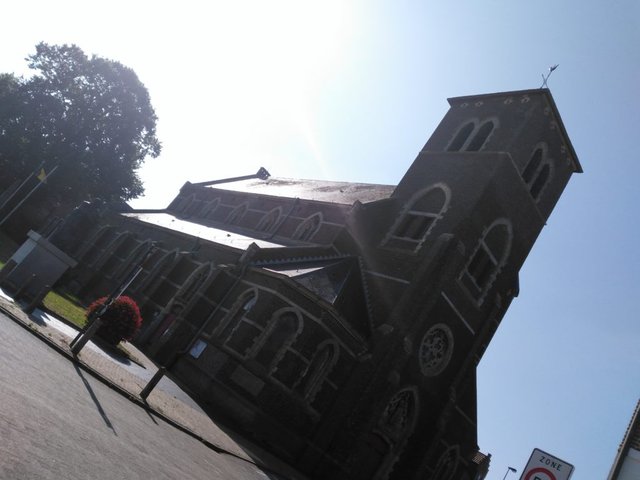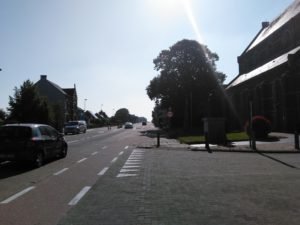 Exiting Kaggevinne, I faced the last climb of my morning trip. All will be easy cruising after that. Thank Goddess. It saves me from arriving at work red-faced and panting like an overheated dog.
It's not as steep as some of the others I face on a daily basis but hey, it's morning and despite my beloved French press, I still have too much blood diluting the caffeine in my veins at this ungodly hour.
After a bit of a downhill ride through a suburby, uneventful street where I usually have to dodge the mail carrier, I get to turn off the lockout on my mountainbike's front suspension fork and go off-road.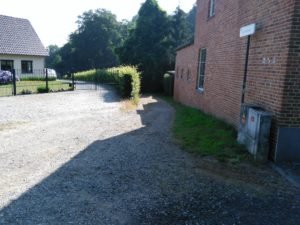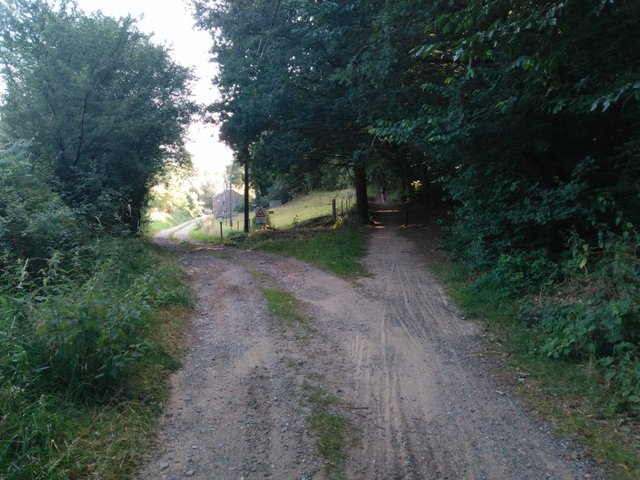 Third time's a charm, right? Three times taking the right fork leads to the most exhiliatating bit of my morning. Almost as good as coffee.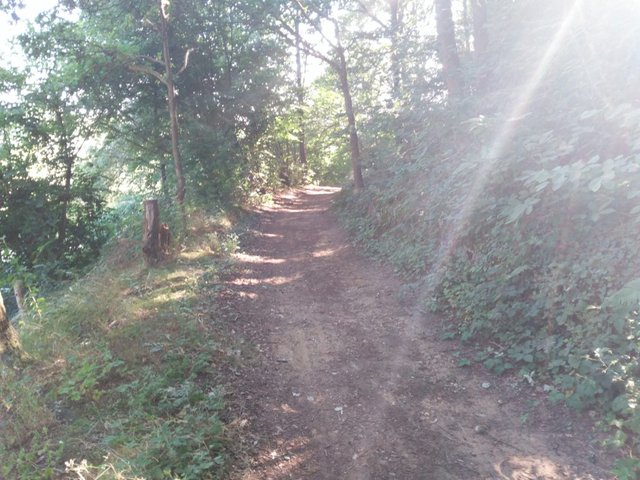 This dirt track through Citadel forest is steeper than it looks. At the foot of the hill is this cute little garden. The coolest part is that this piece of forest track takes you right into the heart of Diest, the little town where I work.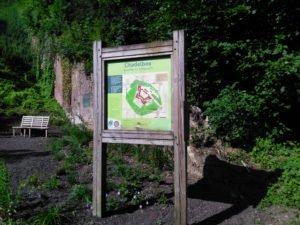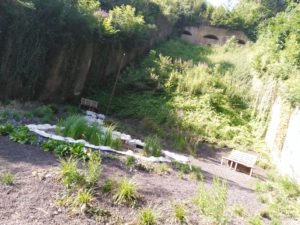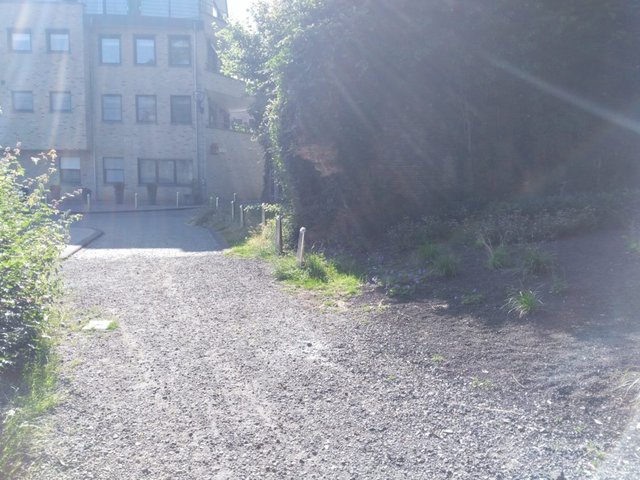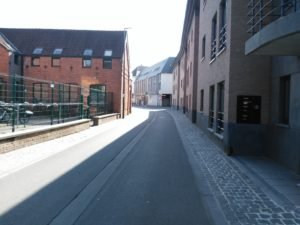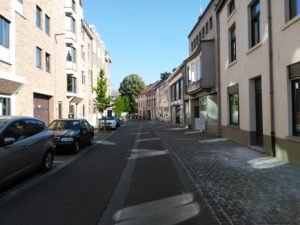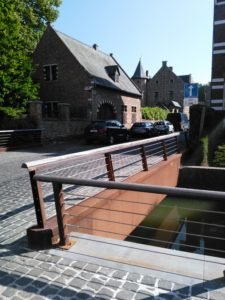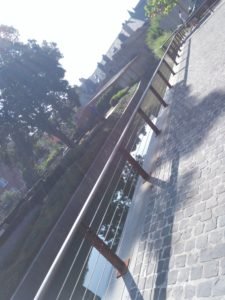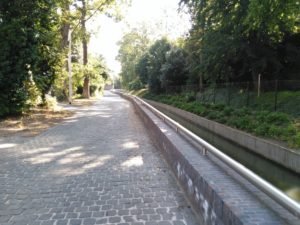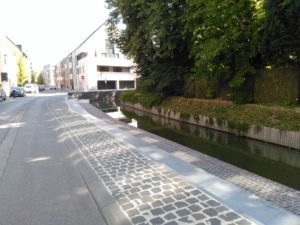 It didn't take me long to start loving this place. I have never met a spot where old, new and nature coexist as harmoniously as they do here.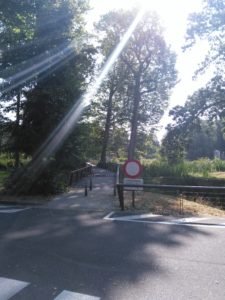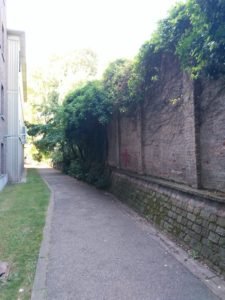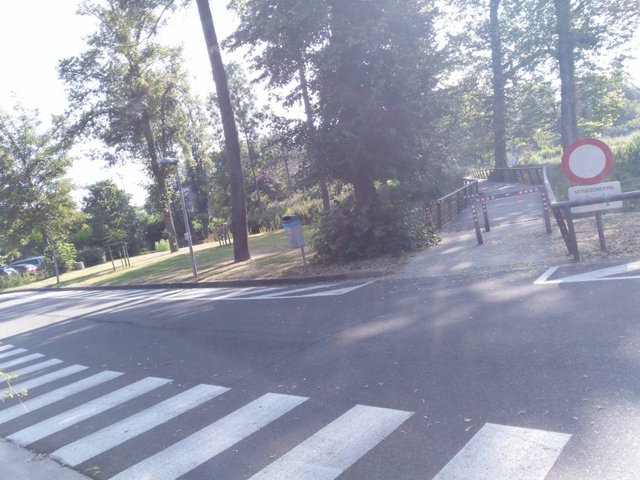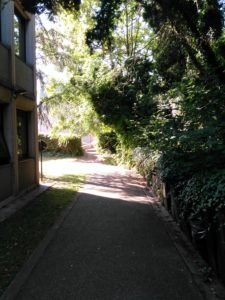 And this is what it looks like when I turn onto the hospital grounds. Even that takes my breath away every single day.
Yeah. It's an exhausting ride. And the morning has a huge downhill section. When I get off work, I need to ride up that hill after having spent the day on my feet.
But other people have to pay to get a gym membership. I get paid for these daily workouts. The views are all for free, along with the vitamin D.
After work, I take a slightly different route, as I don't like dirt tracks nearly as much when they're uphill instead of flat or downhill but even here, the sights are gorgeous.
Don't take my word for it. Judge for yourself.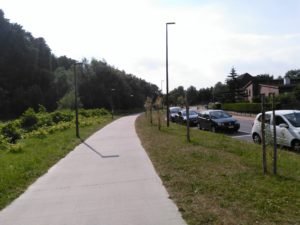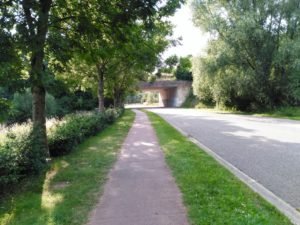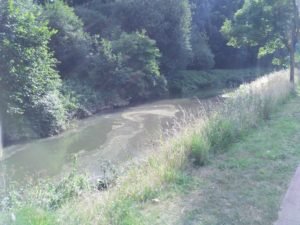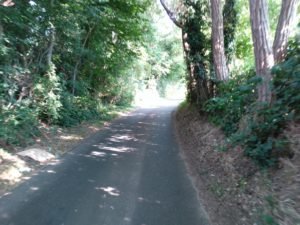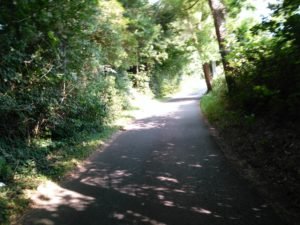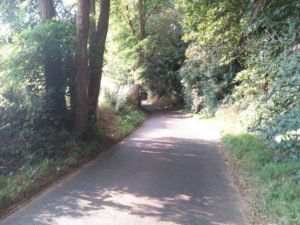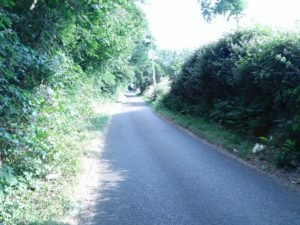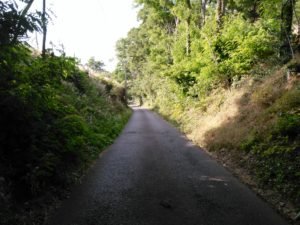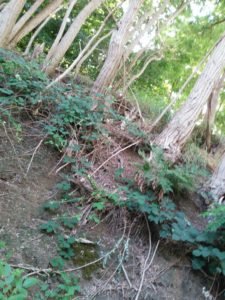 The hill I rode down this morning, is conquered every night on this hollow road.
I absolutely adore hollow roads. I'm sure the collection of photos from just one section of road doesn't give that away.
Want to come ride along with me some time?
Hugs
Jasmine

---
Posted from my blog with SteemPress : http://www.jasminearch.com/index.php/2018/06/29/a-day-in-the-life-of/
---