My Thoughts on Ywriter
There are so many software applications you can use to write longer works, it can be hard to figure out the best choice for you. If you're looking for versatility, I would totally advise Scrivener.
Personally, I've decided not to go with Scrivener for now. The choice largely depends on your situation and your priorities and expectations. For me, mobility and compatibility and syncing options across multiple devices play a big role in which product I ended up going with. I spend a lot of time on the road, which means that my phone is often my go to device.
With limited free time, a half hour spent in a waiting room or a quiet lunch break at work are precious gifts as far as writing time goes. Every little bit counts.
I worked with nothing but Google Docs for a long time, but after a while, chapter files piled up and jumping back and forth became cumbersome. You can organise your project in different folders and it works well enough as long as you have access to a computer. However, when accessing the files from a smartphone, things quickly become awkward.
When a friend told me about Ywriter, I decided to give it a try. We're renovating a house, and funds are tight so the fact that the software is free was a pleasant surprise.
I was immediately sold on the interface. I read some reviews saying that the layout didn't feel intuitive but I couldn't disagree more. I created my first project and began importing the scene drafts of the novel I'm working on.
Here's a view of the main screen. When you open your project, this is what it looks like.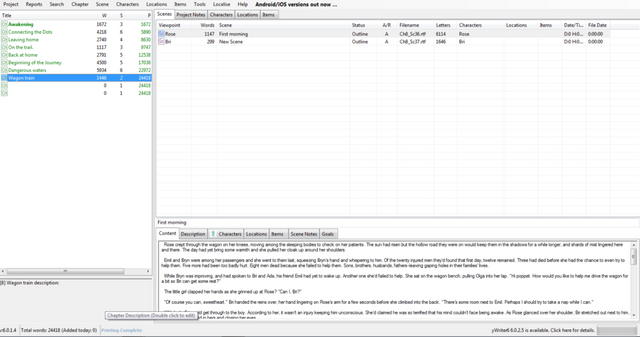 The right column provides an overview of your chapters. Currently, mine are all active, but if you want to have like a scrap bin, you could add a chapter and toggle it to inactive.
Next to the chapter titles--yes, I am fully aware of the fact that mine suck-- you have three columns. The first is the word count for each chapter.
The second is the number of scenes you've added to the chapter.
The third column shows the total word count for your project after each chapter.
To the left of your chapter list is a list of scenes. When you select a chapter, it will display the scenes you've added to it.
At the bottom, you can view the available information about each scene via a series of tabs. Each of these can be edited when you double click on a scene. That will open an editor window for your scene.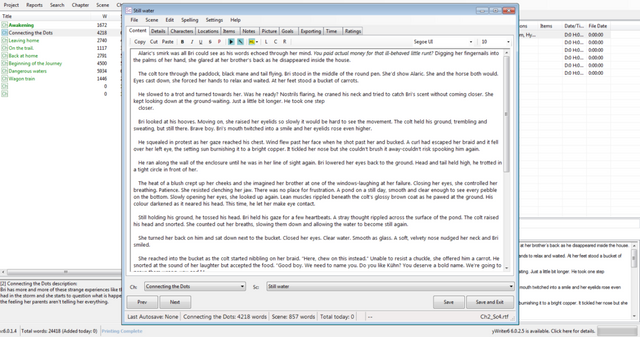 The tabs at the top allow you to add all sorts of information.
The status can be changed from outline to draft of revision.
You can list which characters participate in the scene. Doing this consistently will allow you to access a chart that shows how much each character appears in your work.
You can track the locations or the items you feature in a scene. The plotters among us (I have to confess I'm a pantser myself) can use the goals tab to outline their storyline before beginning to write.
If you need to switch back and forth between chapters and/or scenes, you have two ways of doing that. I prefer to open multiple editor windows, but the drop down menus at the bottom: Ch on the left and Sc on the left, allow you to toggle to different scenes or chapters.
While editing your drafted novel, you might conclude that a scene would really fit better in a different chapter. In that case, you can drag and drop scenes from one chapter to another.
Ywriter allows you to export your project in a number of different formats and it offers some other features as well.
The menu at the top will allow you to access a number of reports, like a word usage count, a storyboard overview, and other awesome stuff. The Reports and Tools menus have that stuff covered.
The tools menu also allows you to set writing goals over any length of time and it will calculate your daily goals for you.
All in all, I'm pretty happy with the whole thing. After coming to that conclusion, I decided to explore the Android app.
Unlike its big brother, it doesn't come for free, but the price is so low, that it shouldn't stop you. I paid about 6 euros for the download but it depends on the currency conversion rates at the moment of purchase.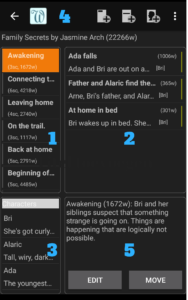 Here's what it looks like.
In the top left section of the main screen (1), you can access your chapter list. To the right is your scene list (2). The bottom left corner contains your character list. The icons in the top bar (4) allow you to add scenes, notes, chapters or characters. W
hen you select an item, it turns orange, and you get a preview in the bottom right corner of the screen (5). The move button will allow you to move a selected scene to another chapter. The edit button will open the editor window for the item you selected.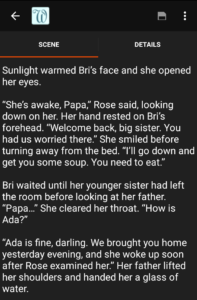 Let's take a closer look. You can toggle back and forth between the scene itself and the details.
The details section will allow you to change the scene's status from outline to draft or revision, or change the POV character for that section.
In the top bar, you can save your edits or access the menu via the three dots. That will allow you to either delete the scene, or save and exit.
The app delivers exactly what it promises, and it does so in a way that is well adapted to a small screen. This was by far the best present I've bought myself in years.
But the best part of this whole setup, for me, is the fact that I can run my Ywriter files from a Dropbox folder, which means that both my phone and my computer can access the files from the same cloud storage. That way, I can continue with the latest version of my work no matter which device I have in my hands.
Am I going to stick with Ywriter for the rest of my writing days? I don't know. Who knows what further versions have to offer, or which new software applications will be developed in the near future?
I was sorely tempted to buy Scrivener, but it doesn't have an version that will run on my phone, so it's not the right choice for me at this point. Maybe that will change when an Android version comes out.
For now, I'm perfectly happy using Ywriter.
I hope this gives you some more insight into whether it's the right software for you too. For now, I'll wish you good luck and good writings.
Hugs
Jasmine

---
Posted from my blog with SteemPress : http://www.jasminearch.com/index.php/2018/07/03/my-thoughts-on-ywriter/
---