The Bitcoin Exchange of Montreal - Not the Most Organized Operation...
In trying to sell some bitcoin for cash, I tried localbitcoins.com. The first two people I contacted yesterday gave me no reply, so eventually I went for the lower paying "EchangeDeMontreal", the Bitcoin and Foreign Exchange of Montreal.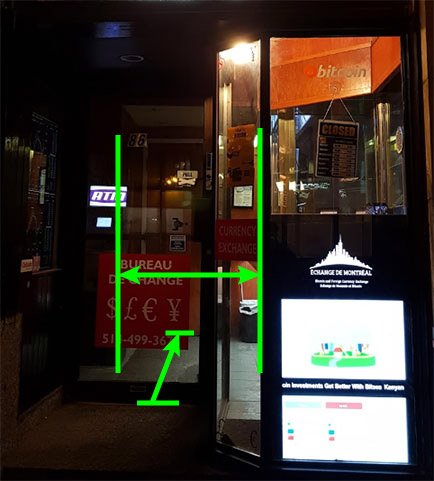 As some of you might recall, last weekend on Saturday I went out on the Québec birthday holiday to try to find a mattress, only to find that the mattress stores were closed. So yesterday was another Saturday, but this time it was Canada's birthday one week later. To make sure that the exchange was actually open, I called from the number listed on localbitcoins.com. They told me they were open.
Yesterday was a rainy day, so I couldn't use my rollerblades. I went downtown in public transportation, paying over three dollars for only one way.
Upon arriving at the exchange, I had to wait outside as there were several people inside. Once you open the door you end up in like a 4 ft. by 7 ft. room to speak to a teller behind glass. It's basically a hole in the wall, but you don't need much to just exchange currencies.
Although the exchange was open, the teller had just gotten back from vacation and didn't have a localbitcoin password in order to buy bitcoin from me. So I couldn't sell any bitcoin because this company was not very organized. This was when bitcoin was around $2500.
She admitted this was not good business practice and suggested that I could come back and maybe, maybe, get a discount or something for having gone to the exchange when they were unable to actually buy my bitcoin. The teller gave me her card and wrote a little explanation that I came but she wasn't able to use the localbitcoin, and that tomorrow someone would be in that would have access to localbitcoin.
I was not very pleased to say the least. Spend money on public transportation to arrive at the place that I had verified was open, only to find out that they couldn't actually by my bitcoin because they didn't have their operation and proper functioning order.
So back home I went, ready to go back Sunday morning (they open at 10AM).
Today, Sunday, I left at 9:30 AM and arrived exactly at 10 AM at the Bitcoin Exchange of Montréal. It was closed. I waited five more minutes without anyone showing up. I then called the number the teller had left on the card from yesterday, and asked her if she could call her boss to see if someone was coming in or if I would just be waiting for nothing. She was going into the Metro and would let me know after she called her employer.
I waited a bit, then went across the street and put my rollerblades on, ready to go back to the mattress store without any bitcoin sold just to verify another mattress that I was interested in. As I was putting on my rollerblades, she called back and told me the news: the person that was scheduled to work today was not coming in, so the bitcoin exchange would not be open today, but that it would be open on Monday once again.
Two days in a row I am prevented from selling bitcoin because the Bitcoin Exchange of Montréal has a poorly organized operation.
Yesterday I was fairly upset, having spent money to use public transportation for nothing, and the fact that they are listed on localbitcoins.com that didn't even have their account access that day. I had even asked the teller to call her boss and asked to gain access to the company's localbitcoin account in order to buy bitcoin. Her boss told her that it wasn't possible. Imagine that, employees who don't have access can't even be given the access by phone. It was ridiculous. They couldn't even provide their employee with access in order to purchase bitcoin which is what they are supposed to be doing.
Today I was less upset because I already had the experience of how unreliable this operation was. Unlike other businesses -- where someone else comes in one another person can't make it -- the way that the Bitcoin Exchange of Montréal is organized is that if no one comes in then the store stays closed even though it's supposed to be open... what the hell...
So...
Tomorrow -- for the third time -- I will be going to the Bitcoin Exchange and will try to sell some bitcoin... again. I say try because so far I have been unable to do so at this location.
Wish me luck :P Because apparently I need it when dealing with these guys lol.
---
Have you sold bitcoin for cash?
Have you ever had trouble selling your bitcoin for cash?
Have you ever encountered a physical exchange organization that is disorganized like the one I experienced?
---
Thank you for your time and attention! Take care. Peace.