COIN-MARKET-CAP BIGGEST PRANK SO FAR.... HAHAHAHA
---
---
BIGGEST PRANKS
---
---
Okay, here I was today doing a little research on altcoins when I came across a coin called "Toilet Paper Token (TPT)" now this got me thinking that I could actually et some of this cool token since it was listed above BITCOIN on it top coin chart😅.
So I did what everyone crypto lover will do went online for more details and it turned out there was no concrete information on this particular token. What do I do cos I really needed to add this token to my collections. So, guys, this was what I found (mind you I'm not going to paste the whole write up from coin market cap for plagiarism reason):
"An Introduction to Toilet Paper
The evolution of modern-day toilet paper has come a long way. Before the invention of the double, triple-ply squares, human civilizations used a wide range of objects that could be sharp and even dangerous to their anatomy. Throughout the years, rocks, corn cobs and pieces of wood were utilized, while softer solutions, like communal sponges, were used by the ancient Romans. The wealthy preferred fabrics like wool or lace that posed less of a threat to the body's vulnerable parts. For more reading
Okay, guys here comes the fun part "Images"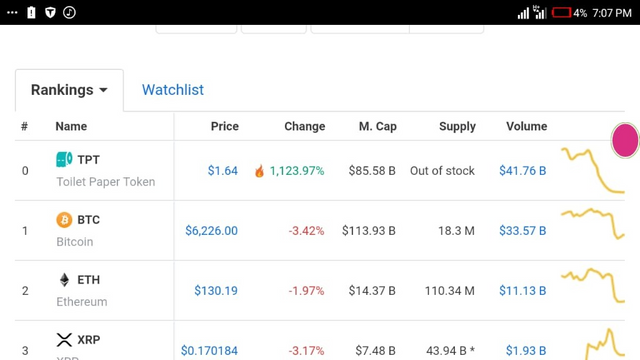 Image Source
Take a look at the price, change, M.cap, supply, volume and now look at the image below.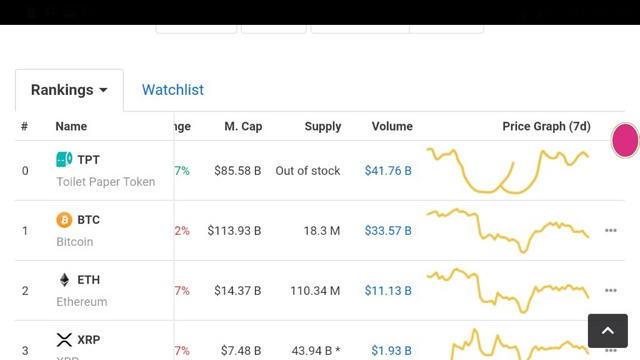 just look at the chart or the graph hahaha (Image source)
At the end of the day, it turned out to be the biggest and greatest April fool's prank ever.
Thank you all once more and have a lovely new month.
---
---
GOOD NIGHT EVERYONE
---