In the past few days, the Arab world has been frantic about the suicide of two children in Tunisia, days after the addiction to the game "Blue Whale" .☹ This animal that is supposed to be a nice animal and that steemians love its name has become a monster that kills many teenagers around the world 🐳 .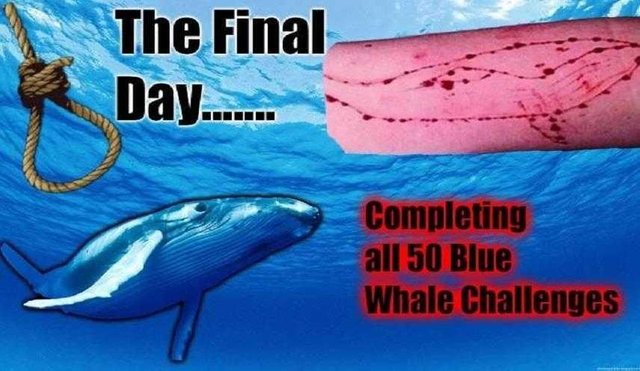 The image source
What is this game and how it was founded and why children and adolescents are pushed towards suicide?!
it is a smartphone application consisting of 50 tasks, targeting teenagers between the ages of 12 and 16. Then , the teenager have to register to the challenge, the application asks him to engrave the following code "F57" or draw the blue whale on his arm with a sharp tool, and then he must send his picture .
After that , the person must talk to one of the game's officials to gain confidence and turn into a "Blue Whale"
After gaining confidence, the person is asked not to talk to anyone after that, and continues to cause injuries to himself with watching horror movies, until the fiftieth day, when he is asked to commit suicide either jumping out the window or stabbing a knife.
Participants are not allowed to withdraw from the game, and if one of them tries to do so, the officials in charge of the game threaten him. The game's creators threaten the teenagers using their personal informations to kill participants family members.