The Cat in a Tub is apparently a Racist
Tub Cat is quite open about His opinions on things

But to date, this Most Pleasantly Smelling Feline hasn't greatly offended many of the various unwashed humans on the Steemit platform.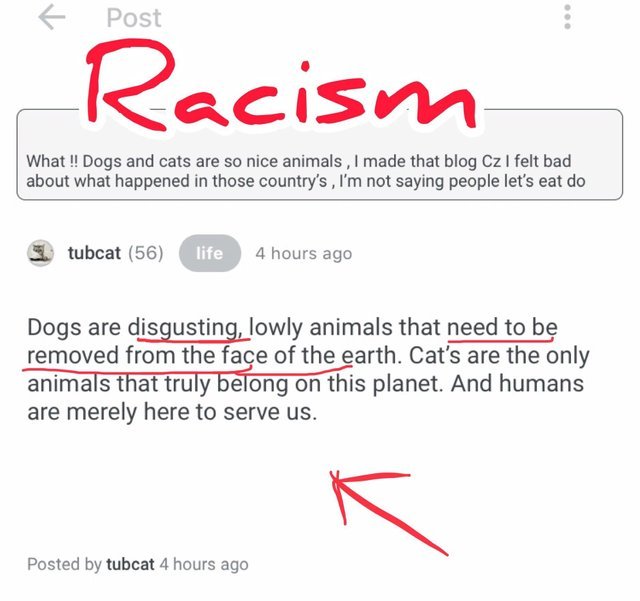 So the Meticulously Cleaned Cat was surprised to discover that a human of questionable odour had taken great offence to one of The Cat in a Tub's comments on their posts.
Tub Cat often leaves comments on the creative creations of the unwashed masses. The Cat of Unquestionable Cleanliness does so to ensure that the masses of foul smelling flesh bags receive pleasant or not so pleasant reminders that the Cat of Godlike Cleanliness is watching. And ever present on the Steem Blockchain. And the unwashed masses should pay heed to His presence.
This poorly smelling human, known on the Steemit platform as @meryem-byl, did not receive the Tub Cat's comment well. Rather they created a post to alert the unwashed masses to the Tub Cat's apparent racism towards the utterly disgusting species known as dogs.
Racism against dogs.

Wouldn't a hatred of an entire species be specieism (especially given that this is a hatred of a species that isn't your own)? Is specieism a thing? Tub Cat thinks it should be. Tub Cat hates dogs. And will not hide this fact. Once Tub Cat reaches god like status, he will indeed wipe dogs off the face of this planet. Humans already serve the Cat of Constant Moistness. So it cannot be long before this Cat becomes a god.
Well, The Cat in a Tub must retire back to his Tub now. He simply wanted to share this amusing tale with the unwashed masses of Steemit.
Don't be a Tub Dog, and have a great Christmas, Steemit.
---