What Constitute Plagiarism
For Bloggers knowing what constitutes Plagiarism is important.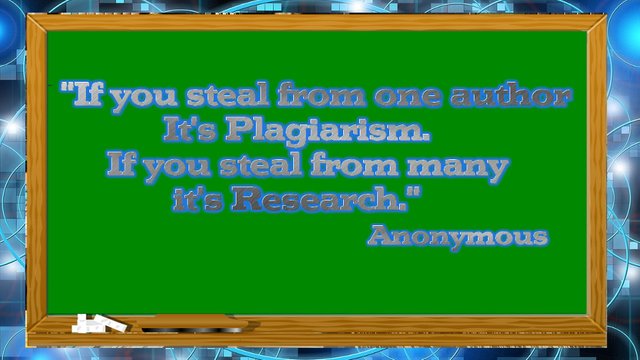 Plagiarism is the "wrongful appropriation" and "stealing and publication" of another author's "language, thoughts, ideas, or expressions" and the representation of them as one's own original work.
Plagiarism is not in itself a crime.
It is not yet punished or defined by law.
It becomes a crime when you are subjected to copyrights infringement.
Plagiarism is defined, punished and regulated by institutions such as publishing companies, educational institutions, professional associations, and other commercial entities.
Originally this term was used in schools especially when submitting a thesis, term papers, research or basic assignments.
Although the internet was not popular during those days teachers and institutions have a knack of knowing who is cheating and who is copying.
The Internet has made researching and cheating much easier.
The Internet also made much easier to scan plagiarism.
There are tools and software available to check your works if you are committing a crime of "stealing".
If you are considering your work and making it your business then you have to be always careful with Plagiarism and Copyright Infringements.
It may not bother you now, but when they know they can collect from you they will start to haunt you.
How about common knowledge and anonymous.
Depending on the regulators which is which you still have to follow the rules.
Sometimes common is not so common after all.
Like the song of the Beatles "Yesterday" which was sung by many artists and performers alike, it was a very popular song then.
When you sing this song or write about this song today you might be caught with copyright infringement or plagiarism.
I believe that will depend on the system of today.
YouTube and FB make most of the content go viral with many views and clicks because of the sharing of contents.
But you never mention where you got what you share you just click like, then click share, if you still have time you make comments, it is that easy.
Does that mean the content is owned by YouTube and FB?
We are not punished because we did not earn anything, but I guess if we are getting something we will be penalized.
It is a good idea to learn the basic rules and regulation on a certain platform you want to join which constitute plagiarism.
Here in Steemit, there is a flag and bots that notify and do the work of searching for Plagiarism.
So be very extra careful.
Regards to everybody.
Create your Steemit Account Sign Up here
Images from Pixabay
Get the partiko.app and enjoy the fun of having Partiko Points