The difficult question for Mario Götze and Borussia Dortmund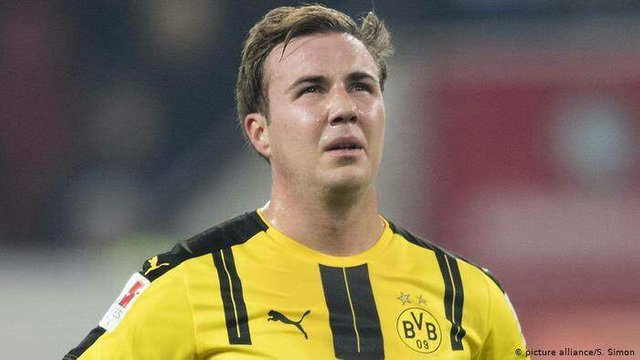 Mario Götze must be getting a sense of déjà-vu at Borussia Dortmund with the start of this season panning out much like the last. Confined to the bench and reduced to a few minutes here and there is not the ideal situation for the World Cup hero of 2014. With his contract in its final year, BVB and Götze have a difficult question to face.
What does the future hold for Mario Götze?
Following Dortmund's 3-1 away win at 1.FC Köln on Friday, coach Lucien Favre granted the squad two days off. Götze took himself of to Mallorca with his wife, but he probably didn't need as much recuperation as the rest of his team mates. The 27-year-old spent the entire match on the bench, and has only clocked up a total of 23 minutes in BVB's four competitive fixtures so far this season (Super Cup, DFB Pokal, and two Bundesliga outings).
Last season the Memmingen-born attacking midfielder had to wait until matchday 9 for his first start of the season and then largely had to settle for a role as back-up to the free-scoring Paco Alcacer, playing in a false nine role. The Rückrunde brought him more game time starting 14 out of 17 games and scoring 6 goals. All seemed well.
The signings of Julian Brandt and Thorgan Hazard however, have only stiffened the competition for places in the BVB attack, while Paco Alcacer looks to have overcome his fitness and injury niggles from last year reducing the need for Götze to spearhead the attack.
Negotiations over a new contract have been ongoing for months now, but it now seems all the more likely that Götze and Borussia Dortmund could be set for another parting of the waves.
"I am now going into my tenth Bundesliga season – so it is logical that a move to another country is a consideration" Götze told Goal recently. "As a footballer, you have the privilege that you can work in almost every country in the world."
Dortmund have made it clear they would like to have Mario Götze sign a new contract, but the stumbling block seems to be a the club's intention to reduce his yearly wage. When Götze returned to the club from Bayern Munich in 2016, he was given a deal worth a reported €10 million per year. He is currently on a par with captain Marco Reus and Mats Hummels
With Götze now more of a squad player, the club are seeking to drop his yearly salary to €7-8 million per year- something the player clearly doesn't want to countenance.
The public statements made by CEO Hans-Joachim Watzke are quite telling in all this. Back in March he seemed highly optimistic that Götze's future lay at the Signal Iduna Park. "I believe 100% that Mario will be playing here next year" he told Eurosport. "We have a very close relationship and have been through a lot together- from his move to Bayern, his return, and then his serious illness."
At the start of August however, that optimism seemed to have shrunk. "We will have discussions after the training camp to see whether both sides want to work together." He also told Bild that, "At the end of the day both sides have to be happy with the results of negotiations."
Götze would have no shortage of suitors should he decide to leave a Borussia Dortmund for the second time. Premier League sides have regularly been linked with him and could easily afford his wage demands.
When Mario Götze left for Bayern, the time was right for him. Now it seems the time is right for the club to see a second parting of the waves.
Posted using Partiko Android