Scrambling in the rocky, remote, wild north west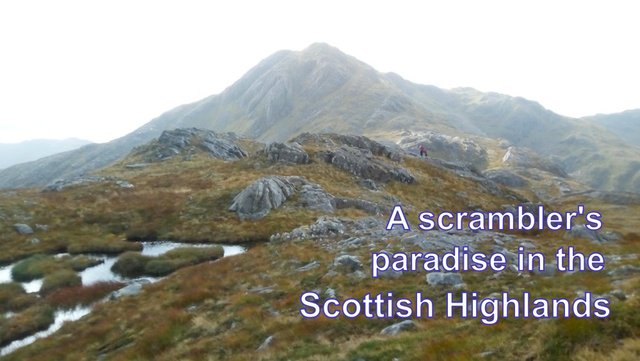 This is why I love
Corbetts
. A couple of weeks ago, I enjoyed climbing two of the most ruggedly beautiful mountains I've encountered to date, along with four other people, in fairly good weather – and we saw not a single soul the whole day.
For much of the time, we were surrounded by awe-inspiring landscape that has probably barely changed over the past few thousand years.
The two mountains we climbed are just a few miles away from Glenfinnan in the north west of Scotland, the tiny village with a beautiful railway viaduct that was made famous by the Harry Potter films. People also come to see the Glenfinnan Monument, which commemorates Bonnie Prince Charlie and the start of the 1745 Jacobite rising.
The village has become so popular that it's difficult to find a parking space there in the summer months. But even hillwalkers who visit Glenfinnan rarely venture onto the magnificent hills that we climbed that day – because they are not Munros.

Railway carriage accommodation
Our group travelled up the day before, and stayed in the Glenfinnan Sleeping Car, a converted railway carriage that is usually fully booked several months in advance. We had booked it six months earlier, in March!
The beds are mostly small bunkbeds of the type that you'd find in a modern railway sleeper carriage. I found my bed very comfortable, and I had a great sleep. Soundproofing could have been improved, but I had earplugs, and once my friends in the next room had stopped talking, the only sounds were the wind rustling in the trees and the occasional train arriving at the nearby station (which I didn't hear, as I was in the Land of Nod).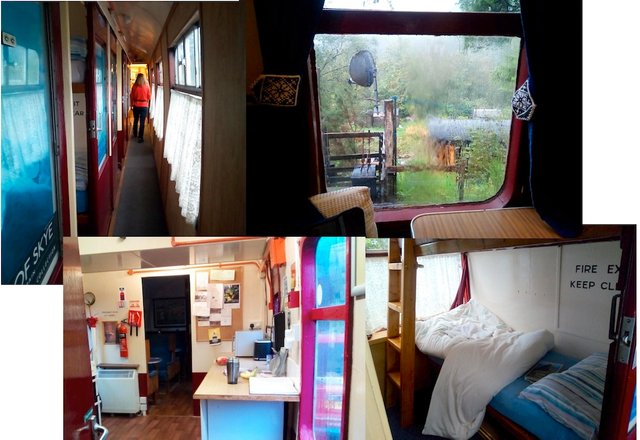 Scenes from the Glenfinnan Sleeping Car. Clockwise from top left: corridor, view from the dining car window, bedroom, kitchen.
There is a shower, a well-stocked kitchen, and a small railway carriage-style dining room – all very basic, but great value for £20 a berth.
We arrived in a heavy rainstorm, which made a trip to the pub an unpleasant prospect, but the owner supplied us with bottles of locally-brewed beer at £4 each.
The next day, we set out early for the hills.

Rock on!
The weather was a bit claggy as we walked along the shore of Loch Shiel. At one point we got a fantastic view of a steam train chugging over the Glenfinnan Viaduct, but my camera could not do the image justice.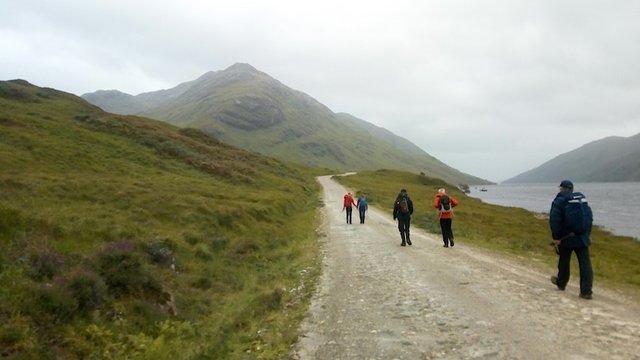 Walking along Loch Shiel with the first mountain of the day looming ahead.
One person in our group decided to drop out and return home as our first mountain of the day, Sgurr Ghiubhsachain (pronounced "Sgurr You-sach-an") loomed up ahead.
People often think that Corbetts (Scottish mountains with an altitude of 2,500 to 3,000 feet) are an easier prospect than Munros (Scottish mountains with an altitude in excess of 3,000 feet), but they are often more challenging, as I explained in my previous post. Sgurr Ghiubhsachain is as craggy and complex as its name, and we were approaching it from its wilder rocky face.
The hazy weather did not obscure the magnificent views as we gained height.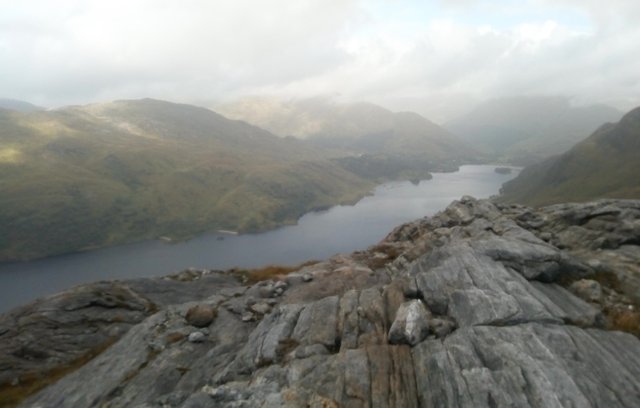 Views over Loch Shiel. Click here for a larger view.

The rocks were mostly avoidable, but we couldn't wait to get scrambling!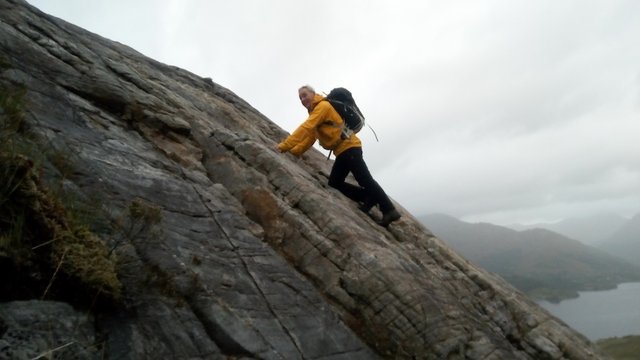 Myself and the group leader were the only ones willing to tackle this slab.
Between scrambles we enjoyed the glorious views...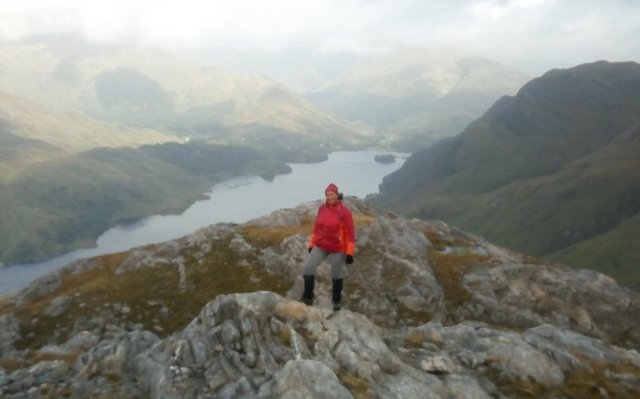 Taking a rest to pose for a photo.
... and found a lovely spot near a lochan to have lunch.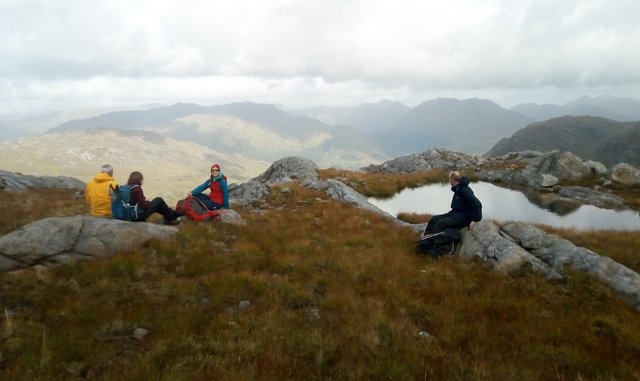 Lunch with a view. Larger view here.

By the time the summit cone of Sgurr Ghiubhsachain came into view, exhaustion was starting to kick in.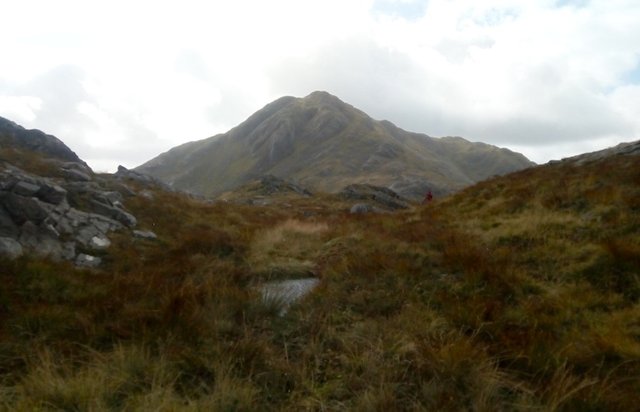 First view of the summit of Sgurr Ghiubhsachain. Larger view here.

Scrambling is tiring, as you're using your whole body to pull yourself up the rock. And Sgurr Ghiubhsachain is like a scrambler's playground – it was hard to stop!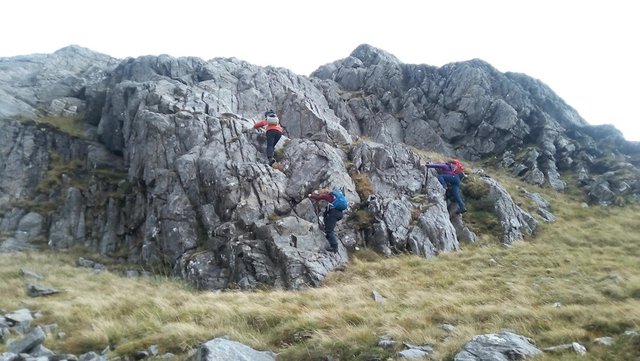 Scrambling up the grippy rocks. Larger view here.

The abundant rocks meant that the ground wasn't too boggy – the water was mostly contained in numerous small pools, which shimmered with the reflection of the silvery rocks.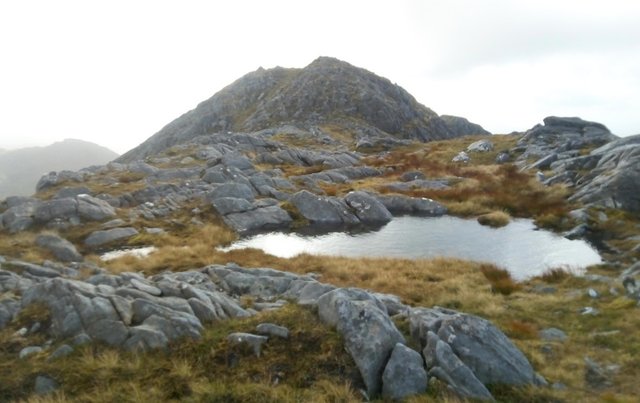 Larger view here.
There was a final steep pull to the summit...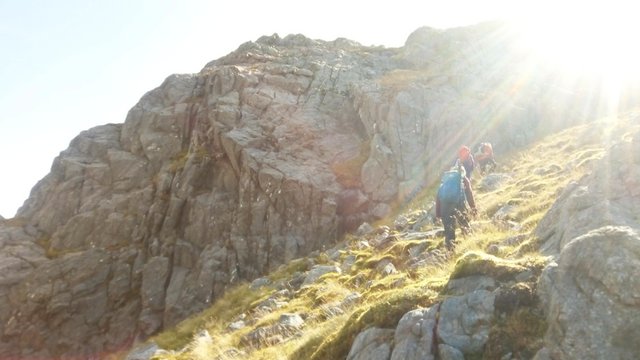 And we were there at last.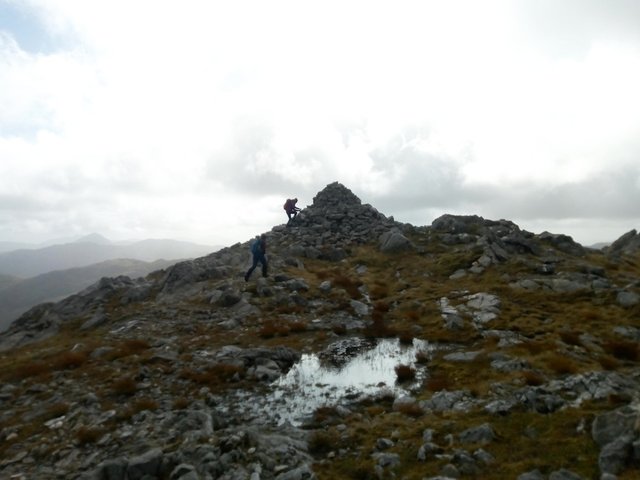 Summit of Sgurr Ghiubhsachain. Larger image here.
From the summit, we got great views of our second mountain of the day, also a Corbett with an equally unpronounceable name: Sgurr Craobh a' Chaorainn. This mountain is 74 metres lower than the first one, and the views improved as we climbed down towards the bealach between the two, as the sun started to break through the hazy clouds.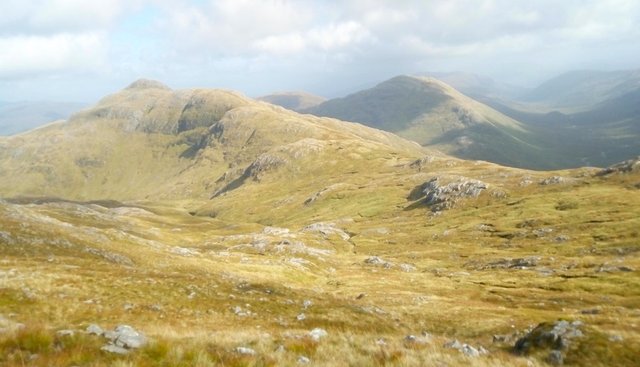 Larger view here.
Sgurr Craobh a' Chaorainn ("peak of the rowan tree") isn't quite as rocky as Sgurr Ghiubhsachain, although it does have a very rocky summit cone, giving a great short scramble at the top.
We took a teabreak at the bealach before carrying on to the summit.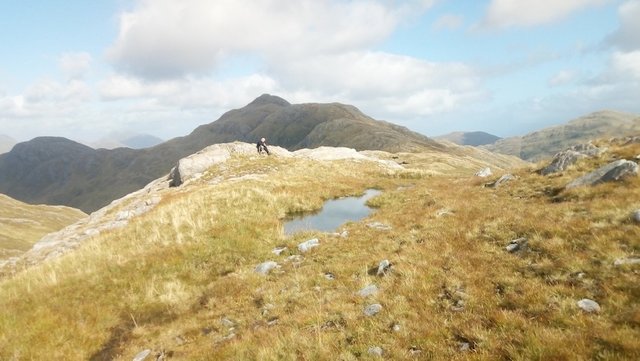 Larger view here.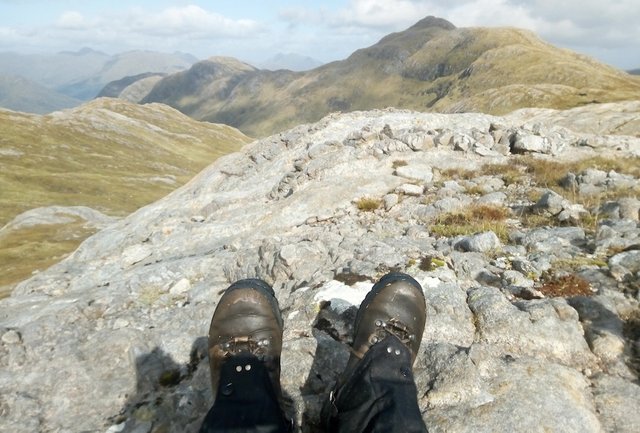 Larger view here.
What I love about the wild northwest of Scotland is that when you're in these mountains, you feel as if you could be there at any time within the past few thousand years. There would have been more wolves around, more trees, and maybe more dangerous humans!
The views back to Sgurr Ghiubhsachain revealed another side to this dramatic, majestic mountain.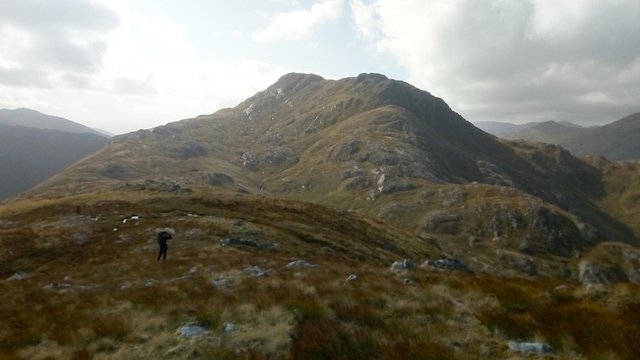 View back to Sgurr Ghiubhsachain. Larger view here.
By the time we were approaching the summit of Sgurr Craobh a' Chaorainn, I felt fit to drop! I was too tired to take any more photos, which is a shame, as the summit cone of this mountain is astonishingly rocky! We had to take care to choose the correct route up.
I was relieved to reach the top.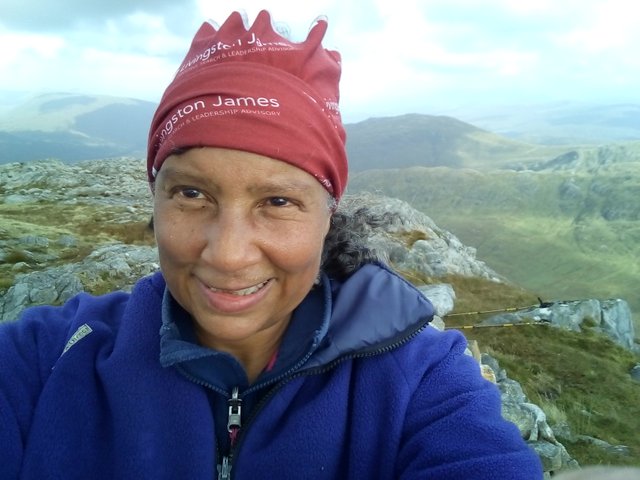 I was exhausted for about a week after this walk/scramble!
But it was an unforgettable day.

View from the summit of Sgurr Craobh a' Chaorainn. Larger view here.
Our route took us the rocky way up, but there is a less scrambly way up these mountains, which is described here. Whichever way you go up, it's a tough and remote walk, but very rewarding!
All images author's own.
---
Posted from my blog with SteemPress : http://ramblingandscrambling.co.uk/mountains/scrambling-in-the-rocky-remote-wild-north-west/
---