BTC update 19.03.2020
This is probably one of my last few posts on the STEEM blockchain, as I will now focus and post on the HIVE chain for sure.
SUN made STEEM into a total freakshow. Censoring posts and centralizing a decentralized community chain, which is now in danger of being labeled a security by the SEC (which would be the end of STEEM).
I am glad to move on and learn from the past mistakes.
Now that the HIVE chain will be run by the community and the steemit stake is gone, interesting times are ahead. I am so glad to be part of this. It still feels like David vs. Goliath and David WON!
Now to BTC... This is the best-case scenario: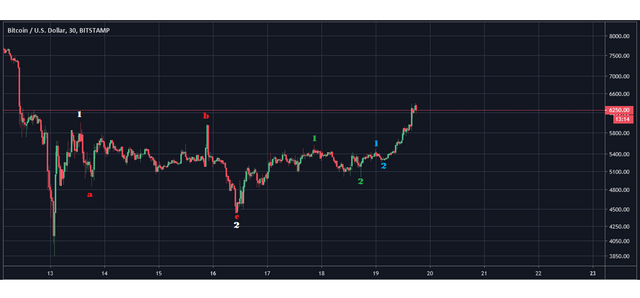 If you think this to be useful information:




Feel free to use and share my charts, but please mention me, @ew-and-patterns as the author. Otherwise it is considered plagiarism and I will flag you and advise my friends to do the same.




Please consider leaving a comment, like or resteem, if this post entertained you or helped you see things differently...
Have a nice day :-)


#bitcoin #btc #crypto #cryptocurrency #cryptocurrencies #steem #sbd #ethereum #eth #ripple #xrp #bitcoincash #bch #eos #litecoin #ltc #stellar #lumen #xlm #digibyte #dgb #cardano #ada #iota #tether #neo #tron #trx #omg #verge #xvg #bitshares #bts #nano #monero #xmr #dash #ethereumclassic #nem #binance #binancecoin #vechain #tezos #omisego #steemit #money #life #altcoin #altcoins #trading #investing #investment #investments #forex #forextrading #market #finance #gold #silver #commodity #commodities #stock #stocktrading #stockmarket #facebook #fb #apple #aapl #spx #xau #xag #usdjpy #usd #amazon #amzn