BTU: the Ethereum standard for online reservations
Original french vesion of the article : https://steemit.com/btu/@blogchaincafe/btu-le-standard-ethereum-de-reservation-on-line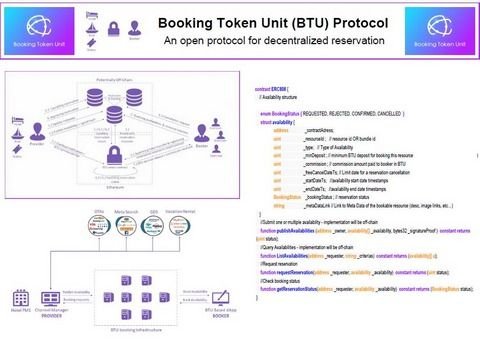 Almost everybody (in the ecosystem) knows about the ERC-20 Ethereum token standard : it is a ready to deploy token that most ICOs are using to raise funds. This token has all the build-in functionalities necessary for the token sale and the futures needs of the token. This standard has significantly simplified the token sale process. For instance, it guarantees that the token will be tradable immediately after the distribution : integration with current crypto-exchanges is easy as a pie.
However, not everybody is aware that it is possible to customize or propose new Ethereum protocols. The ERC-721, for instance is a slightly modified version of the ERC-20 that make the token non-fungible. This variant has allowed to create CryptoKitties : each ERC-721 token being unique and non-permutable, it is possible to assign it a unique crypto-kitty.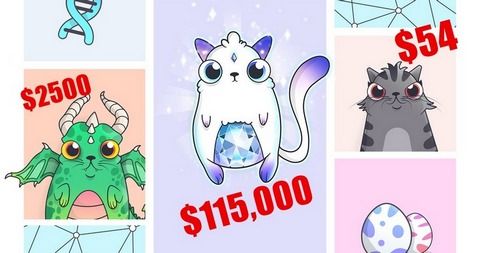 In this article, I would like to present the Booking Token Unit Protocol (BTU). Here is the official site.
It is the new Ethereum standard for decentralized reservations that I find it particularly interesting. It has already been submitted to Ethereum under the name ERC-808 and you can follow here its official integration.
Please note that formal acceptance is not required to use the protocol.
The idea is simple but awesome : create an Ethereum standard that simplify online booking.
Let's define the context.
Up until now, most booking were made through online centralized platforms. This centralization has lead to an unbalanced ratio of power between parties :
On one hand, the service providers (hotels, restaurants, etc.) bear the operational cost and investment.
On the other hand, centralized platform succeed to earn 15% to 35% of fees just by connecting client to service providers. Contrary to service providers, they have very little operation costs to bear.
The services provides become ever more dependent on those winner-take-all platforms that monopolize the online booking business.
A business, as this one, where a powerful middleman gets substantial fees and weakens its (smaller) clients, is a perfect use case for blockchain. If a blockchain based solution succeeds to provides similar services than those winner-take-all platforms it would have massive driving force for adoption. Indeed, it would provide the same service for a lower price due to the absence of intermediaries.
A first approach could be to create a new blockchain specially made to handle booking, with, of course, its own cryptocurrency. Another approach could be to create a platform and a token on an existing blockchain with the hope that it would become the new reference in the booking market.
However, the BTU take the best of those two approaches : the BTU is not an online booking platform. It is a protocol that simplifies the creation of a decentralized application (dApp) or a website by providing a tool set for interacting with the blockchain.
Here is how it works :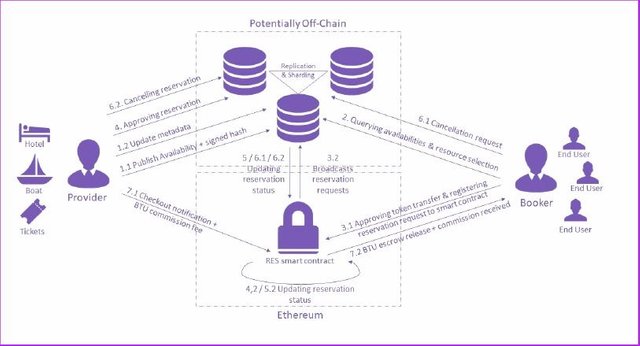 The platforms that implements the BTU protocol benefit from an hybrid approach combining a smart contract in the block and off-chain software that insure modularity and scalability. Informations are stored on the blockchain in a public ledger handled by an open source protocol which dramatically reduce the barriers to entry.
The aim of the BTU token is to incite market participant to behave rationally, rewarding good behaviour and punishing bad behaviour. For instance, a booker that used BTU tokens as a security interest will have interest in cancelling its booking on time in order to get it back. Besides, a booker will get new tokens (a form of "mining") for each booking he finalises respecting the rules.
The BTU protocol provides interoperability between all the applications and website that uses it. It may bring closer distant actors and help mutual cross-sales. All the industries would use the same token, thus multiplying the network effect and the interest of the token.
The BTU protocol has the potential to :
Disrupt sites like Expedia, Booking.com that currently have a monopoly on the hotel booking industry
Become a standard for sites that implement a booking system without being the core business of the website : Lufthansa, Hilton hotels, etc. [TN: examples have been changed from original version from French examples to global ones]
Uses cases for BTU are virtually unlimited :
Hotels, apartments, offices, warehouse
Transportation : cars, flights, jets, trains, buses, yachts, ferries
Leisure : holidays, cruises, visits, museum
Performances, sports, movie theater, theatre
Restaurants, caterer
Medical appointments, spa
Cloud computing resources
And of course, this list is not exhaustive.
The BTU private token sale
The private presale for early buyers is already opened (March 11th 2018). To me this represent an opportunity to get involved in a very serious and ambitious project at its beginning. In the current context where we there are many token sales every week (or even every day) based on applications and not protocol, I see this protocol project as a very interesting opportunity.
The minimal participation is 12.000 euros (a little more than 1 BTC at the time of the article) which is quite common for a presale.
I have been asked to join many blockchain projects but if I chose to follow this one it is because I am convinced that it will skyrocket (of course, it only my humble opinion).
This is not financial advice and I am not habilitated to guide you in your blockchain investment. However, if you are convinced by the project, as I am, you can participate to the presale through this link.