DEFI IN ONE PLACE: HOW BUCKSCAKE IS MAKING DECENTRALIZED FINANCE MORE ATTRACTIVE

Is it possible to obtain all that Decentralized Finance (DeFi) has to offer in one place? Can you access the wide range of products and services that DeFi has to offer without switching or accessing several platforms?
If you have been asking those questions, I want to let you know that the answer is YES. I have been wondering if the same possible. But not anymore, because I have confirmed that it is possible.
Only one platform can bring all the Decentralized Finance (DeFi) together and offer the same in one place. That platform is called BucksCake, and in this article, you will out find out how it does just that.
WHY DEFI?
Aren't there any other cryptocurrency asset classes out there? Why is this project (BucksCake) solely focusing on Decentralized Finance (DeFi)?
The reason for doing so is that the DeFi economy is still at the infancy stage, despite the massive bull runs that most DeFi assets have done.
Such a promising cryptocurrency niche needs to be monitored and if possible, supported. BucksCake is one of the cryptocurrency projects supporting all that DeFi stands for.
THE ETHEREUM CONNECTION
Decentralized Finance (DeFi) couldn't have been as popular as it is today if the Ethereum blockchain hadn't offered the platform to build DeFi projects, including Decentralized Applications (DApps).
BucksCake taps into that by working round the clock to implement similar features as the anticipated Ethereum 2.0 blockchain will do. That way, it will be easier to launch and project all the DeFi services the platform has to offer.
THE INCLUSIVE DEFI ECOSYSTEM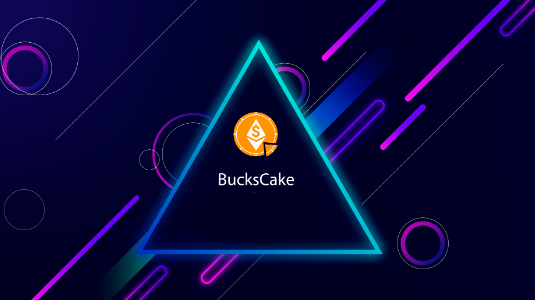 BucksCake offers you the opportunity to access most of the DeFi tools and services from one ecosystem. You don't have to use multiple DeFi-focused platforms to do that, because everything is in-house on BucksCake.
Some of the DeFi services this platform offers are:
Staking

Yield Farming

Cryptocurrency exchange services

Cloud mining and

Decentralized governance
COMMUNITY CONTROL
One of the high points of Decentralized Finance (DeFi) is the control the community has over the project.
In the same way, BucksCake empowers the users to become a part of the governance team. All the users need to do is to provide liquidity in the liquidity pools.
After doing that, you are qualified to start voting on proposals and vetting projects brought before the BucksCake governance team to look into.
Besides, the community control exercised here is almost maximum because the community will play a significant role in most of the decision-making processes, including project vetting and fee structure.
FINAL WORDS
Decentralized Finance (DeFi) instruments can be accessed from one place. BucksCake has already offered you the opportunity via its inclusive DeFi ecosystem where you can do several things, such as staking your crypto assets, farming new crypto tokens, and providing liquidity to make money.
The future of finance is decentralized. So, we need a platform like BucksCake to start leading the way for DeFi investors and upcoming projects in that niche to follow.
USEFUL LINKS
BucksCake's Telegram Group: https://t.me/BucksCakePublicChat
BucksCake's Telegram Channel: https://t.me/BucksCakeHub
BucksCake's Homepage: https://buckscake.com
BucksCake's Twitter: https://twitter.com/bucks_cake
AUTHORS DETAILS
Bitcointalk Username: Gopalwu
Bitcointalk Profile Link: https://bitcointalk.org/index.php?action=profile;u=2759913;sa=summary