From Centralized to Decentralized: Why BucksCake is Leading the way by Offering Viable Blockchain-Based Services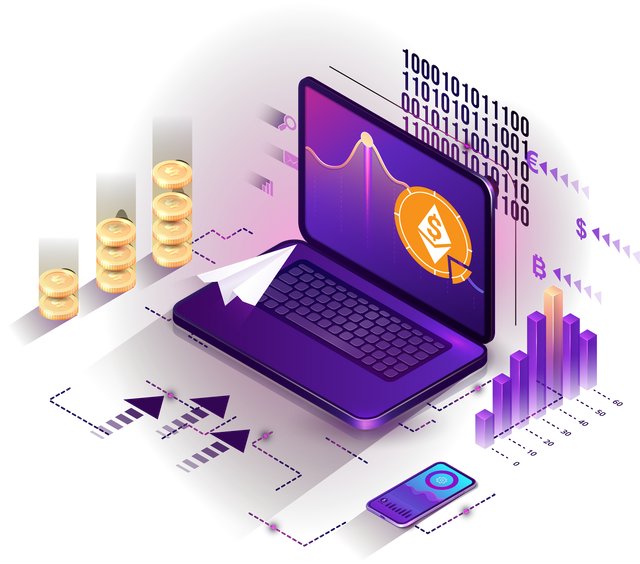 Blockchain technology and cryptocurrencies came to disrupt the global financial system. Since 2009, there have been severally paradigm shifts, financial-wise.
People now want to be in control of their money. At the same time, the duo of blockchain technology and cryptocurrencies make it simpler for you to access decentralized financial services.
The most recent disruptive mechanism we have today is Decentralized Finance (DeFi); a financial system that dethrones third parties, and encourages peer transactions.
BucksCake is a DeFi-centric platform that offers a broad range of Decentralized Finance (DeFi) solutions.
Read on to find out how this platform is making relevant changes to how we access DeFi instruments.
DEFI IN A BOX
Accessing Decentralized Finance (DeFi) instruments shouldn't take too long. Because the aim is to decentralize the system, it is imperative to make DeFi accessible to everyone in the shortest time possible.
Nowadays, several platforms are offering DeFi services in different dimensions. There is yet to be a truly harmonized platform that offers everything in one place.
I am pleased to let you know that BucksCake is one of the platforms that will do that. Despite being new to the industry, it has unified most of the DeFi tools, starting from Yield Farming to Staking and down to Decentralized Exchanges. It also added a new feature – Cloud Mining.
WHY SHOULD I USE BUCKSCAKE
Are you wondering why you should use this new DeFi-centric platform, BucksCake? You are not the only one wondering what is unique about this platform.
Yet, there are several reasons why you wouldn't want to miss out on the multiple features that this platform has to offer.
Here are some of the unique features that I believe you have been looking for on other Decentralized Finance (DeFi) platforms and projects:
ETHEREUM 2.0 SUPPORT
News has been rife about the launch of the Ethereum 2.0 blockchain. This will be an upgrade from the previous blockchain network that is fraught with many issues, such as delays in transactions, high network and transaction fees, and lack of interoperability of Ethereum blockchain with other blockchain networks.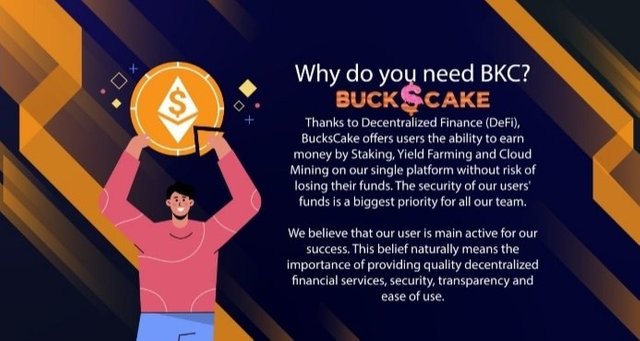 Thus, BucksCake takes the bold step of being one of the first DeFi platforms and projects to work on a similar architecture as Ethereum 2.0 does.
Because Ethereum blockchain has become the hotbed of Decentralized Finance (DeFi) projects, I am confident that this platform (BucksCake) will fare better in the coming months.
UNRESTRICTED ACCESS TO DEFI INSTRUMENTS
In living up with the Decentralized Finance (DeFi) mandate, BucksCake allows its users to have unrestricted access to the wide range of DeFi tools and services.
All you have to do is to hold a specific amount of the BucksCake token (BKC).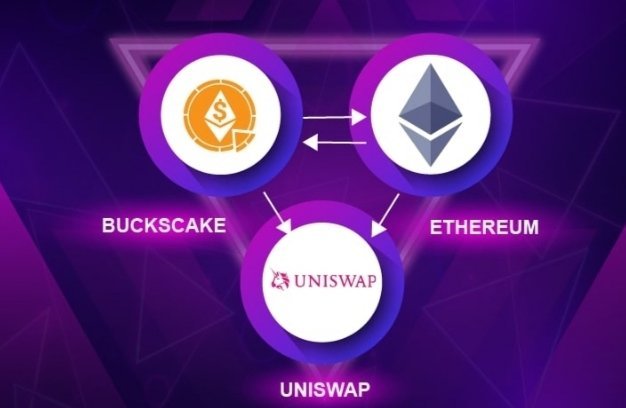 WRAPPING UP
Decentralized Finance (DeFi) gives us the taste of what Bitcoin wants to achieve. When transactions are peer-to-peer with cross-border payments remitted at the speed of light, more people will start taking an interest in DeFi. BucksCake is doing an excellent job in that regard.
USEFUL LINKS
BucksCake's Telegram Group: https://t.me/BucksCakePublicChat
BucksCake's Telegram Channel:
https://t.me/BucksCakeHub
BucksCake's Homepage:
https://buckscake.com
BucksCake's Twitter:
https://twitter.com/bucks_cake
AUTHORS DETAILS
Bitcointalk Username- Heroalt
Bitcointalk Profile Link: https://bitcointalk.org/index.php?action=profile;u=2768763;sa=summary