Bullet train, 300 kilometers per hour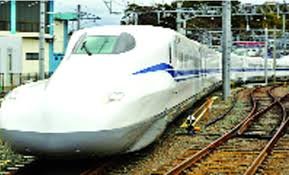 Recently a new generation of bullet trains named as the Shinkansen N 700 S or the Sankansen Supreme in Japan have been unveiled. New trains have been made completely new designs than ever before. Manufacturers say new bullet trains will introduce new horizons in rail links.
Although Japan's bullet train technology has been developed several years ago. Now the technology seems to be outdated, so Japanese people think. So the new design bullet train was made.
The summer Olympics will be held in Japan in 2020. They can ride on the new generation bullet train instead of the old trains in the Olympics. Visitors from all over the world come from all over the world. Several technical changes have been introduced in the new design. Noodles of the aerodynamic new trains have been designed as 'Dual Supreme Wind' followed earlier. This will also reduce the barrier and noise of the wind during the tunnel. The speed of new trains remains the same as before. Which is currently 300 kilometers per hour.