How To Do Sales For Your Business Without Feeling Slimy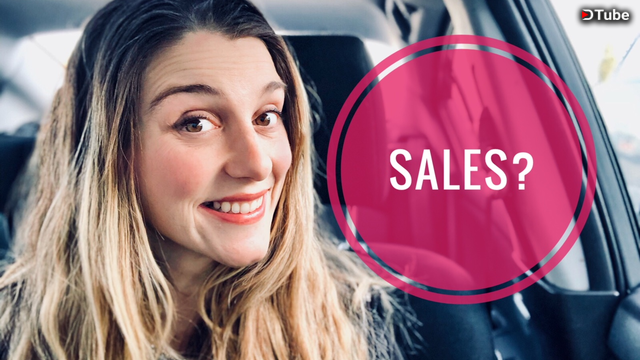 ---
Video is approximately 10 minutes
Hi friends!
Do you have a product or business model that requires a sales component? We have a lot of entrepreneurs on the platform – which means a lot of you are probably a one man show – doing marketing, accounting, strategic planning, operations, IT, and everyone's favorite… Sales. Even saying the word sales makes most people cringe inside a little. Why? Because we've all had a pushy friend selling products from their network marketing business, or a salesman who keeps trying to get us to add additional services, or have received way too many cold calls in our life.
What Makes These Encounters Feel a Little Slimy??
Because you don't trust that they have your best interest in mind. The immediate vibe is that they are pushing something for their benefit (bonus, commission etc) and not yours. Now let's think of a good sales experience you have had. Nothing coming to mind?
The reason we often don't think of our positive sales experiences, is because we mentally categorize them as good Customer Service!
Here's a hypothetical example. Let's say you are in the market for a new pair of running shoes and so you go to a local running store to try things on. Let's say there's an employee who measures your arch length, evaluates your gait cycle, expertly guides you through various shoe options, and talks about your running goals to find the shoes that will best fit your needs. In that situation… you probably thought, "WOW, that was amazing service!".
Guess what?
That was also excellent salesmanship. The likelihood of you actually purchasing a shoe from that retailer is dramatically increased because you appreciate all the time and knowledge they have shared with you. Essentially, there was a level of trust built up. If you had just walked in, tried a few pair of shoes and didn't interact with anyone – there's a good chance you would write down the name, and go try to find that shoe on clearance somewhere else, or find it cheaper online.
Shifting Your Mindset to a Customer Service Approach
If you are coming up against mental blocks when it comes to sales – maybe your next step should be to just STOP thinking about sales and start thinking about how you can provide the best service possible. This not only helps build trust, but it allows you to let go of feeling like you are being pushy. Seriously, just focus on being the rock star that you are, be extremely helpful to everyone… and sales will follow.
Now it is true that customer service and sales are not completely synonymous terms, but this is a really good starting point to get you over the mental hump. Once you are totally in your groove with providing the best service possible – then there are a few skills you can layer on to that to increase sales – all while staying true to your character.
Other Actionable Tips
Be Completely Upfront
Network Marketers are probably the worst at this, but other sales sectors can be as well. Have you ever had a friend reach out to you to "Grab a cup of coffee and catch up", only to walk into a sales pitch? It's a pretty horrible feeling. Even if you might have liked the product otherwise, you are probably completely turned off by it now.
Always Answer the Value Question
How is your product or service really going to help that individual? If your response is "This can help everyone!"… then it's time for you to hit the drawing board again. Why would this specific person find value in your product? If you can't answer that – then there's a good chance you will end up coming across a little slimy.
Does Your Product Fix a Need?
Not sure if someone would be interested in your product? Ask them! If your product or service fixes a need that they may have – ask in that context and see how they respond. If there is not any initial interest – then don't keep pushing! It's okay to ask a few more follow up question to get under the surface, but if they really truly don't seem interested, then for the love of all things good – please don't keep pushing them. Make sure you are reading body language and verbal/written cues here.
The Character Test
Do all of your actions feel in line with your vision and character? If not, then don't keep pushing forward because you "have to do sales". Take a moment to step back and reflect. How could you do things differently, or shift your mindset so that your actions DO lineup with your values?
Here's an example from my life…
I was meeting with the owner of a store to show him our new footwear line and hopefully get placement in his shop. There was a LOT of pressure from my bosses to get an order because it is one of the highest profile footwear stores in New York City. Instead of coming in talking all about how amazing our shoes were (which he hears all day, every day)… I simply asked for his input and what he thought of the shoes. The fact of the matter is – he is a giant in the footwear world, and is the best expert on what his customer's will like. By shifting the conversation to a lower pressure environment where I'm simply asking questions about what his customers might like … the vibe felt totally different. I wasn't pushy at all, and we had a really comfortable discussion about the products. Some shoes he really liked, and some he hated. I didn't try to defend the ones he didn't like… I just let that go because he obviously didn't want them anyway.
I ended up getting that order and I was able to still feel in line with my character – because I knew he actually wanted to buy the items that he chose.
My "Cred" on the Subject
I don't talk about my day job too often – but I actually work as an Account Manager/Sales Professional. As someone who lives form a place of high integrity – I really grabbled with a lot these issues. To be honest, I still struggle with this sometimes – especially when there are demanding sales goals to reach. I look forward to the day that I don't have to do this job anymore – but I will say that I have definitely learned some valuable lessons by working in the world of sales.
To be honest, I even feel hesitant to post this because I don't want to be judged or labeled as a salesperson. Funny isn't it? That after everything I've mentioned above – it's obviously still a block that I'm working through as well. Part of it is probably because I'm selling someone else's product for them. It might feel different if I was telling people about my own company or business!
---
Do you have to do sales in your job or business? If so – have you struggled with some of these ideas as well? I'm looking forward to seeing your thoughts and questions below!
Xo, Lea
---
▶️ DTube
▶️ IPFS