George and Amal Clooney Set to Attend Royal Wedding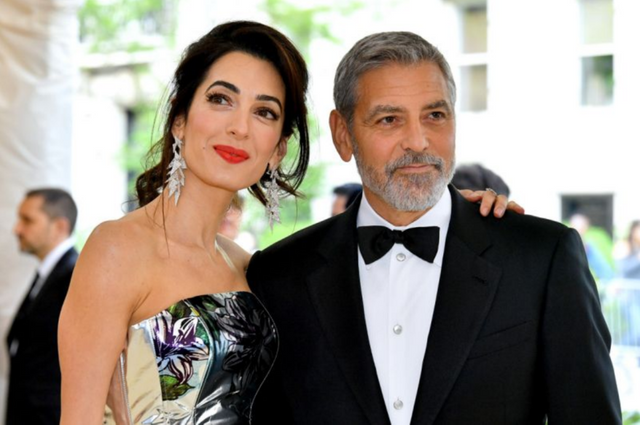 Amal and Meghan Markle "have known each other for a while."
More
Who will or won't be in attendance at Prince Harry and Meghan Markle's [royal wedding has been the center of much debate over the last several weeks. And now, on the last day before the wedding, an unexpected RSVP from George and Amal Clooney has surprised many.
People reports that not only will George and Amal be present at the ceremony at St. George's Chapel, they are also two of only 200 guests at the private reception to follow. According to a source, "Meghan and Amal have known each other for a while" and have "many interests" in common. Evidently, the two were introduced by a mutual friend and have become closer since Meghan has moved to the U.K. They also reportedly share a hairdresser.
The power couple won't have to travel far for the festivities. They'll be leaving their soon-to-be one-year-old twins at home, which is just 30 minutes away from the event by car.
George and Amal won't be the only Hollywood names at the royal wedding. Actress Meghan has invited a few close friends to the event, including Priyanka Chopra and several of her costars from Suits, including Gina Torres, Sarah Rafferty, and Rick Hoffman.
The royal wedding is officially only one day away, and the event's audience seems to be constantly changing. To the joy of the royal family, 96-year-old Prince Philip has confirmed that he will be able to attend the wedding after concern that he may not be in good enough health after a hip surgery last month. Meghan's father, Thomas Markle, was anticipated to walk Meghan down the aisle, but he will no longer be present at the wedding. Instead, Meghan's soon-to-be father-in-law Prince Charles will walk the bride down part of the aisle.
See more:Everything You Need to Know About the Royal Wedding
With all the changes to the guest list for this much-anticipated event, we can likely expect the unexpected in terms of the crowd at Saturday's festivities.