@steempress: Two Way Integration Into Wordpress: This Is An Enormous Breakthough
Over the past week, I discussed some applications that are reaching out passed the Steem blockchain and into other areas of the internet.
Nowhere is this more evident than in the most recent beta version of @steempress.
For those unfamiliar with this application, it enables users of Wordpress websites to have their content published not only on their sites, but also to Steem. All the user needs to do is to get a Steem account and install the plug-in into their site. Once that is completed, any post can be selected and transmitted to the Steem blockchain as a blog post under that individual's Steem account. The timing of the post can be altered (delayed) so as not to mess up the SEO rankings that Google and other search engines use.
While this might not seem like much on the surface, it is a really big deal. The reason being is there are over 75M+ Wordpress sites out there. Many associate it with blogging, which is one of the uses. However, there are a number of well-known sites like the NY Times and Wall Street Journal that are actually built on Wordpress. With 75M+ different sites, this is a huge market to tap into.
Now the fun part.
What I just describe was one-way interaction. One sent the information from Wordpress to Steem. It worked well but was incomplete. Hence, the update is enabling two-way integration between Wordpress and Steem.
Before going any further I want to thank @cryptoctopus for forwarding the post and also being such a proponent of this application. He also was a case study using his own blog-dappcentral.io as an example.
With the two-way integration, the application, when installed on a Wordpress site, will pull the data down from Steem for that particular post. This means that one is looking at a layout very similar to Steem when actually on a Wordpress site.
To Steemians, this looks familiar. However, this is not a post made on Steem using one of the Interfaces. Instead, this is off his Wordpress blog that has @steempress installed. Click on this link where that screen shot came from and scroll down. You forget that you are not on Steem when on that site.
http://dappcentral.io/blockchain-technology/5-steem-dapps-to-pay-attention-to-in-the-next-6-months/
Notice how there is the "Log in" and "Register" tabs in the upper right hand corner of the comment section. This is where the true value comes in. Anyone who is reading this blog, or any Wordpress site with the plug-in, will see that. Essentially, @steempress takes over the comment section. This is paramount since there are some blogs out there which get hundreds, even thousands, of comments per post.
In other words, that is a lot of people seeing the potential of Steem. Anyone who has an account can log in while others can register. This ties into Steemconnect for security. One challenge at the moment is the lack of sign up via Steemconnect but @steempress is trying to work around that.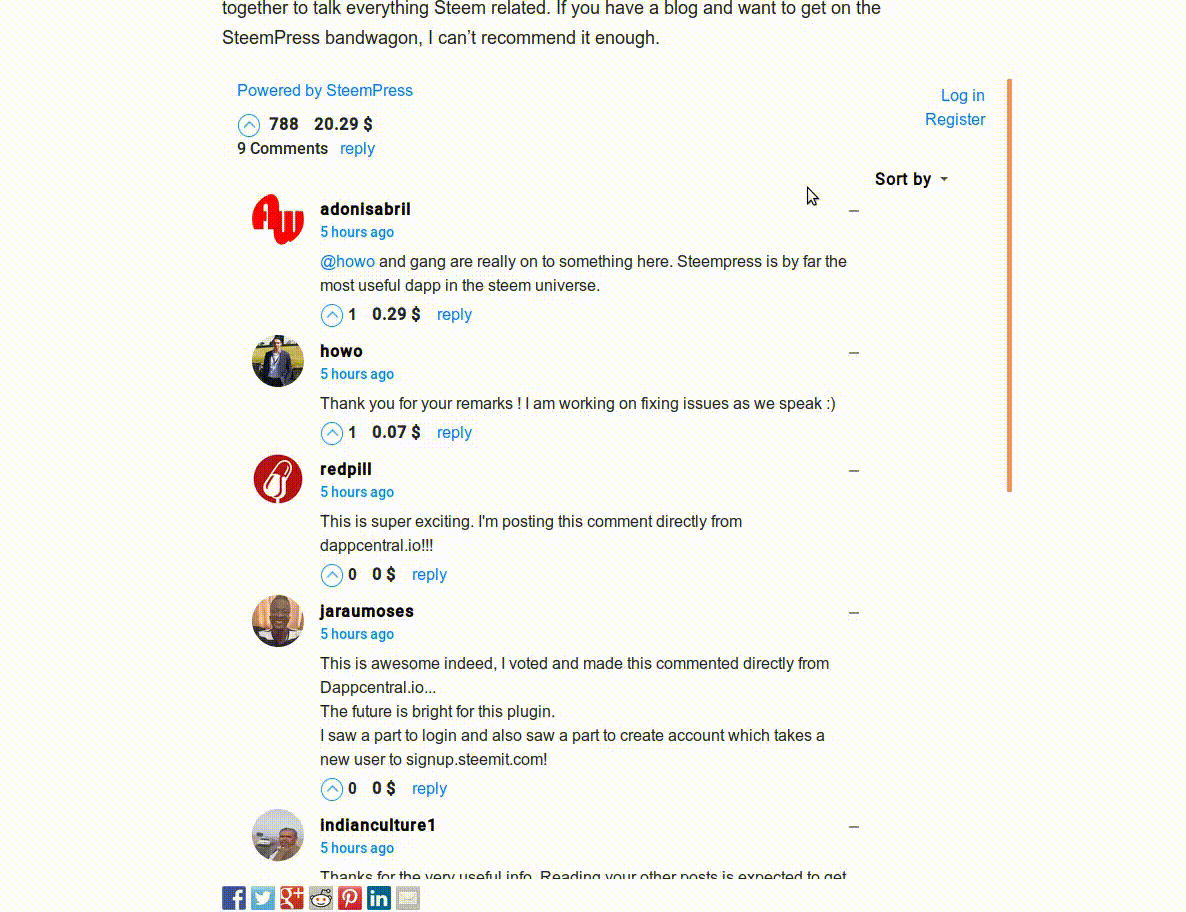 Once logged in, one operate the same way is if he or she was on the Steem blockchain. This means upvoting and commenting. I must stress, with this plug-in, this is NOT taking place on Steem but on Wordpress. All that is done is delivered to and pulled from Steem.
Another nice feature is the ability to sort comments. Again, when you see some blogs that get thousands of different comments, sorting becomes an important feature. At times, people want to alter the order comments appear.
This application allows for users to do just that.
To read the full write post by @steempress.
https://busy.org/@steempress/steempress-2-0-introducing-two-way-wordpress-integration-with-steem
So what does this all mean?
The biggest breakthrough here is that content creators now have the ability to not only monetize their sites but also provide that to those who follow them. Using this application means that people commenting can sign up for an account and potentially receive rewards for their comments. This is a major shift from what was possible before.
With the one-way integration, the content creator could monetize the post by having it automatically sent to Steem. Of course, once there, Steemians would handle it like any other post. All comments made on Steem would NOT show up on the Wordpress site. By the same token, those made on Wordpress would remain there.
The latest beta version changes this. All followers will have the opportunity to get a Steem account and monetize their comments on the Wordpress site. The plug-in potentially makes every Wordpress site a limited user interface to the Steem blockchain. Each of the 75M+ Wordpress sites can now have posting, commenting, and upvoting on the Steem blockchain.
Just out of curiosity, how many of you think people will be intrigued when they see some comments with money next to them. Certainly, that is going to garner some attention.
How big are comment sections? Here is the reach of Discus. one of the more popular comment sections.

Discus.com
There are dozens of different comment section plug ins out there that sites are using. @steempress could really start to penetrate this market.
After all, any of us who operated on Steem know how difficult it is to go back to a blog or site that does not offer rewards for our content.
The key is to get more people to feel this way. @steempress has a chance of attracting many to this blockchain.
---
If you found this article informative, please give an upvote and resteem.
Pictures from articles linked in post.