I won't be using ThreeSpeak anymore as they are limiting what topics can be uploaded
After taking a break from making videos I decided I wanted to make one today and upload to threespeak.
Reading through their new "Rules & Guidelines" I am deciding not to publish to such a platform, unless of course they change them.
For clarity, even Youtube isn't this restrictive as they allow beheading videos and war footage. So you are making a policiy that actually is more restrictive than YouTube(why?)...

"CALLING FOR VIOLENCE OR FOOTAGE OF VIOLENCE: " Great, so I can't show what is going on in Hong Kong or in any kind of riot or situation with violence in it. So you might as well ban me now because I already have content like that and so does my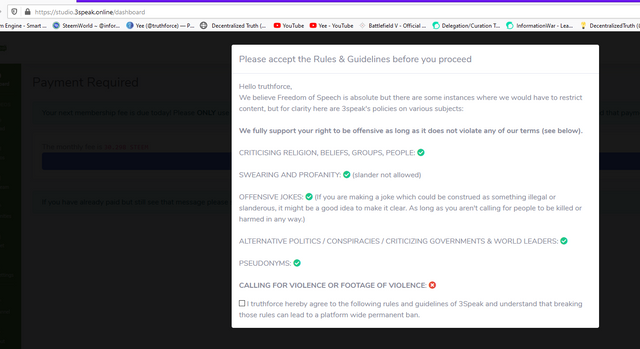 "Hello truthforce,
We believe Freedom of Speech is absolute but there are some instances where we would have to restrict content, but for clarity here are 3speak's policies on various subjects: "
You don't believe Freedom of Speech is an absolute if you are restricting content in some instances, I think that should go without saying. Just don't say "we believe Freedom of Speech is absolute" and you won't contradict yourself in the same sentence where you say it isn't absolute.
I don't understand how you can call your platform a Free Speech platform and be all about stuff that gets censored and at the same time ban footage of violence. Footage of violence isn't illegal in most countries, calls for specific violence is in the USA. I don't advocate violence to be clear.