Elephants graveyard completed drawing!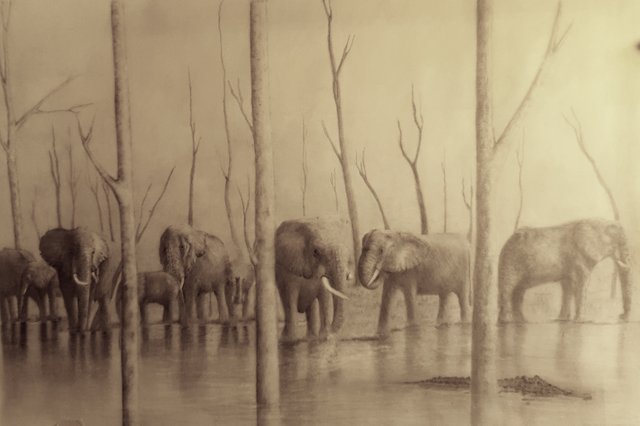 Well I can finally call this mammoth project complete. Nearly seventy five hours of work and I can finally post a complete step by step to completion of The Elephants Graveyard!This commission is based on the mythical place that elephants go to die. There are many arguments for and against the fact of whether it is true or not. The eeiry trees are based on a fact that years ago a dam was built and flooded an area of The Zamvezi valley where people and animals had called home for age upon age. As the flooded water was dammed up the trees still exist albeit dead. They make for a seriously beautiful place to draw inspiration from especially at those times of day when the sun is rising or setting with the water reflecting light and the back drop of ghostly trees. The elephant heards are a common site among these bleached white trees and the contrast between the animals and trees on the water are to die for if you live to see the ultimate scenery in life. This picture is based from the dam mentioned above... KARIBA DAM on the Zimbabwe side. To give you an idea of the size of these crocodile infested waters it takes about 20 hours to take a ferry along the length of it from near the narrower parts just after Victoria falls fed by the mighty Zamvezi River up in the national park to the main town of Kariba
I hope you enjoy the final piece and thank you for all the up votes as I posted the progression of the picture.
.