MISSION ACCOMPLISHED - ACROSS CANADA, DAY 92 OF 92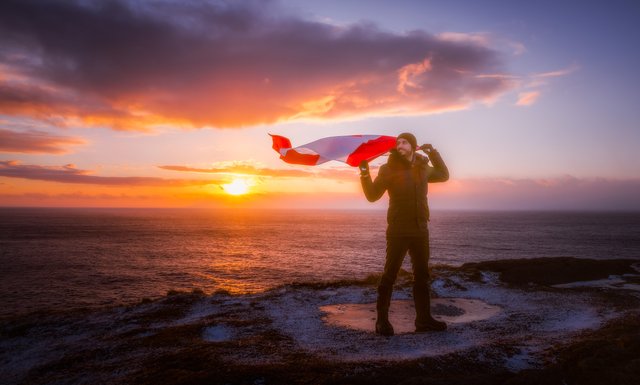 Here the nation begins and my journey ends: selfie at Cape Spear, Newfoundland, where Canada first greets the rising sun.
I did it!
The rising of the sun above the cold waters of the Atlantic signaled the finale of a long tour. I could drive no farther east than Cape Spear, Newfoundland, my final destination; from here I would hurry home.
Every day since October 1st, 2018, I've shared images from this cross-Canada trip, a journey that took place the previous year, an adventure I've been reliving with you through my photographs.
It all happened in 2017, when I packed up a Jeep and drove it for more than ninety days, traveling west and north from my home in Ottawa, charting a circuitous route to Vancouver Island and the Pacific shore before changing course, turning around and spanning the width of Canada to arrive in Newfoundland and the Atlantic.
I felt weird standing there on the rocks of Newfoundland posing with the flag, there at the end of all things, the end of my longest adventure yet. I was more sad for its termination than I was happy at the completion, because traveling across Canada was not a thing to check off my bucket list so much as it was a temporary lifestyle that, while not always easy, I had thoroughly enjoyed.
Across Canada in 92 Days had ups and downs, highs and lows. I planted tripod legs below sea level and shot out the window of a float plane thousands of feet above Canada's highest mountains. There were days when everything I touched turned to gold and other days when I never even touched my camera, but every day driving alone in my vehicle I felt an unusual sense of freedom: freedom to plot my own course, to go (sometimes literally) where the wind blows and to make my own mistakes but to get it right sometimes too.
The scope of this journey was far grander than anything I had tried before. Encountering summer, fall and winter weather, (not necessarily in that order) driving through forests, prairies and mountains, I covered seventeen degrees of latitude and eighty-five degrees of longitude (five and a half timezones), putting over 30,000 kilometers on the Jeep's odometer. I slept most nights in the back of that Grand Cherokee, and it was the most comfortable portable accommodation I've ever had.
Though I talked with many people and met with friends and family along the way, there was some loneliness. Thankfully audiobooks and music were my constant companions. I listened to everything from Jon Krakauer to Jack London and J.K. Rowling, from Stompin' Tom Connors to Lindsey Stirling and Great Big Sea. I listened in the car during long days of driving and I listened while standing in the cold in the middle of nowhere while my camera recorded the stars.
My main mission, to photograph National Parks in every accessible province and territory, was a success: I visited twenty in total and brought back photos from each one, but that goal was merely the framework for a larger desire... to experience Canada, to see and photograph new parts of my country and broaden my vision of this nation, a beautiful, wild land bounded by three seas, too big to be fully explored by any one person.
It's satisfying to take a dream and make it a reality, and even though plans never go exactly as expected I'm proud that I was able to pull this off and call it a success, one that I'll never forget.
---
Thus concludes my ninety-two day picture story of Canada, even as we celebrate the final hours of 2018. Thank you so much to everyone who has followed my adventures online, to those who have liked, commented, shared and supported me in other ways.
Though "Across Canada" is over, I look forward to a new period of fresh, exciting things. Which adventures does the future hold? I'm content in my ignorance because I like the surprise!
Happy New Year, friends. May this be the year that your own dreams come true.