Week 7 Update of Flowering Cannabis Plants, flowers getting big! THC Bomb, 707 Headband, Purple Urkle, and Chemdawg4 in week 7 of flowering and filling their nugs out nicely!
Here are some THC Bomb plant photos showing how the flowers are filling out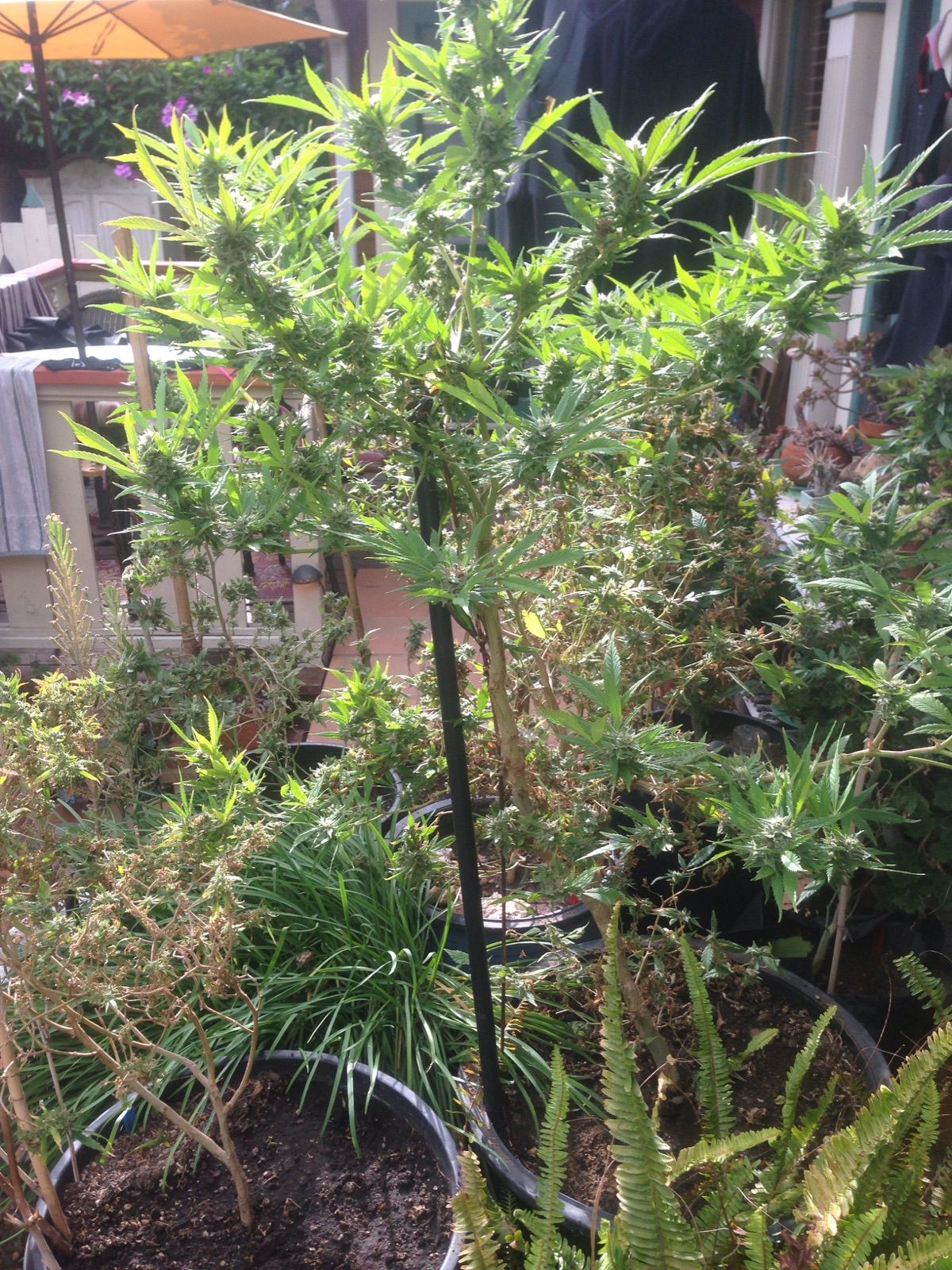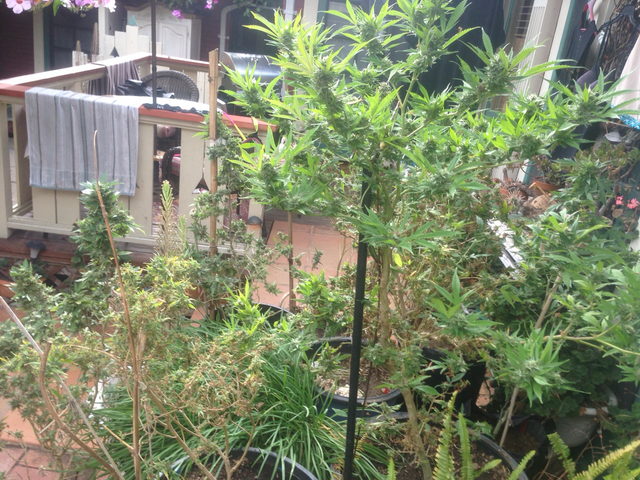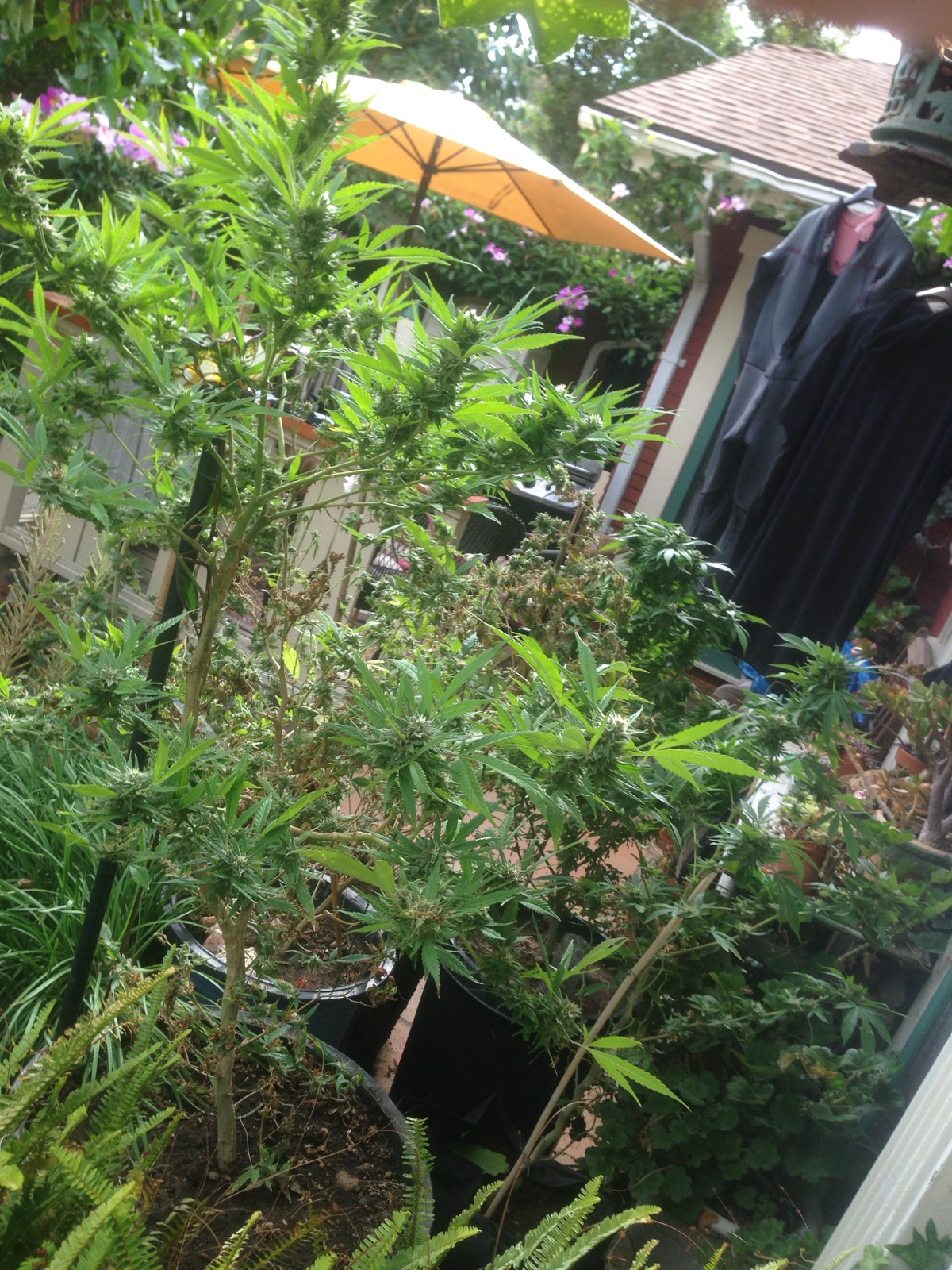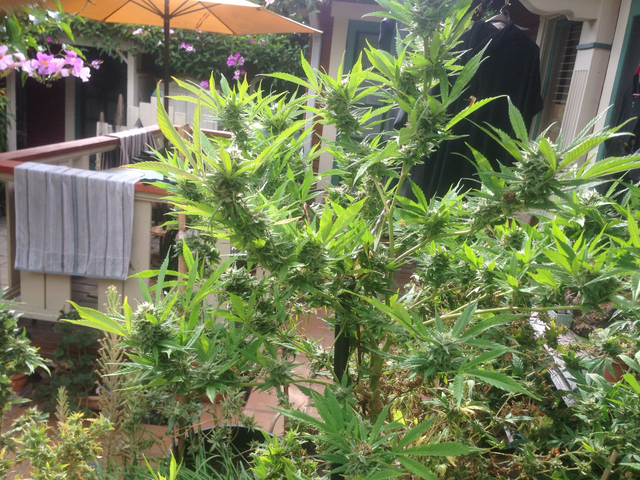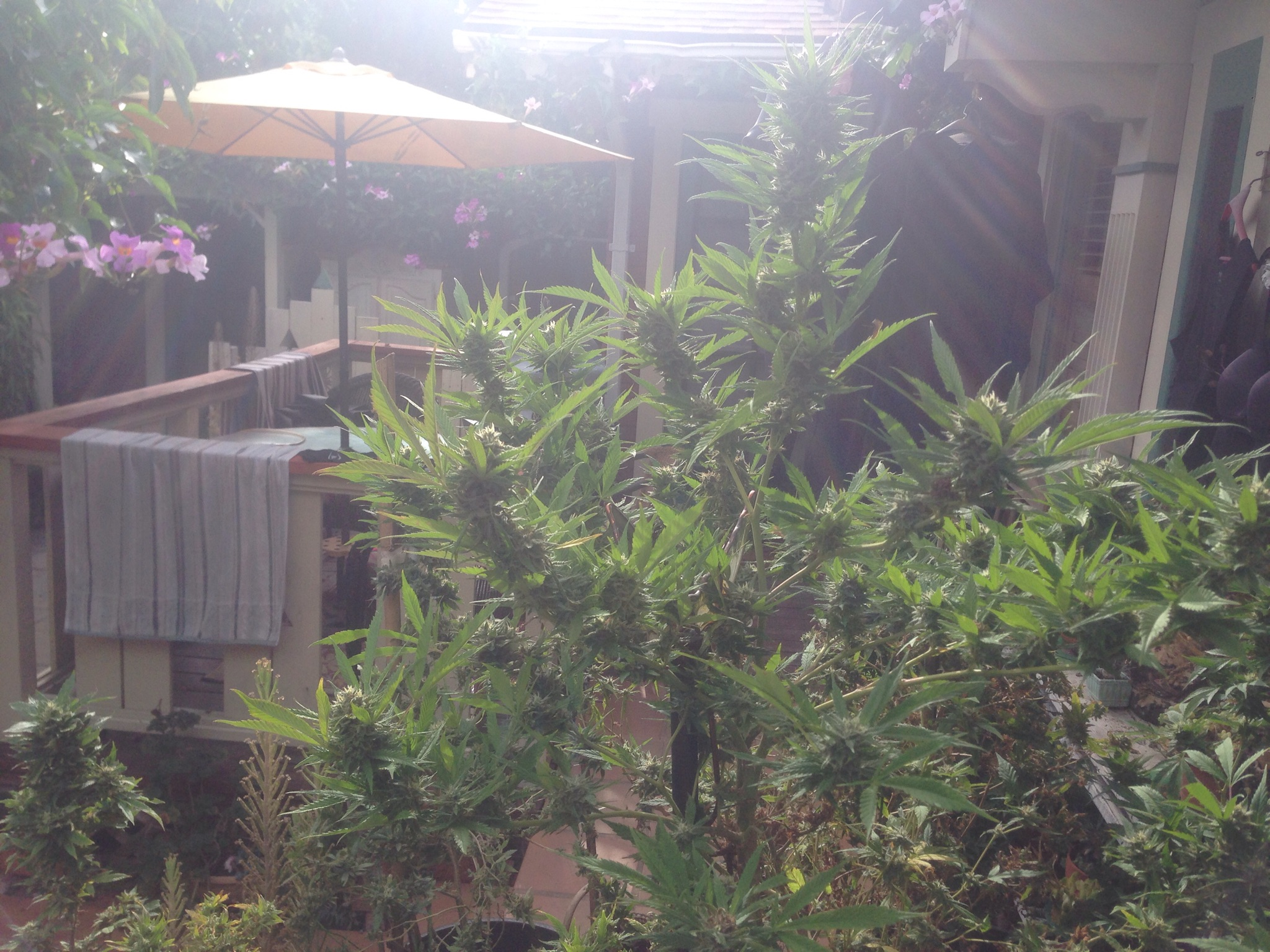 So the THC Bomb is just looking really good! And below is the NEW top of the Green Crack, a stunted plant that is still really giving its all to produce some nice nugs that will still be smoked with gratefulness!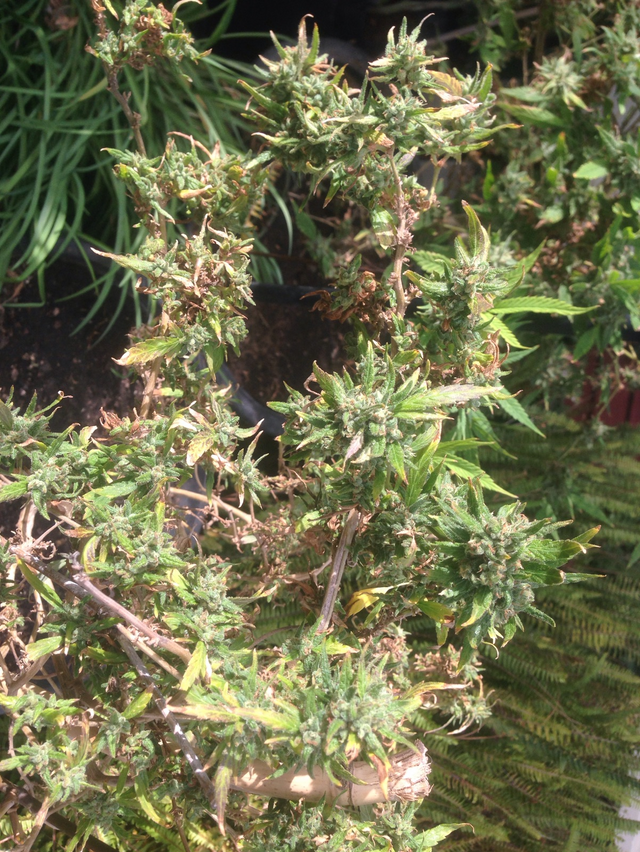 Thought this one was ready but these nugs on another side of the plant started getting bigger after the largest nugs accidentally broke off, another side of the plant got all the energy of the plant, it redirected all the sugar and water over here to grow these nugs bigger instead, . But about most of these plants I need to see if its been the 8 to 11 weeks they need, THC Bomb needs 7-9 weeks so its almost ready, I know its week 7 because I posted on August 4th about how my plants started flowering, i know i moved a few out there after that date so I can be pretty sure that the smallest one in the corner is gonna need maybe a few more weeks and the chemdawg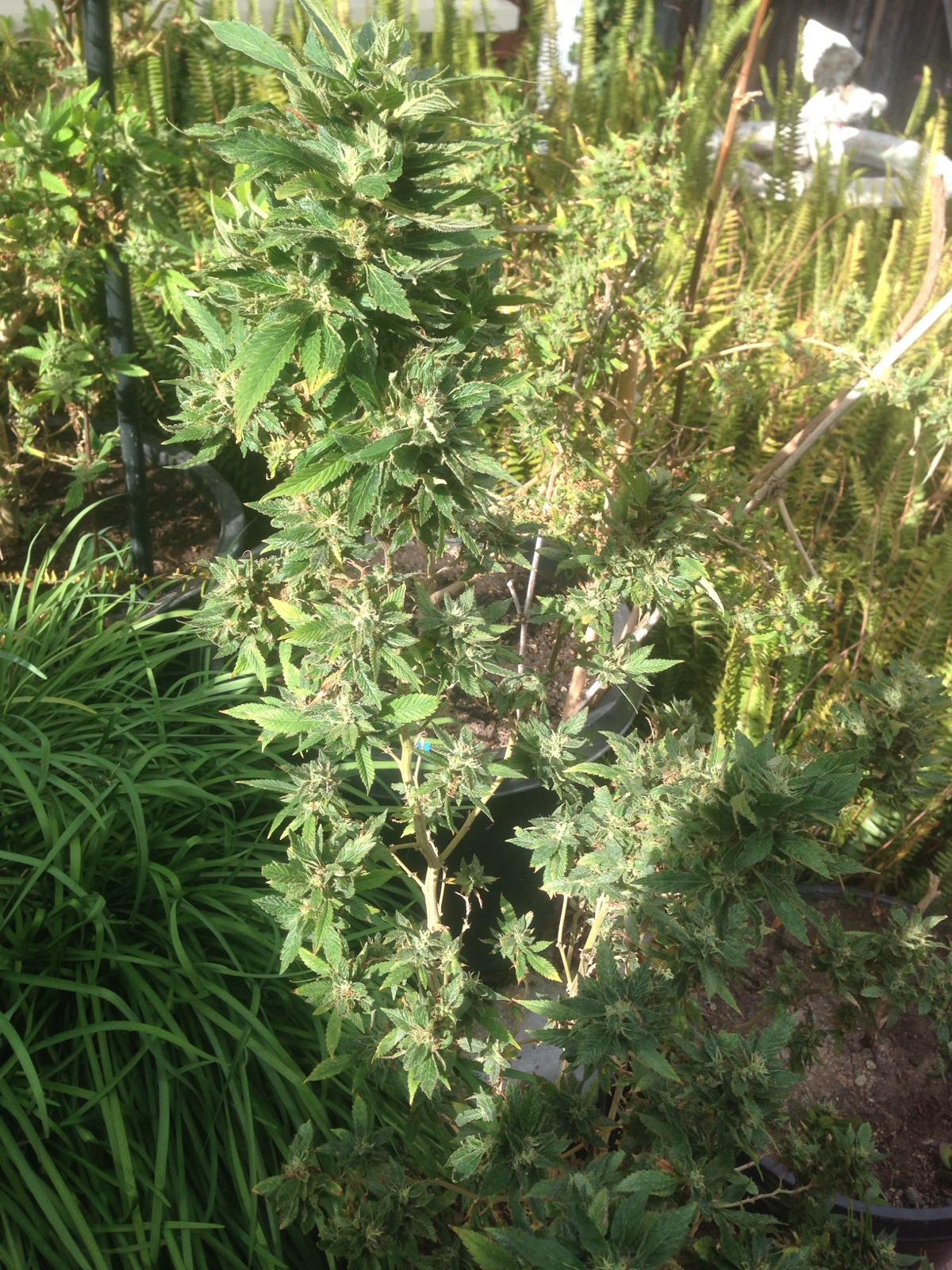 9 to 10 weeks for Chemdawg 4, and i know these were already out here on August 4th so yeah its only been 7 weeks so I know the THC Bomb will need another few weeks as I give it some fish juice 5-1-1 and try and get its nugs to grow as big as possible before flushing and harvesting soon, its gonna be a great post when I harvest very coon in a few week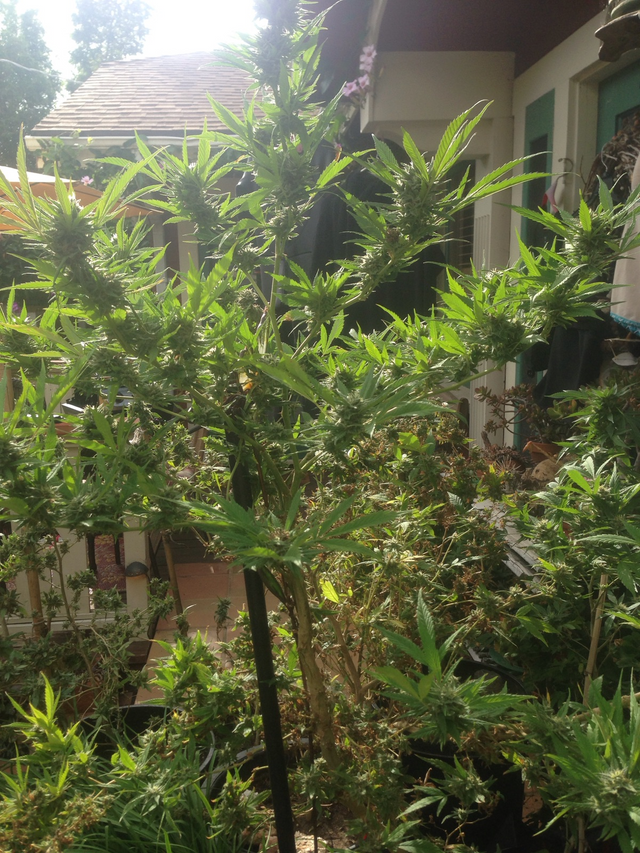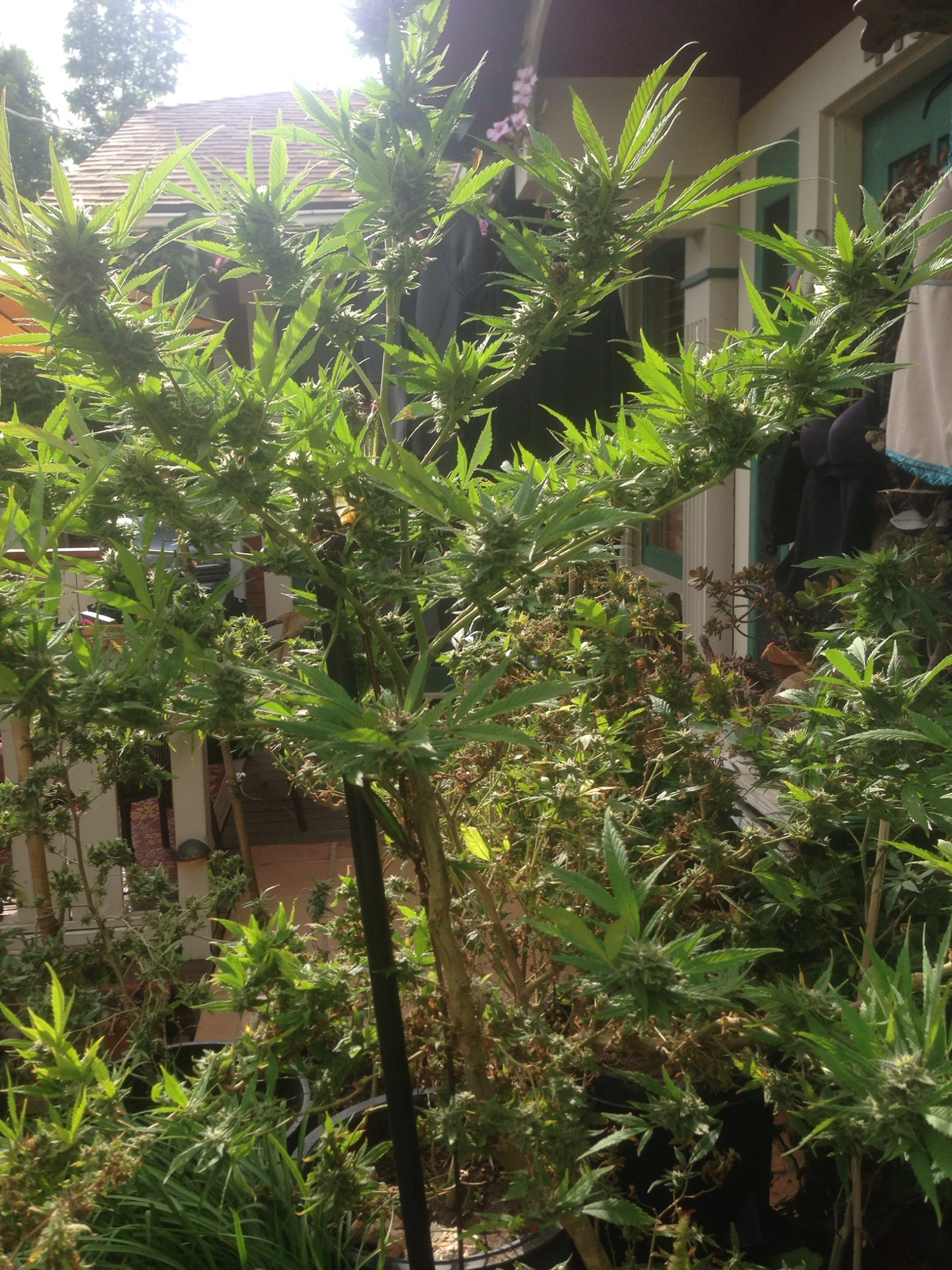 the THC Bomb looks like a Menorah or a candelabra like a chandelier!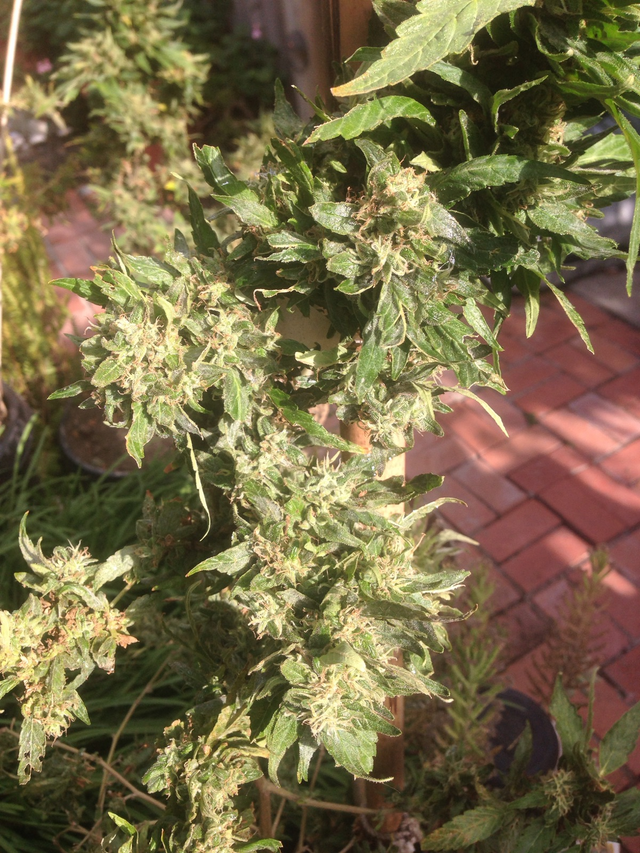 Man even after a few caterpillars ate a lot of these nugs the 707 headband just looks so good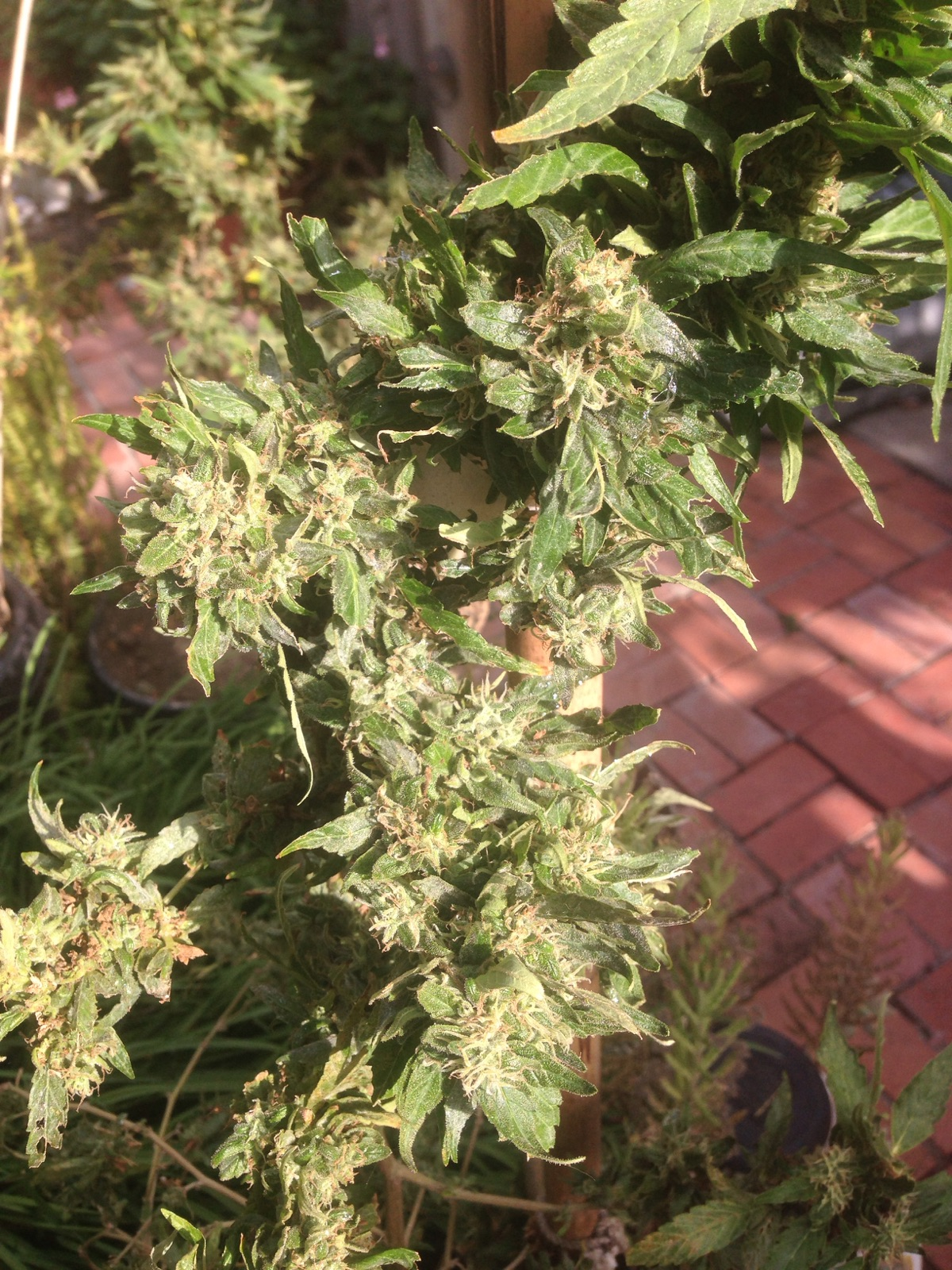 again another THC Bomb it's looking so perfect!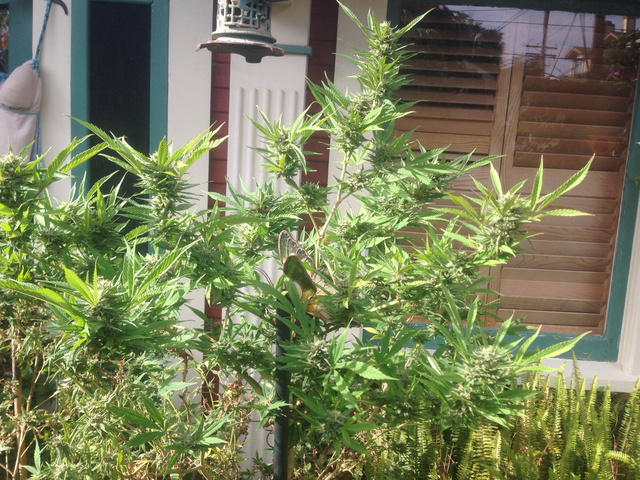 This is a real giving Tree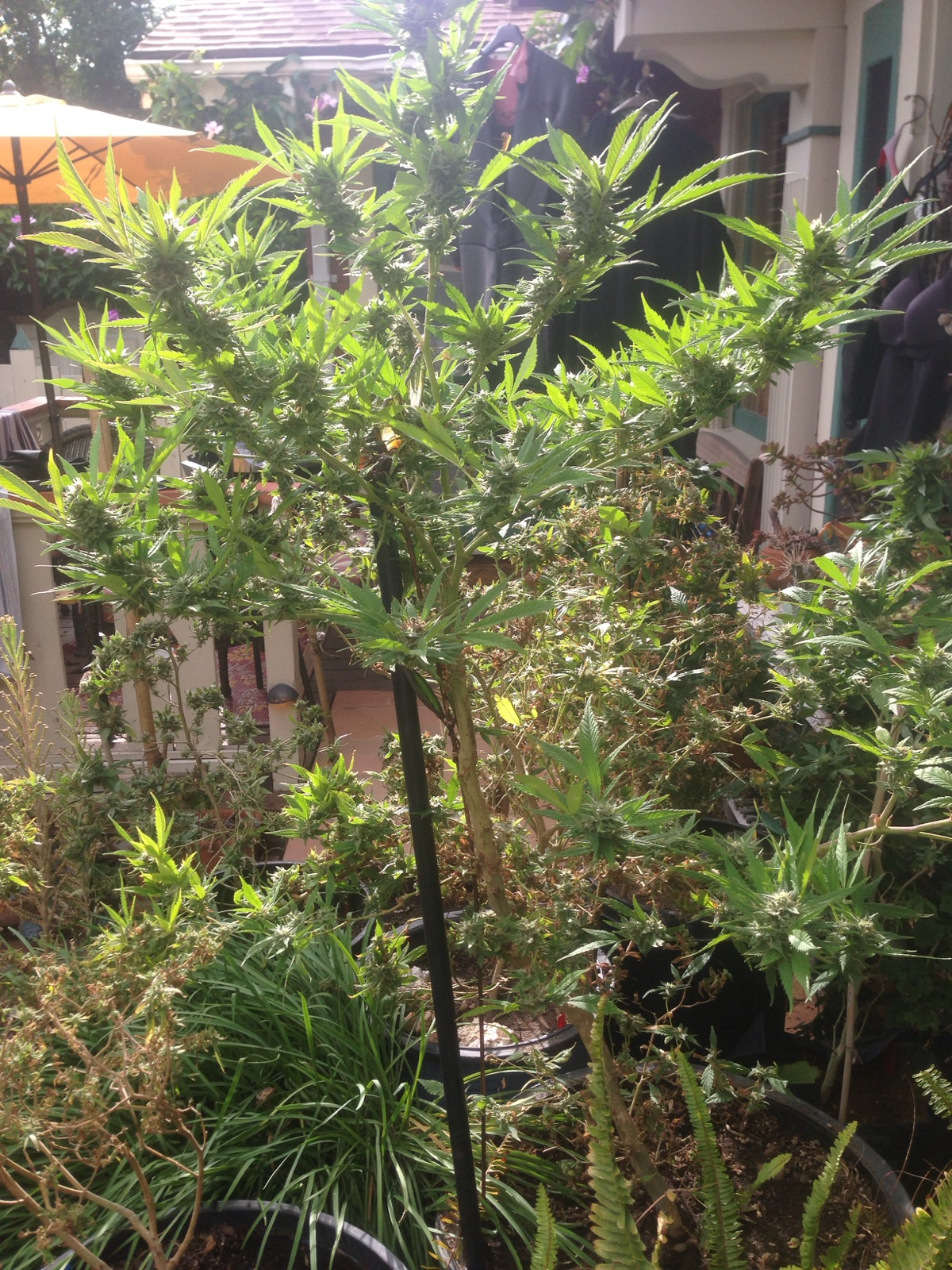 I gotta go lean in and read the tag on this plant because I forgot the strain I believe it might be girlscout or sunset sherbert but it was brought up to flower here a little later and may need a few extra weeks, or i'll just post updates and ask the community when they think it looks ready to be harvested!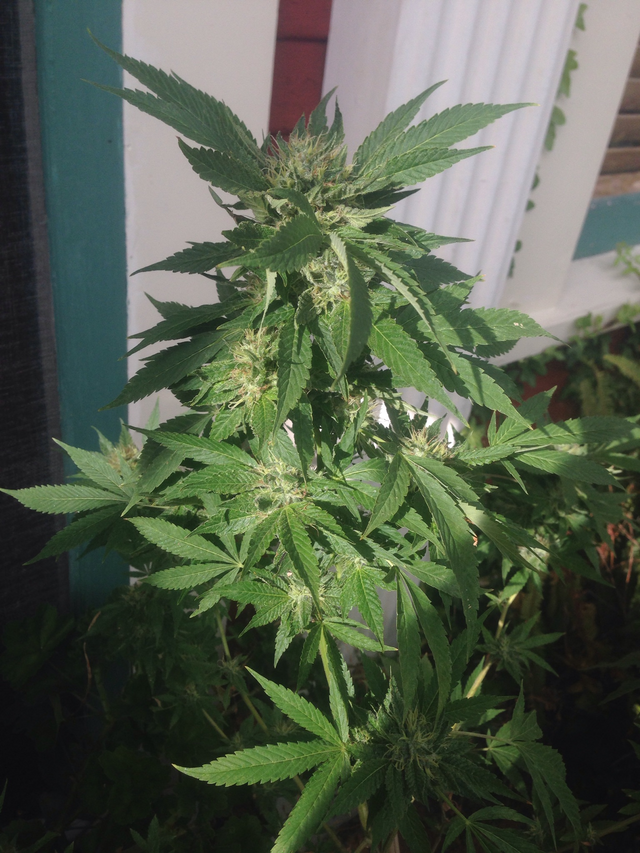 Man the Purple Urkle looks so nice and grows so strong and thicc! It really didn't get ANY caterpillars (maybe the leaves were too thick? Maybe the caterpillars just likes the 707 headband strain and the chemdawg for chemical reasons very interesting! but they stayed on just two of the plants maybe that kept them off the rest because EVEN the insects couldn't resist the 707 headband and the chemdawg! Bugs can't resist that Kush! (chemdawg = ok kush + sour diesel and so does headband if im not mistaken or there is a small difference I believe yeah 707 headband is masterkush with the og kush and sour diesel)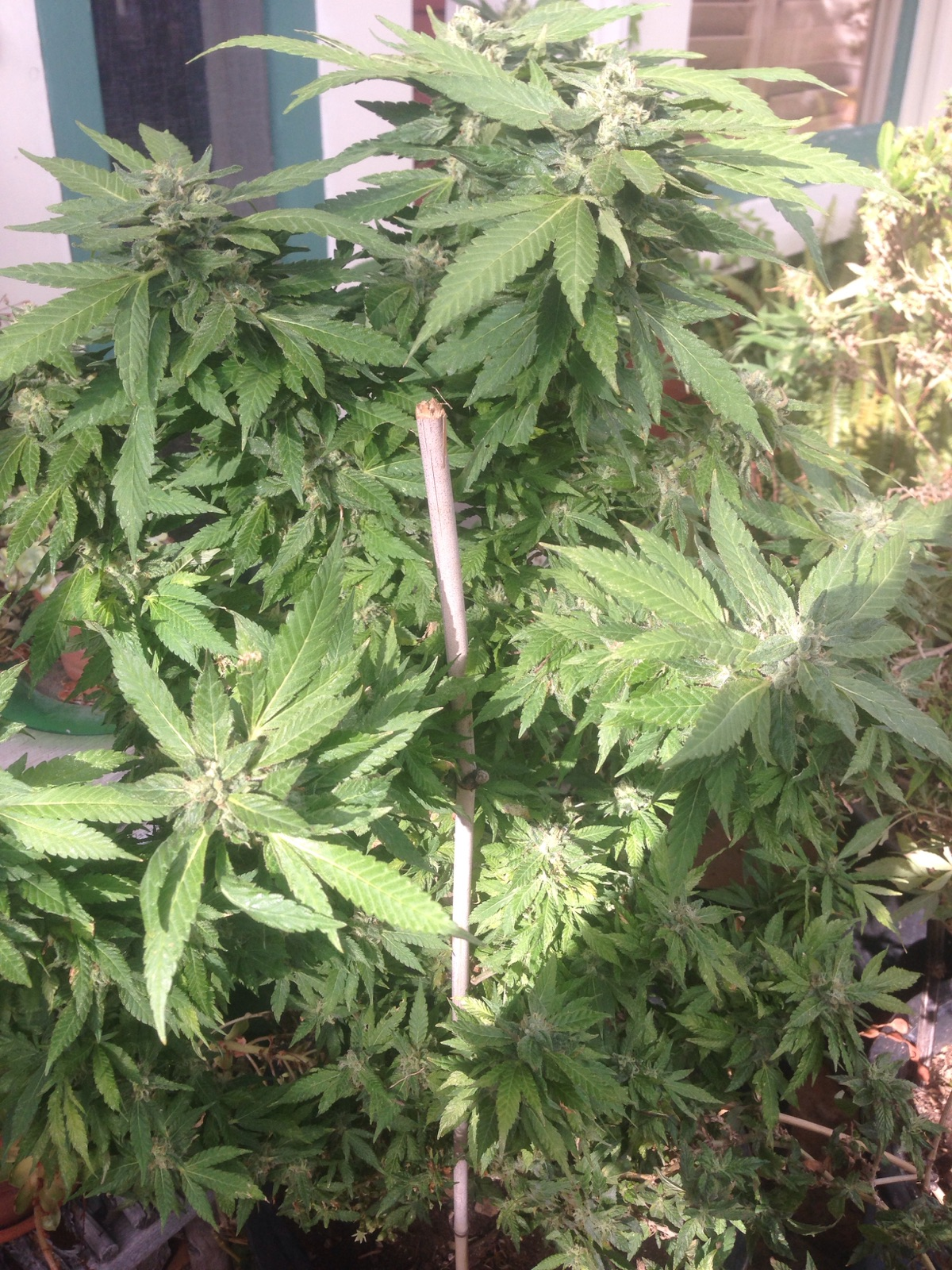 But yeah that Purple Urkle above is such a strong plant with such col geometry!
and here below is a closeup of the top of the 707headband plant that I had to tape up so it's heavy nugs wouldn't cause it to fall over!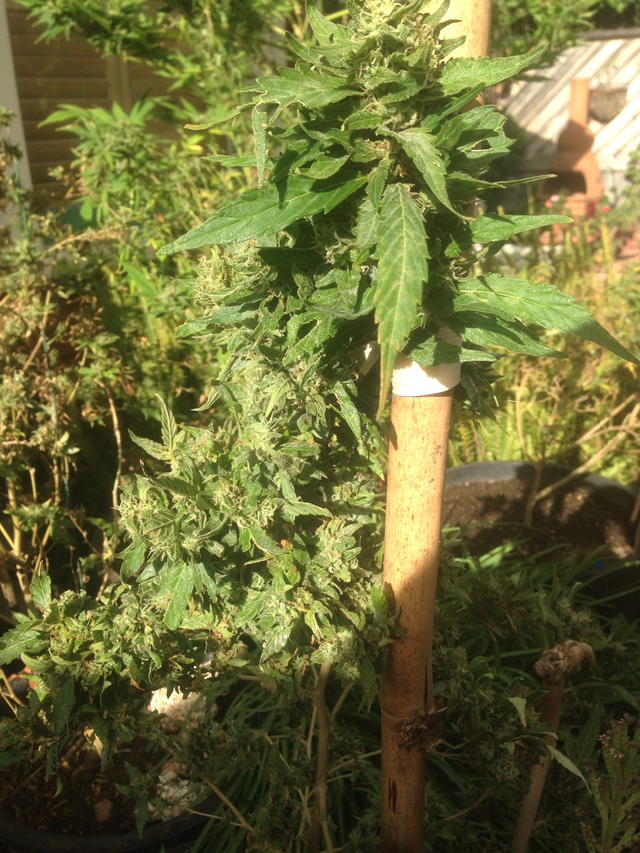 And I noticed my THC Bomb has a few small branches have their leaves die and droop, maybe a sign it's ready to be harvested but I am pretty sure the nugs can grow some more and it needs a few more weeks according to the schedule, but it also just may have some bugs on it that I can't see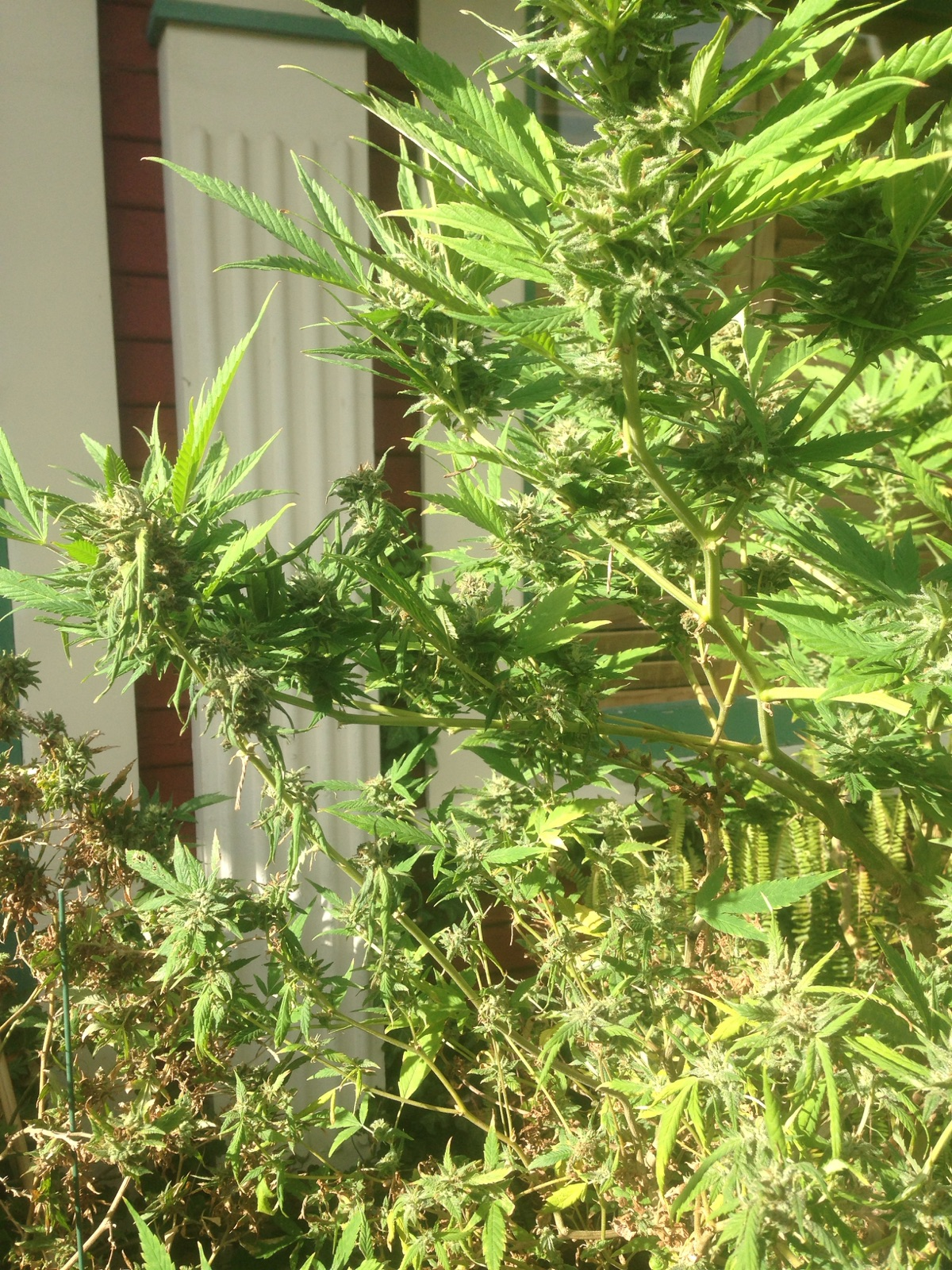 What do you think? do these leaves dying mean these nugs should be clipped or something? Some nugs are ready before others right?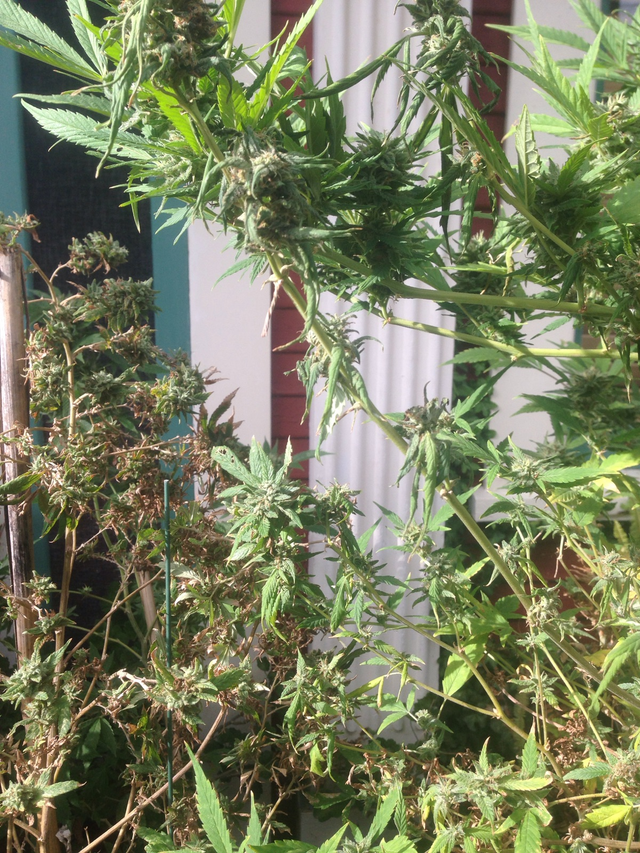 You know this THC Bomb plant flowered and then went back into Veg from the summer sun then because light is blocked in the morning it prematurely started going back to flower and so i am glad it didn't turn hermaphrodite and all of its flowers grew nicely except a few on the bottom that ;looked very confused but I let these nugs grow and just recently trimmed the bottom of the plant so the nugs can really grow on the tops! Anyway maybe I should just harvest those nugs now.
anyway here is a "guatemalan Insanity pepper" from the simpsons!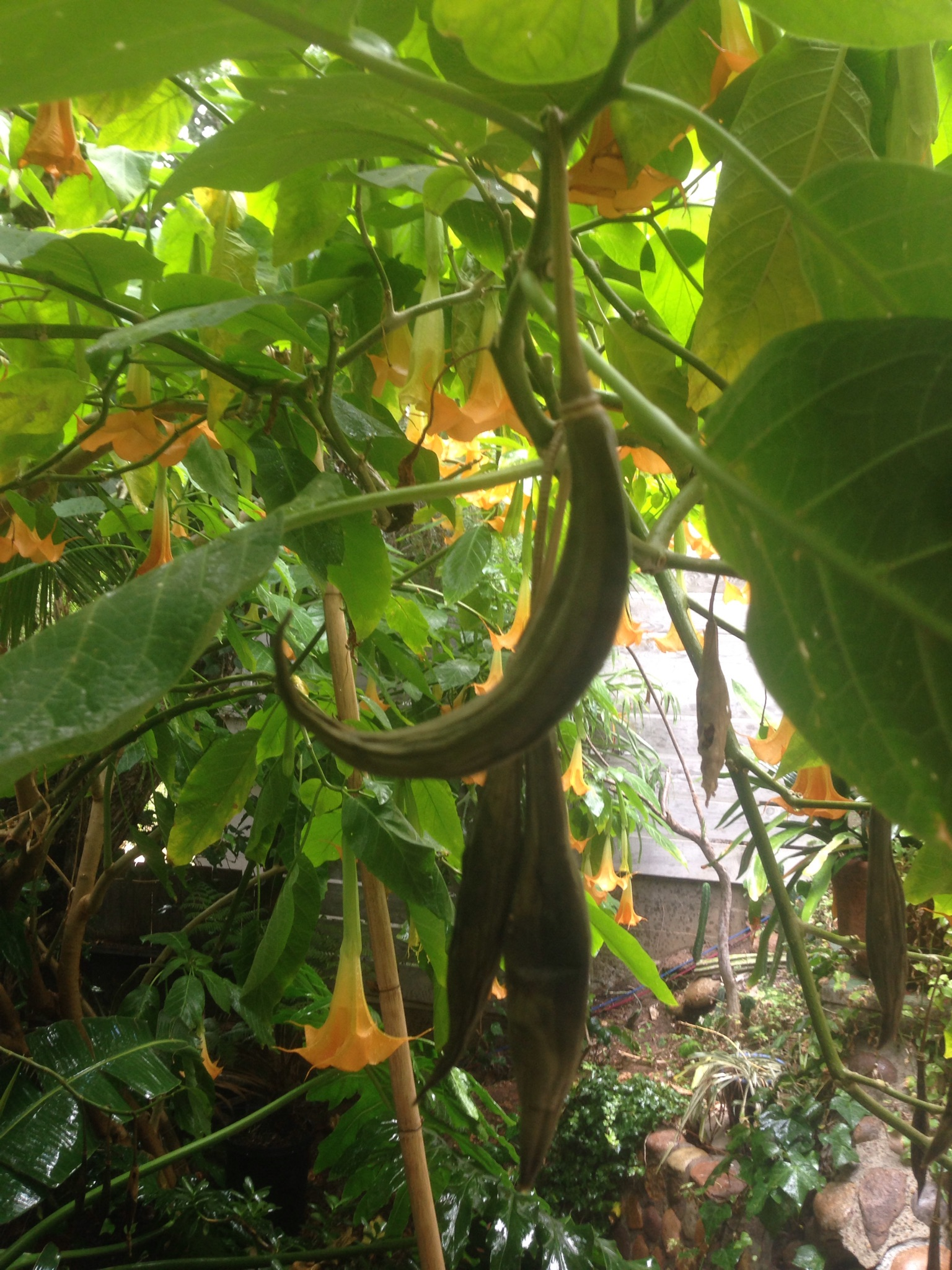 It's actually the seed pod from the Datura Brugmansia tree that has Atropine and Scopolamine in it, psychedelic type deliriants that are not very fun but have a psychoactive effect and should not be taken, some shamans did mix them with ayahuasca but it's not a very pleasant type experience just crazy! Anyway i've watched these fleshy seed pods turn from unripe hard green to this brown and i opened one and seeds fall out, these plants produce a lot of atropine and scopolamine that can at least be used for eye drops and as a Sarin or VX nerve gas antidote!
Thanks for reading! When steemit communities (like subreddits) come out the Cannabis community on steemit will be so legit and the Steemit Community Issued Assets will be SO fucking awesome for cannabis steemit community because we can issue assets tied to maybe sales at a legal dispensary, god, maybe we will be able to even have tokens for celebrity music videos like @keiserreport Max keiser's Hollywood Stock Exchange where you can bet on a celebrity and their fame and just imagine using an exchange to trade coins that represented a celebrity like taylor Swift and you could Invest money into a Music Video for a new song and help produce it and get a cut of the Youtube Ad revenue for example, it could also involve steem blockchain because Steem will be used as a social media currency if things go well for steemit and honestly the only problem i see with steemit is not a problem, its the question of users, and getting millions and billions of users which i realize will happen no matter what because we have a system that pays people to post...so I realize we have no problem and when the time is right steemit inc will unleash millions saved in ad/marketing funds and steemit Apps will be launched, hard forks will upgrade the system, bitcoin and fiat exchanges will be opened, steemit will have many new game changers coming, and steem price will skyrocket, so just watch and see and why not grab some steem and get a piece of this action and make some money with us?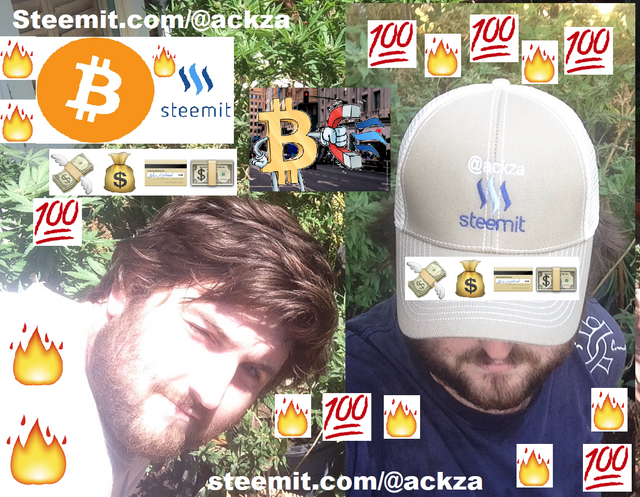 Thanks to steemit user @tytran for the steemit T shirt and hat! And because of his delegated steempower I can give up to $1 upvotes to high quality posts and comments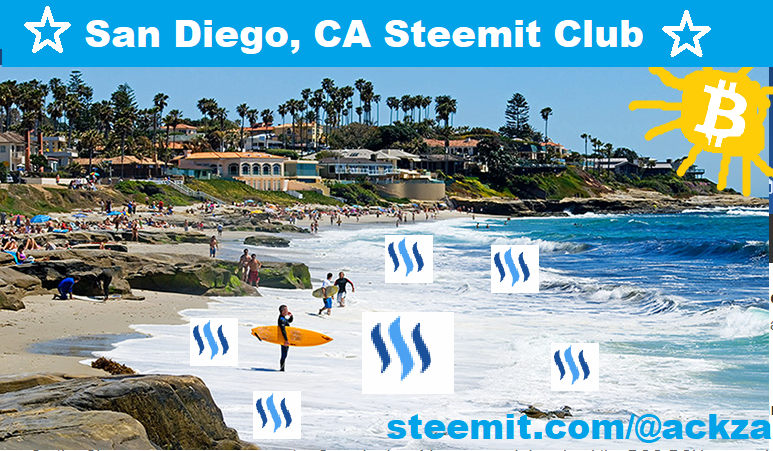 Join my San Diego Steemit Bitcoin club if you are in San Diego!



Buy steem because Steem is cheap! $1 or around there is VERY much a deal and steem will be going to $10 after the new updates and new steem App! Steem is great technology and as we gain more users, we will also reach a network effect like bitcoin where as more and more people use bitcoin or steem the more useful they become and the more valuable they become! In a year from now you will be grateful you bought steem for $1 and bitcoin for $4000 but I cannot know the future, but I CAN realize that this technology is not just going to sit here and collect dust when so many young people are making so much money, so why WOULDN'T this system begin to "moon' as they say? We will have our moment, all big crypto currencies that deserve them finally do, they have what is called a "tipping point" where all the hard work creating a valuable system starts to pays off. We FORGET that steem is very special and we take it for granted, We forget how amazing it is but just imagine 1 billion users all using steemit, just imagine all the future content....steemit will run on its own like autopilot and no central authority will be needed to keep it working so it will keep going with or without us! It will be so useful and will be around for years and years growing in users and content and features so by using steemit now to accumulate steempower and followers we all really are giving our future selves guaranteed income for life! And the ability to Mine Steem with your mind like @stellabelle and her instagram post!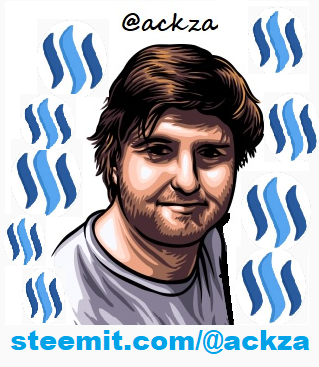 If you have questions about bitcoin steemit crypto or making money mining or marketing, feel free to email me [email protected] or text/call me (619) 302 0398 and....