How To Make Cannabis Seeds
Hello Steem! So last post I discussed my abundance woes with my excess of cannabis plants. One of the way's I deal with this excess, is to throw plants outdoors. Now since my backyard is not ideal to grow cannabis flowers, I utilize this to either grow out males, to collect pollen, or to grow females, and control pollinate them to make seeds. I have used this method to create Steem Og. I am currently in the third generation of Steem Og, so I have become confident in my breeding skills. I still consider myself a hobby breeder. The top breeders crack hundreds of seeds at a time, to find a plant they fell is the best of the bunch. For someone like me, it is impossible for me to grow out so many plants. But I still find it fun, and have had great success. Just google Steem Og, and you will see for your self.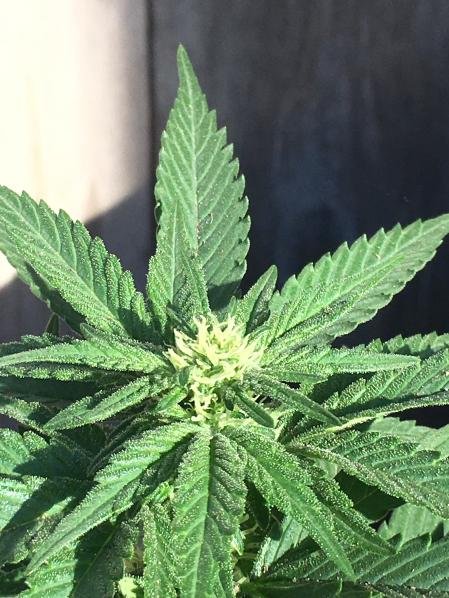 Astro Beaver
So let's get started. In order to make your own cannabis seeds, you will need a female cannabis plant, and a male cannabis plant. Yes you heard that right, cannabis can be male, or female, or both at the same time! But that is a whole other post, for a another day. You can tell the sex of a cannabis plant at about the 30-40 day mark of it's life. The male usually shows sex before female.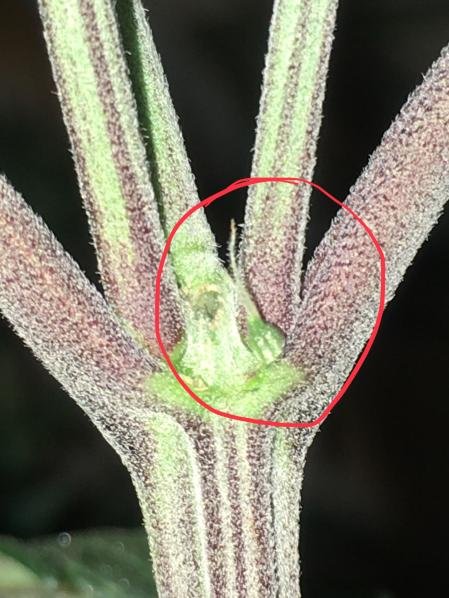 Female cannabis plant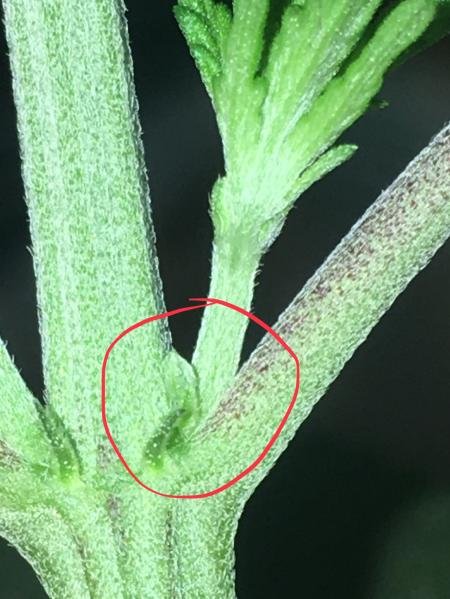 Male cannabis plant
So now that we have determined the sex of our cannabis plant, we now want to separate the male from females. If you do not do this, you will ruin your whole crop! Most people will kill the male. But not me. I have yet to waste a male. I usually grow my males in my back yard, while I keep the females separate indoors.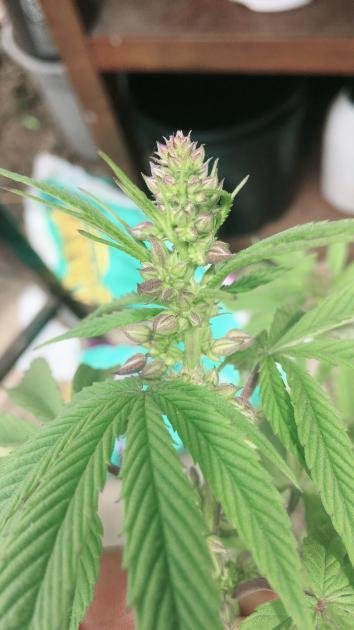 Male cannabis
For my males I like to grow them out till I see a nice cluster of pollen sacs. I then cut the tops, and place in a cup of water on the window seal. Can you believe that there is enough pollen in one of those sacs to seed a whole room? Nature is marvelous. As the pollen sacs open, I then collect and store for future use.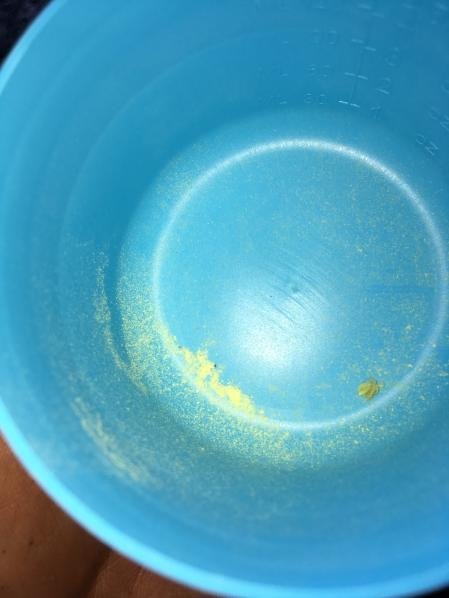 Male pollen
So now you have your male pollen. So all you need is a female. A female is most receptive to get pregnant at the 2 week mark in the flower stage. In the wild, wind is what will carry the male pollen to the white pistols. The white pistols absorb the pollen, then start to produce seeds.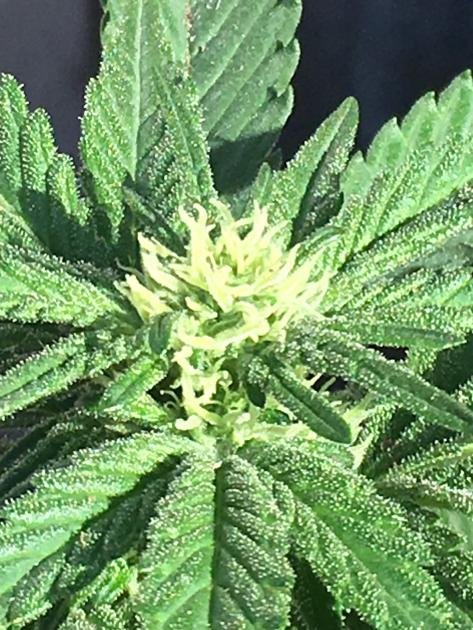 A female at the right moment to be pollinated
So now we are ready to make some seeds! As I said, in nature wind is the component that helps the pollen travel to the female. But since I am an indoor grower, and have pollen that has been stored, vs a male cannabis plant to sit next to a female, I will be the middle man to impregnate my female cannabis plant.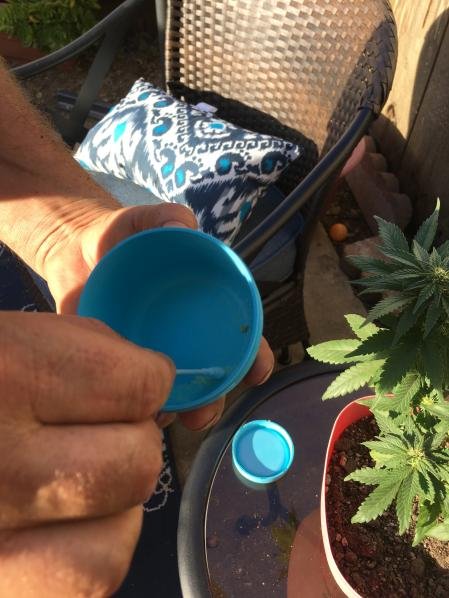 Today I am using Dj Short Blueberry pollen, and a Astro Beaver female.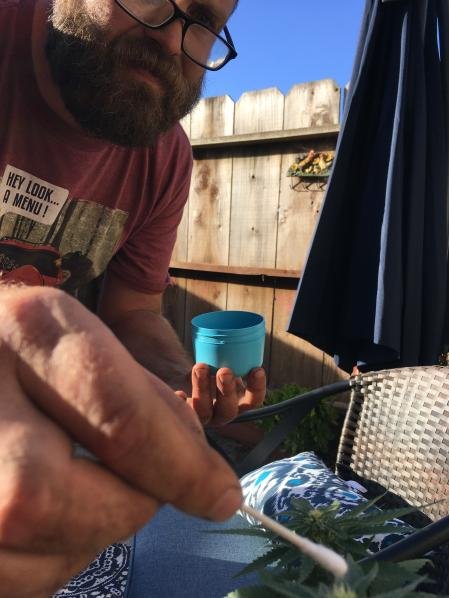 A Q-tip is great to apply pollen to the white pistols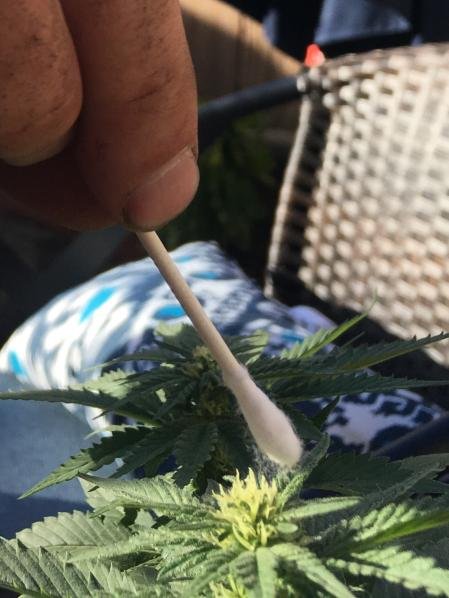 Just be gentle as you apply, then that's it! If I was to have this female indoors, I would place a baggie on the branches I pollinated, for 48 hours. But since I am doing this all outdoors, I will not worry about pollen traveling to other plants.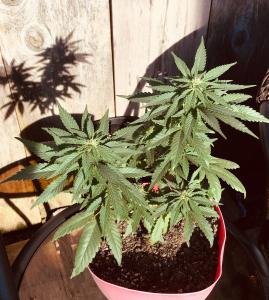 All you have to do now is wait 6 weeks for the seeds to ripen. The hardest part about making your own seeds is just getting the male, and making sure it does not pollinate your sensimillia, aka "seedless weed". Not only is this fun to do, but it also can keep a man with seeds to last a life time. If you ever thought that Monsanto will come into cannabis, and ruin it, think again. Cannabis will still be a sacred plant for the people. Yes with legalization, corporations are coming in and exploiting this herb. There are also bad people in the industry, legal, and not legal exploiting this herb. But we can say no to all this bull shit. Either you can support your local farmer, or you can grow the best cannabis in your own home. Whether you have land, or a small broom closet, you can too! So I hope this post can help you out. Any questions fell free to drop in comments. Or if you have some tips to give me to better my process, I am all ears. Thank you, and may your weekend be a good one.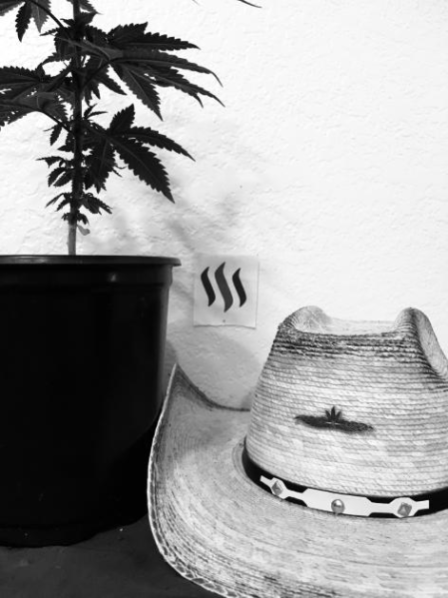 Stay smokey my friends